Pinellas County Job Corps, Career Source Pinellas, and St. Vincent DePaul Cares are holding a job fair on March 30 at the Manhattan Casino, 642 22nd St. S, St. Petersburg, from 10-3 p.m. Photo by Abby Baker
BY ANN SHERMAN-WHITE, M.ED., Pinellas County Job Corps, Business Community Liaison and Student Government Association Advisor
ST. PETERSBURG — Sharing the same sidewalk as the Historic Manhattan Casino and adjacent to the future location of the highly anticipated Woodson African American Museum of Florida lies a 16-acre workforce development site seeking to hire those individuals who want to help make a difference in the lives of others.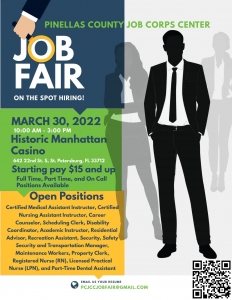 With the worse of the pandemic hopefully in our rearview mirror, the prospect of seeking and securing gainful employment is a destination many now feel safe enough to pursue. Aside from training tomorrow's leaders and ensuring the nation has a strong and vibrant workforce, the Pinellas County Job Corps Center (PCJCC), like other Job Corps locations around the country, will often open its doors and invite qualified applicants to join their team as full-time, part-time, or on-call employees.
On March 30, from 10-3 p.m., the PCJCC will host a job fair at the Historic Manhattan Casino, located at 642 22nd St. S, in St. Petersburg. With a clear and purposeful understanding of its role in the community and being a part of Deuce's Live, the PCJCC knew precisely where the job fair should be held in the heart of the community it calls home — Midtown.
PCJCC further understood its role in the community it serves by inviting Career Source Pinellas and St. Vincent de Paul Cares to join them in their effort to provide jobs that offer a livable wage. Various departments within the PCJCC continuum will give an in-depth scope of responsibilities for each open position. Job Corps staff will also be on-site to discuss the myriad of programs offered and how individuals can become PCJCC students.
All you need is a resume, experience in any posted positions, and determination. If you have a passion for helping facilitate the career path for tomorrow's workforce by making a positive impact on their career and personal development, please make plans to attend the job fair.
For additional information, please call 727-551-2928.