BY CAPRICE JOHNSON
ST. PETERSBURG- On Sunday, Oct. 13, Bees Learning held their inaugural Queen Bee Sunday Tea gala at Nova 535.
Bees Learning, a tutoring service located in St. Petersburg, provides group learning, individual tutoring and academic enrichment programs Monday through Thursday and on Saturdays. Its mobile tutoring sites include Campbell Park, Child's Park, Gulfport, Skyview and Thomas Jackson Recreation Centers.
Their mission is to promote self-worth in children by increasing the number of students reading at grade level.
"I'm very proud of the progress all of our readers are making, and I'm excited that the program is reaching more students in the 2019-20 school year," shared Leah Veal, founder of Bees Learning.
Upon entering the gate at Nova 535, guests were greeted by board members. Bees Learning's light blue mobile vehicle filled with children's books and designs that support small group and individual learning was open for visitors to view. Families, supporters and sponsors attended the event.
The gala began with swing dance lessons provided by Jim Webb, owner of The Webb Works Video Productions. Guests were welcomed, and some of the students recited a chant and shared a book they liked to read.
The books included Dr. Seuss, a book about Mozart and Serena Williams. Ms. Sneed, a caregiver, shared, "We like Bees Learning because it is an exceptionally fun program which prepares children of all ages to read. Bees Learning is a key factor in our child's life."
Students joined their families, and the dancing continued as Gloria West and the Gents performed upbeat tunes. A silent auction was held to benefit Bees Learning and ended with salutations from Veal.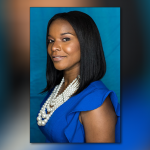 Lorena Grizzle, Bees Learning board secretary, shared, "We are grateful for the support from the community and our sponsors in making the Queen Bee Tea Gala a huge success."
For additional information about Bees Learning contact leahveal@beeslearning.org or (727)281-6564.
If you have education news or events that you would like covered, email caprice33705@yahoo.com.