Author Lisa Y. Washington
By Joyce Nanette Johnson, Staff Writer
ST. PETERSBURG — When the end of life is near, it takes a unique person to be able to provide professionalism, compassion, and empathy to a dying patient and their families. Lisa Y. Washington has embraced that role as her life's mission.
Spending decades in the healthcare field, she's worked for Suncoast Hospice for 17 years has been with Humana for five years, currently as a community health educator and care coach.
She obtained a bachelor's degree in human development from Eckerd College and a master's degree in human service counseling and life coach from Liberty University.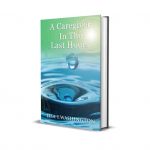 Her years of experience of being a caregiver for patients in their final stages of life culminated in her writing her first book, "A Caregiver In The Last Hours, My Heartfelt Stories On Death & Dying." Although the subject matter of death can be daunting, Washington feels that the book can be a guide for caregivers and a tribute to the spirit of life.
"These are my personal experiences," Washington stated. "I fictionalized the names, and I'm sharing my story as the caregiver. I had patients from teenagers to their late 80s, and I wanted to summarize the relationships I had with them. My clients would say I'm an angel. I took that as an honor, and it made me humble."
Washington said her biggest challenge as a caregiver was caring for the young. After caring for a teenage patient as if she were her own child, she felt that the experience "deepened my spiritual faith."
She writes about connecting with a patient and attending his funeral, and how caring for a family member is a different experience than with patients.
Washington's love for helping others caused her to start her own company, Simplifying Life Together, LLC.  She wanted to provide assistance as an "intuitive grief coach" to grieving families.
For most people, grief does not entirely leave them; they are able to compartmentalize it, cherish the memories and move forward with their lives. However, for others, they are incapable of accepting the loss and have become stagnant, unable to envision a future.
"An intuitive grief coach helps individuals and families with hope, motivation and direction to take back control of their lives," Washington stated. "They can't get past the grief and move forward; they are stuck in the past with underlying issues from the loss."
"Soul Coaching" is the counseling program that Washington developed. There are three main sectors: Coaching/mentoring, reaching client goals and simplifying life's mission statement.
She offers sessions for individuals or groups up to 10 people for the difficult challenges that many may encounter during this emotional rollercoaster.
"The client must be open to communication and ready to move forward," Washington explained. "They need to tell me how they want to resolve the issue."
There are also sensory activities such as going outside to touch, see and listen.
For the coaching/mentoring segment, role reversal is incorporated, but Washington stated that most importantly, it's to get them to figure out what their purpose is in life and how to get them to walk into that purpose.
"I want them to discover their best self mentally, physically and spirituality," she said.  "They can tap into who they are and what they want as a person."
COVID-19 has also added another somber ingredient to the grief process. As I wrote Washington's story, I couldn't help but reflect on my grief. My beloved Aunt Daisy Vaughn, who I had shared an unshakeable bond that went beyond aunt and niece, passed recently due to a non-COVID-19 illness.
Like thousands of funerals being held across the country, only 10 people were allowed for a private viewing. The only solace for me and my daughter here in St. Pete was to visit my mom's graveside, her sister, at the same time as the service in Georgia, solitary and desolate in tribute.
It is that non-goodbye or lack of closure that still haunts me and others today. There is also the national grieving of witnessing raw, brutal footage of blacks being killed before our eyes.
Washington advises that there are hospices and counselors that can help with the grieving process. There is information on housing, medical, respite, counseling, and other references to help families as they go through this difficult time.
"There are counselors and resources out there to help," she concluded.  "To dispel the myth of doom, we need to start talking about death and dying now."
To purchase her book or for consultations, visit simplifyinlife.com or lisaywashington.com
Lisa Y. Washington and husband Derrell have been married 22 years and have three adult sons Dale Robinson, Donivan Boykins and Derrell Robinson Jr.