(Family Features) If you find yourself stuck in a rut with the same recipes, remember a little change can add a lot of flavor. By simply using fresh pork in dishes that usually consist of chicken or beef, there are countless ways to switch up your dinner routine.
Whether grilled, roasted, slow-cooked or sautéed, Smithfield Fresh Pork is available in a wide variety of cuts as well as pre-marinated flavors, making it versatile and convenient for any night of the week. Try out these recipes for Smoked Bacon Pork Alfredo and Grilled Pork Loin Fajitas to shake up your next meal.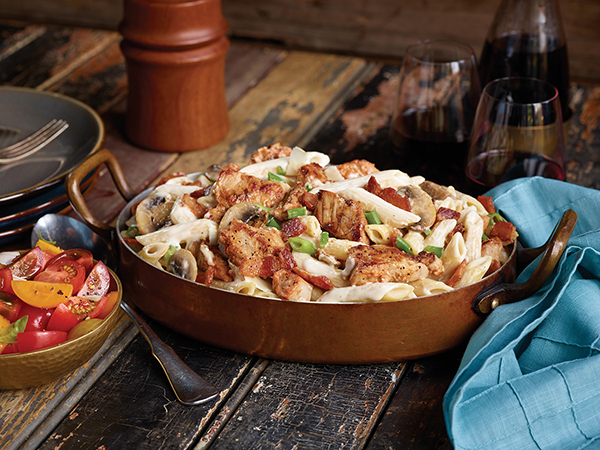 Smoked Bacon Pork Alfredo
Prep time: 8 minutes
Cook time: 22 minutes
Servings: 6-8
1          Smithfield Applewood Smoked Bacon Marinated Fresh Pork Loin Filet

3          tablespoons olive oil, divided

1          pound penne pasta

1          package (8 ounces) sliced mushrooms

salt, to taste

2          jars (15 ounces each) Alfredo sauce

pepper, to taste

1/4       cup finely chopped green onion (optional)

grated Parmesan cheese (optional)
Cut pork loin into 1/2-inch thick slices then into 1/4-inch wide strips. In large skillet over medium-high heat, heat 1 tablespoon oil. Stir-fry half the pork loin 7-8 minutes until well browned. Set aside on separate plate and repeat with 1 tablespoon oil and remaining pork.

Cook pasta according to package directions.

In skillet over medium-high heat, heat remaining oil; add mushrooms and sprinkle with salt, to taste. Cook 3 minutes, or until tender, stirring occasionally.

Drain pasta and return to pot; stir in pork, mushrooms and Alfredo sauce. Stir over medium heat about 4 minutes until heated through. Season with salt and pepper.

Sprinkle with green onions and Parmesan cheese, if desired.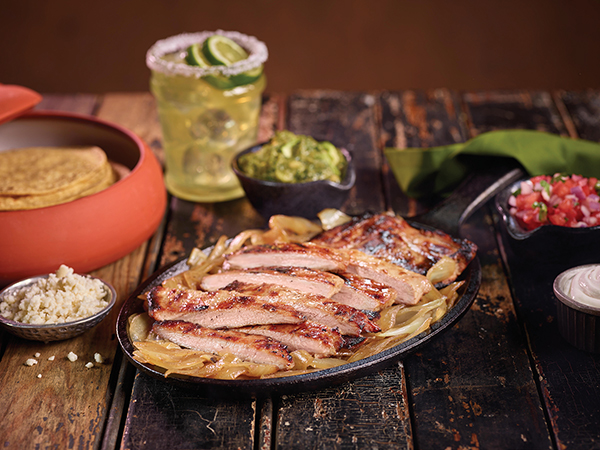 Grilled Pork Loin Fajitas
Prep time: 20 minutes, plus 30 minutes marinade time
Cook time: 30 minutes
Servings: 4-6
1          Smithfield Prime Boneless Fresh Pork Loin, cut into 1-inch thick steaks

1 1/2    cups water, divided

1          cup soy sauce

1          can (6 ounces) pineapple juice

6          cloves garlic

1/4       cup white wine

1          teaspoon salt

1          cup unsalted butter, at room temperature

2          large onions, cut into 1/2-inch wide strips

1          tablespoon corn oil

salt, to taste

pepper, to taste

12        tortillas

guacamole (optional)

sour cream (optional)

pico de gallo (optional)

shredded cheese (optional)
Using meat mallet, pound pork steaks until 1/2-inch thick; place in 1-gallon re-sealable plastic bag. Pour 1 cup water, soy sauce and pineapple juice over pork; seal bag and lay flat in refrigerator 30 minutes, turning occasionally.

In blender, pulse garlic, white wine and salt until thoroughly blended. Whisk butter and slowly incorporate garlic and wine mixture. Reserve at room temperature.

In large skillet over high heat, saute onions in corn oil 2 minutes until they turn deep brown. Add remaining water to skillet and lower heat to medium-low. Cook and stir, scraping bits from bottom of pan, 15 minutes until water has evaporated and onions are caramelized. Season with salt and pepper.

Heat grill to 300° F for indirect cooking. Lightly grease grates.

Remove pork from marinade and place on grill over indirect heat 4-6 minutes per side, until internal temperature reaches 145° F. Remove pork and brush garlic butter on both sides. Let stand 5 minutes; slice into 3-inch long, thin strips.

While grill is hot, grill tortillas individually. Wrap four tortillas at a time in aluminum foil with a little garlic butter.

In skillet, reheat caramelized onions and serve with fajitas. Top with guacamole, sour cream, pico de gallo and shredded cheese, if desired.
SOURCE:
Smithfield