ST. PETERSBURG — A new documentary series, "Sheroes and Heroes Among Us," aims to honor the life work of local community trailblazers launched its inaugural film Oct. 20 at the Enoch Davis Community Center. Directed by Allen A. Buchanan, the first documentary chronicled the life of Winnie Foster, a woman who fought for women's and civil rights at all levels in Pinellas County.
People stood and applauded as the Pennsylvania-born activist arrived for her life tribute. Foster had personally touched the lives of practically everyone in the room either directly or indirectly. The demographics in the room ranged from infants to several citizens who were in their 90s. Foster sat front and center to watch the documentary unfold her life's story.
After a rousing round of applause for "Winnie: The Activist Pollinator" seen by more than 75 people, Foster moved to the speaker's table to address the audience.
"I am so honored," said Foster.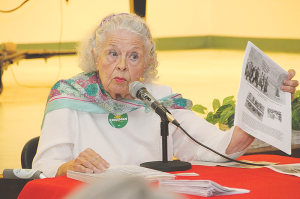 She then launched into the need for continued activism that will not give way to complacency. From global warming to community gardens, Foster's plea to be vigilant in procuring the well being of our community resonated with her well-wishers who gave her a standing ovation just before dinner was served.
Feedback was solicited to gathering data on improving a shorter version of the current video for a film festival early next year. The responses will also lay the groundwork for the next documentary.
Responses ranged from reinvigorating activism in the community to needing more photos. "Winnie: The Activist Pollinator" received the following quality rating based on 137 total responses:
52%- Excellent
23%- Very Good
14%- Good
6%- Fair
4%- Needs Overall Improvement
A name that came up multiple times for the next documentary focusing on "Heroes" was  Freddie Crawford, one of two remaining black policemen who sued the City of St. Petersburg for discrimination a half-century ago now known as the Courageous 12. He also attended the event to show his support for Foster.
Overall, "Sheroes and Heroes Among Us" planted a seed of interest for more community-centered documentaries celebrating people still alive who have committed their lives to making their community a better place to live, work and play.
Buchanan extends a very special thanks to Sheena Qualles-DeFreece, Carla Bristol and Cranston Cumberbatch for their Herculean behind-the-scene efforts and contribution to making the event a success.
About the director
"Sheroes and Heroes Among Us" is Allen A. Buchanan's first biographical documentary in 20 years. He started producing oral family histories in audio in 1991 while working with students at Northeast High School and an adult workshop at the Enoch Davis Community Center. From 1997 to 2000, he shot three mini-documentaries called "Oral Family Histories" in Tarpon Springs for David Archie who was the director of the Citizens Alliance for Progress.
Buchanan is currently a staff writer for The Weekly Challenger.