By Bill DeYoung, Contributor
ST. PETERSBURG — Jerome Najee Rasheed, better known simply as Najee, took the long way to arrive at his signature sound. He'd studied and played tenor saxophone and flute since his childhood days in Queens, and when the time came to record his debut album as an instrumentalist – the year was 1986 – the flavor of the month, in commercial jazz, was the sweet-sounding soprano sax.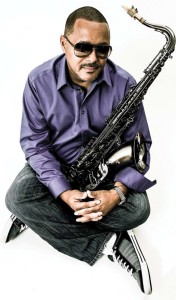 "I wasn't particularly attracted to the sound, for me, personally," Najee remembers. "I liked hearing Grover Washington Jr. play it, I liked hearing John Coltrane play it, but it just wasn't a sound that I was drawn to naturally."
His brother Fareed had written out some arrangements for Najee's sessions. "He said 'I don't hear tenor sax on this, man. I don't hear flute! I want to hear some soprano!' And I was like 'I don't play soprano! I don't play that little girl horn!'"
Nevertheless, he recorded the album Najee's Theme, a collection of luxuriating, exotic-sounding instrumental sax – mostly soprano – and flute over gently funky rhythm 'n' blues beats.
"I had a gold record in three months," he says. "I mean, go figure.
"In my mind, I didn't take the instrument very seriously at all. Maybe I should have. But it worked! You know, I came from the school of traditional jazz, and playing tenor in R&B bands … I was the tenor player. And now I'm picking up this small horn and playing these melodies. But it was the sound of the time, and it worked, and since that time of course I've gotten a lot more proficient on it as an instrument."
Indeed. Over these 30 years, Najee, who performs Sunday, April 10 at The Palladium in St. Petersburg,  has cemented a reputation as one of the more innovative players in contemporary jazz – in fact, once Najee and his soprano contemporaries like Kenny G had cemented themselves with unprecedented and resounding  success, Billboard had to give the genre a new name: Smooth jazz.
"I understand how the term evolved," Najee explains.  "I was a witness to it. I readily admit that my first four albums were really R&B records, with the saxophone. I chose not to do a jazz record. I really didn't show more jazz until probably my sixth record, Songs From the Key of Life, with Herbie Hancock, George Duke and all these folks."
Today, calling music 'smooth jazz' tends to imply that it's purely commercial, a cheap hybrid, or is lacking a certain substance. Supermarket music. Artists like Najee are used to the knocks from jazz purists.
"When I hear 'smooth jazz,' I think that in a way it's decreasing the worth of some artists and what they do," says Najee. "Although I understand, the music has gotten a little too formulaic now. We definitely need a little more creativity in it."
Still, he manages to record the occasional out-there or straight-ahead jazz tracks, or flute-heavy Brazilian music, and slip one or two onto every one of his albums (including the recent You, Me and Forever). "At this point in my career," Najee explains, "I don't make apologies for what I've been successful with."
He'll perform with a five-piece band at The Palladium.
"Honestly, it doesn't seem like 30 years at all," he muses. "I guess, as they say, as you get older time becomes less of a factor. I've been fortunate to do so many great things within that 30-year period. I've lived a full career."
An Evening With Najee
At 7 p.m. Sunday, April 10

Palladium Theater, 253 5th Avenue N., St. Petersburg

Tickets at

themahaffey.com

, or by phone at 727-893-7832