ST. PETERSBURG — Researchers and theorists have concluded that the quality of our mental health is not determined solely by genetics. Our mental health is also nurtured by the environment we live in.
As a woman — a Black woman — a social worker, a Christian, a therapist, and a professor, I view our current events through many different, yet equally important, lenses.
I often reflect on how decisions, such as the grand jury's decision not to charge anyone in the death of Breonna Taylor, may impact the Black psyche. Images of Black bodies lying in the streets or a Black man being shot in the back seven times in front of his children by police officers influence the Black psyche individually and collectively.
Being a clinician, yet very much a human, I am left feeling an overwhelming sense of fear and concern for our nation. These feelings are the sum of my collective thoughts. Believing in the importance of advocacy, action, and social justice, I quickly move to a more important question: what can be done?
Based on all that has occurred throughout our nation historically and what is happening currently, I feel compelled to share with you how important the act of voting is to the improvement of your quality of life and your mental health. Whether it is apparent to you or not, your mental health can be impacted by our social and political climate.
The cumulative effects of COVID-19, protests, limited access to resources, job loss, and tragedies such the murders of George Floyd and Ahmaud Arbery, are contributing to some of the highest utilization rates of mental health services, calls to suicide hotlines, substance misuse, overdoses, and psychiatric hospitalization rates we have seen in years.
How do you know if your mental health is being affected by the current social and political climate? If you find yourself thinking those currently in positions of power, who could promote change, do not represent you, do not understand you, or develop and support legislation that adversely affects you, then your mental health is at risk.
If these thoughts leave you feeling depressed, sad, powerless, angry, or you are experiencing excessive worry, your mental health may be taking a dive as result of our current social and political climate.
Recently, Gov. Ron DeSantis proposed legislation to enhance penalties toward those accused of engaging in violent or disorderly assemblies. I consider how frightening it is to see legislation enacted that would silence the people's voice. Working with many people who have survived abuse or neglect, I know how liberating it can be for them to give voice to their story.
Voting in the current political climate is an opportunity to ensure your voice is heard and your story is told. When your voice is silenced, your mental health is at risk. Gov. DeSantis' proposed bill is just one example of an attempt by an elected official to limit our voice. To do so is unconstitutional.
If you are not yet registered to vote, the last day to register for the General Election in Florida is next Monday, Oct. 5. If you are registered to vote, do not skip this election!
Many people of color, LGBTQ+ individuals, women, those living in poverty, those who face oppression, those living with depression, those living under a felony status yet deserving of a second chance, and other marginalized populations are aware that this country has not been great for all its people.
We must be allowed to speak our truth, highlighting the conditions that continue to leave us feeling that Black lives do not matter, that change will never occur or that equality is an unobtainable goal.  What we can do right now is vote.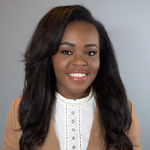 Dr. Brittany Peters has over 13 years of experience in community mental health as a clinician, advocate, consultant, and clinical director. As a licensed clinical social worker, certified in addictions, and a qualified supervisor, Dr. Brittany devotes much of her time to improving clinical services in the community through the training and development of counselors and other professionals.
She owns and operates a private practice, Center for Wellness & Clinical Development and teaches collegiate courses for two major universities.