Photo courtesy of Glenn Davis
BY JEFFREY ZANKER, Staff Writer
ST. PETERSBURG – The St. Petersburg College (SPC) Midtown campus will start accepting applications for the Emergency Medical Technician (EMT) Spring 2018 program July 1.
In preparation, the Midtown campus is holding two information sessions on the EMT Certification program on July 13 from 12-1 p.m. and July 18 from 5-6 p.m. for current and prospective students.
The information sessions will include a PowerPoint presentation on the program and services, follow by a question and answer discussion and registration.
The EMT program is part of SPC's Emergency Medical Services (EMS) program that trains students for careers as emergency medical technicians or paramedics. The two positions are known as emergency responders, who are the first people on the scene of an emergency.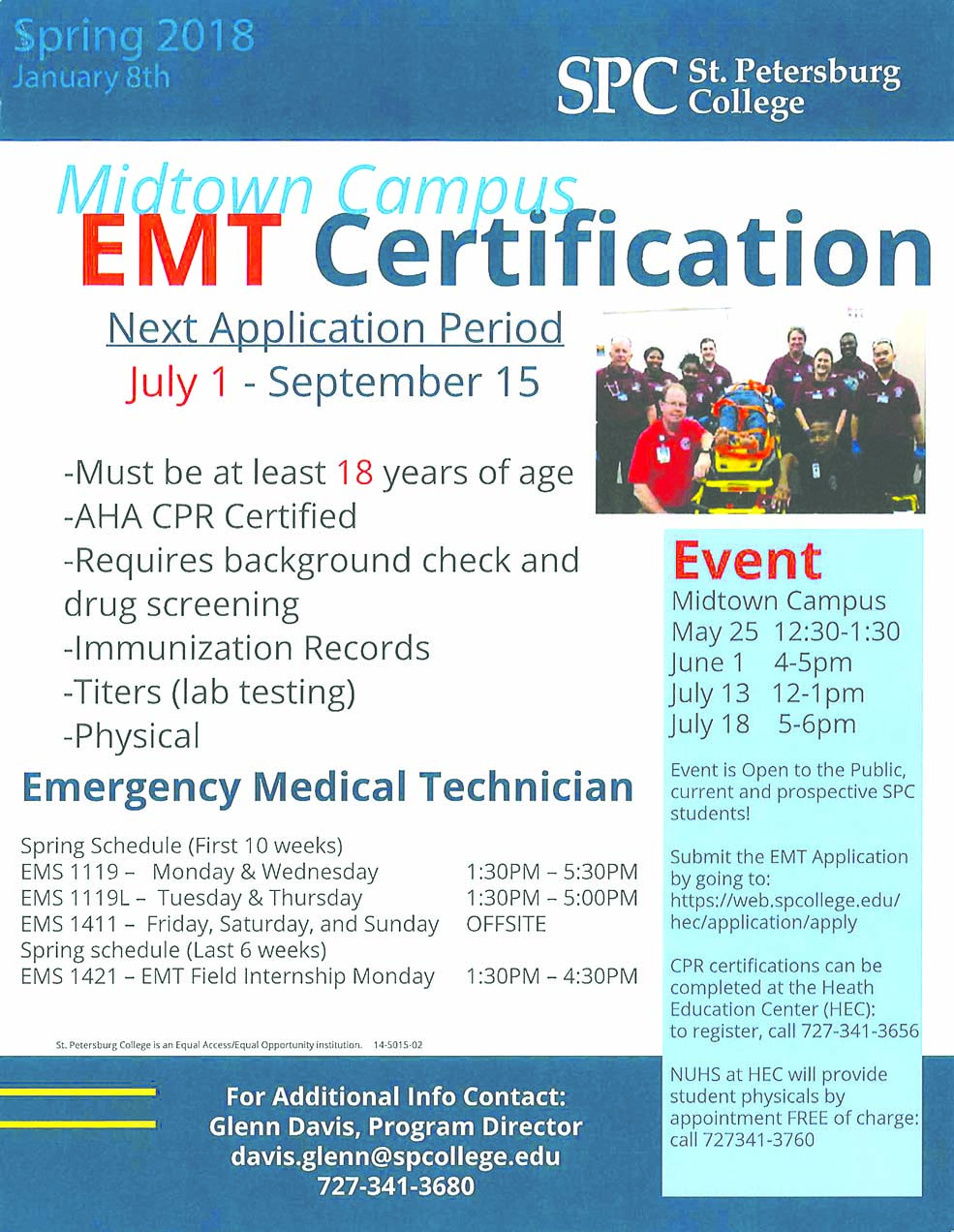 "The center wanted to expand their courses out to the community," said Glenn Davis, the program's director.
Along with the SPC's Health Education Center (HEC) in Pinellas Park, where healthcare training programs are held, the Midtown campus is the only other campus that offers the EMT course.
For graduates, this program is a gateway for entry-level jobs at hospitals or local fire departments.
"Paramedics is the next step for most graduates," said James Johnson, career and academic advisor for Midtown campus.
The 16-week-program has students studying in 10-week classes, followed by internships and on-the-job training for the last six weeks.
"Students can complete the EMT program in one semester," Davis said.
The program also offers a combined Firefighter/EMT program, as part of the SPC Firefighting Academy for a certified firefighting career.
Before registration, applicants must take a general CPR training class and become certified. Classes are taken online at American Heart Association, American Red Cross or the HEC.
Other requirements include being at least 18 years old, background check, drug screening, immunization records, lab testing and physical tests. The National University of Health Sciences at HEC will provide free testing.
In the spring of 2016, eight students graduated from the Midtown EMT program. But the 2017 term was canceled last spring due to low attendance.
"Six students were not quite enough to get rolling," Johnson said.
Kerry Carter, career and academic advisor for the Midtown campus, expect to have at least 20 to 30 applicants for the upcoming semester.
"We want to keep this program going for interested students," Johnson said.
The enrollment deadline is September 15. For additional information, contact Glenn Davis at davis.glenn@spcollege.edu or 727-341-3680. EMT applications are available on www.spcollege.edu/hec/application/apply. To register for CPR certification, contact HEC at 727-341-3656.