On Saturday, Jan. 15, Dr. Michael Benjamin-Robinson presented a talk at the Exchange Hotel that focused on building healthy relationships for one of the St. Pete Black Pride Dr. Martin Luther King, Jr. weekend of events. Left, Dr. Michael Benjamin-Robinson and Dr. J. Carl Devine
BY J.A. JONES, Staff Writer
ST. PETERSBURG — St. Pete Black Pride has a mission to create a comprehensive, multi-cultural, social service and prevention program that is effective and responsive to indigent and disenfranchised populations. Started by Dr. J. Carl Devine, founder of the Banyan Tree Project, this year St. Pete Black Pride honored the legacy of Dr. Martin Luther King, Jr. with a weekend of events.
On Saturday, Jan. 15, Dr. Michael Benjamin-Robinson presented a talk at the Exchange Hotel that focused on the foundation of healthy relationships.
"As a mental health therapist, I have discovered that all of us do better at what we are clear about ourselves," he shared. "And a good way of knowing is looking at attachment theory."
Benjamin-Robinson is the CEO and primary psychotherapist at BACH Therapeutic Counseling Services and has been a social service and public health practitioner for 20 years, providing substance abuse counseling, youth programs, behavioral and community interventions, and infectious prevention disease prevention/care. A licensed clinical social worker/board-approved clinical supervisor (LCSW-BACS), he is also adjunct faculty at Southern University at New Orleans School of Social Work and Tulane School of Social Work.
Benjamin-Robinson noted that while attachment theory has been around a long-time, he believes it was very beneficial in helping to "explain our attachments and relationships from childhood to adulthood. It's a very good way of having a conceptualization of how you navigate or manage relationships."
He also added that the theory was necessary for the LGBTQIA community to examine through its own lens because so much of what our societal culture dictates is designed around "heteronormative ways of being — and we're not heterosexual."
He noted that he appreciates questions that ask how attachment styles relate to same-gender-loving relationships — and affirmed that for the most part, "it doesn't change very much. Because we all come with attachment styles based on how we were raised."
His couple's therapy practice includes heterosexual and same-sex couples and polyamorous relationships. He also counsels those dealing with anxiety or depression. In a relationship, he often sees what is referred to as "anxiety-ridden" partners and "avoidant" partners.
"I like to think of it as a kind of spectrum. On one end of the spectrum, you have a person with anxiety, fear, worry, nervousness; they have a preoccupation with the relationship, constantly needing reassurance that the relationship is as strong as they would like for it to be — and they're looking for that reassurance from their partner."
If an anxious person is in a relationship with an avoidant person, this type of behavior, the therapist shared, can start a negative cycle within their relationship. "The avoidant person will feel like that constant need for reassurance is an emotional neediness," which will make them frustrated.
In turn, this will cause them to avoid intimacy — maybe not sexual intimacy, he noted, but an activity that might be about feelings and emotions. Ultimately, it creates a push-pull cycle that both the anxious and avoidant people feed into.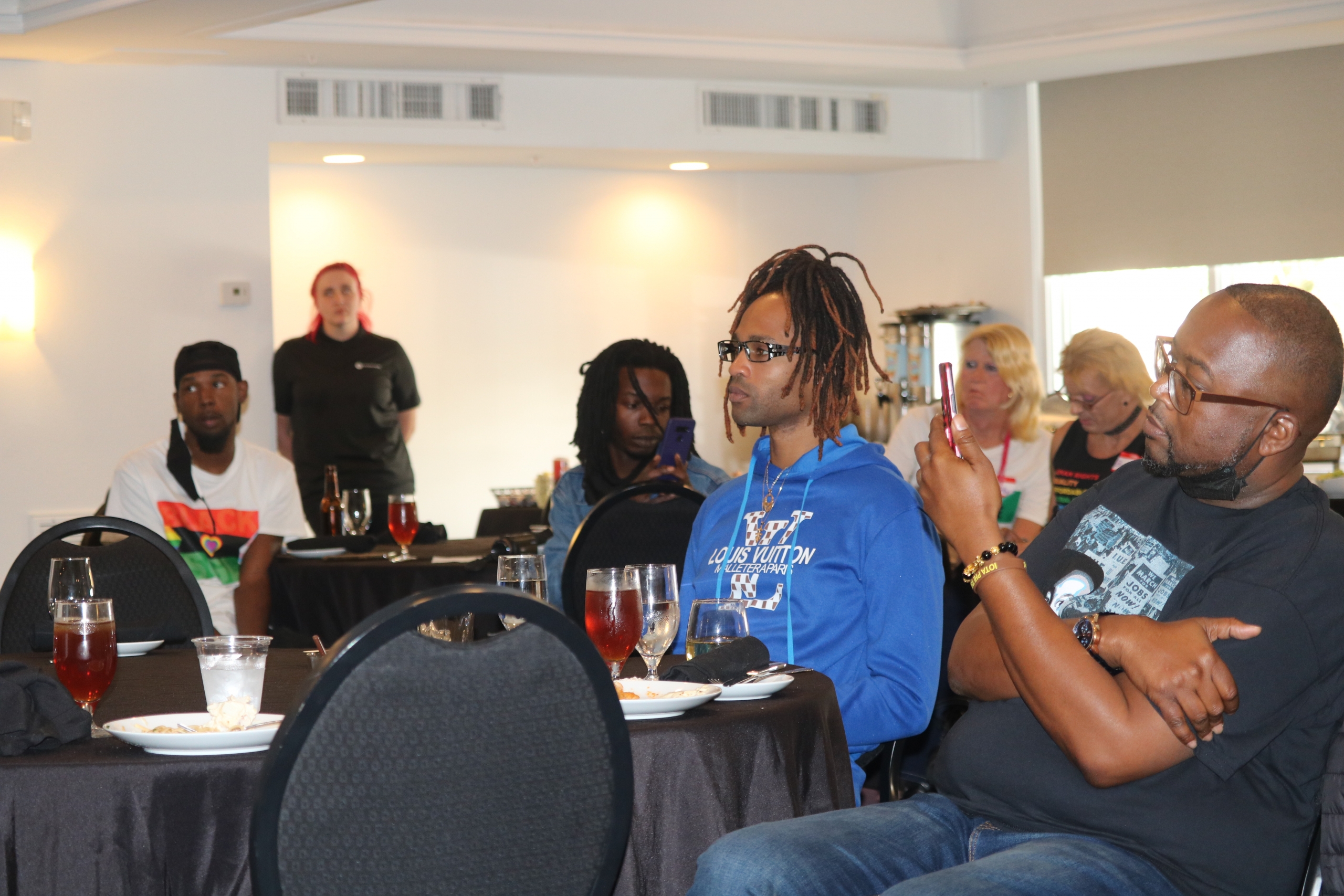 "What I work with people on is coming from those areas of insecurity into security, which in my mind is in the middle of that spectrum," he added.
Benjamin-Robinson affirmed that many men were not raised and socialized to express their feelings – to talk about their feelings and "get our emotions out."  In turn, they become adults who aren't good at saying emotionally binding things. Phrases like "I love you" or "I'm sorry" become difficult because "these things really take you being able to look inwardly and do self-reflection about." Change, however, said the doctor, is possible.
"I came from anxiousness in my growing up because of my relationship with my father. Now I have a good relationship with my father, but as a child, because I was gay, I believe my father sensed that femininity." On top of being 'the father,' Benjamin-Robinson acknowledged his dad was probably more avoidant than him, being raised as a male taught not to cry – as well as to be a super-masculine type "a firefighter, with policeman friends."
"So, it started a type of relationship with us where I wanted to have his approval. And here is where the nervousness of that relationship starts because I'm constantly trying to do things to seek approval, and if I don't, I'm not meeting the mark. Then I'm going to try to do better to win his affection."
An avoidant person might develop because their parents weren't available to answer their emotional needs when they were children. This caused them to learn to compartmentalize their feelings and keep them to themselves.
"When they grow up, they still do the same things," he explained. "They keep the feelings to themselves – 'oh, I'm good.' Trauma? 'Oh, I'm past that.' That's not how that works, but that's how they'll think."
While Benjamin-Robinson said therapy can be a huge step in making those changes because it has a lot to do with self-reflection, it's really about a person being able to do "a real self-inventory." It is vital not just to look at the things we love about ourselves, but more importantly, to look at the things that are not so great about our personality – the things that need to be worked on.
Changing behavior, though, he admitted, is more challenging, and professional guidance or therapy might be necessary to achieve behavior change.
Devine shared that one of the reasons he asked Benjamin-Robinson to present was to help same-gender-loving Black people in this area have pride and feel good about themselves. "If you feel good about yourself, you take care of yourself better. Some of the things that cause problems you get rid of. All of that ties into self-esteem: building yourself up by yourself, loving yourself enough to do the right thing for yourself. That's what Black Pride is about, and that's what St. Pete Black Pride is about."
Devine's Banyan Tree Project is the sponsor of St. Pete Black Pride and wants to elevate the concept of same-gender-loving.
"We're not gay; we're not lesbians, we're not bisexuals. We're same-gender-loving men and women. I think it takes away the 'other' atmosphere. When you say you're gay, that means you're other. When you're lesbian, your other, you're not a human being; you're something different. But when you are a same-gender-loving man or woman, it takes away the mystery. It takes away the bull; it takes away the doubt. We're men and women. We just happen to love the same gender."
Later in the afternoon, St. Pete Black Pride presented drag entertainment by the official Miss St. Pete Black Pride, Kiala Santi, who performed several pop hits. She also represented St. Pete Black Pride at the MLK Day Parade.