Actress Mika Lawton star s with Cranston Cumberbatch in "AGENT X." The local film shot in the Tampa Bay area will be shown Jan. 21 at 7 p.m. at the Sundial AMC.
BY J.A. JONES, Staff Writer
ST. PETERSBURG – The Sunshine City Film Festival is on its way, and one of its biggest attractions is sure to be the red-carpet screening of "AGENT X," the ambitious espionage thriller by filmmaking team Cranstan Cumberbatch and Jabaar Edmond.
The hometown, high-action story was based on an original short story by Edmond and co-written, co-directed and co-produced by Edmond's 909 Films and Cumberbatch's AmaznCran's Creative Works.
"It's a story of a secret agent who gets brought in to find out who's doing these drone attacks, now that drones have been made public and anyone can fly them," said Cumberbatch, who plays the lead. "Some key people are being taken out and my character, Agent X, is brought in to investigate. As he goes into the investigation, he's wrapped into a deep world of Bitcoins, cryptocurrency, and espionage."
Cumberbatch said they are proud of the project and the people that are involved in the movie. Audiences will see familiar locations including Rococo Steakhouse, the Snell Isle area, The Canopy Rooftop Lounge in downtown St. Pete and Tampa's Inkwell Center.
"It's a low-budget production, but it showcases the potential of what could happen if we were given a larger budget," he added, stating that the ability to tell a good story, to cast the right actors and be able to shoot in prime locations were all key.
Edmond started writing "AGENT X" five or six years ago because he was hard-pressed to find positive black images in the media. He knew it would take a large cast, an abundant amount of resources he didn't have at the time, so he put the idea on a shelf.
At the time, the filmmaker was experiencing a transition in his storytelling style, going from a street-urban type of film to a "more well-rounded movie that anybody could watch, as far as subject matter."
Edmond said the transition coincided with his working with Cumberbatch, which led to the duo's first feature, "Art in the City," which Edmond stated was a more doable script with easier-to-manage production value.
But, he added, it was the experience and success of "Art in the City" that gave the team the connections and resources to allow "AGENT X" to become a reality.
"It was a collaborative effort to bring a positive black image from our city. Having a black image of positivity like Agent X coming out of St. Pete is huge," reflected Edmond, who is a member of CDAT's Leaderz of the New School #NewImage project, whose motto, "Smart is the New Gangsta" is all about changing the image and depiction of black males in the media and the community.
It's also the most diverse cast the filmmaker has worked with, with actors from a variety of backgrounds and nationalities, adding to the international feel of the film.
Edmond also needed to do his homework to bring the realism required by the story matter.
"There was a lot of research done for the story. The essence of the story is ripped right out of the headlines, using terms and phrases that are in the espionage world," the visionary filmmaker explained. "When you think of espionage you think of James Bond and cars blowing up, but these people are way more discreet," he stated.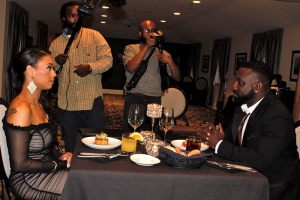 Edmond said their choice was to create a mix between a realistic depiction and something that is more fantasy-driven while going for a look that was "very glossy, very shiny."
"It's a beautiful story, and Cranston really brought Agent X to life," added Edmond.
Cast includes Mika "Minnie" Lawton, Richard Michael Stefanik, Louis Joseph, Tim Cameron, Marco Solo, John Mohammed, Amy Rose, Rich Gil, Debbie Garrett, Maxx Grist, James Patterson, Patrick Miller, Lorenzo Carswell, Kyle Nardo and Ann P.
Assistant director of photography was George "Napps" Carty; camera was provided by Tim "Cam Da Cameraman" Cameron, Patrick Miller and Jalisa; production assistant was Amy Rose.
Tying in themes of troll farms (Russian bots), drones, international traffic and an intrigue-laced bond between St. Petersburg, Russia, and its namesake St. Petersburg, Fla., sounds like a tall order, but Edmond feels confident the importance of the film is even more significant than the action involved.
"This project says a lot about the drive of people here in St. Pete because while people are waiting for Hollywood to make James Bond [black], we brought our own super-agent alive here. And we made sure to make it available for all ages to watch on purpose."
Because at the end of the day, asserted Edmond, "We really want to help promote better images of African Americans in our community."
To purchase tickets for the "red carpet" screening at the 2019 Sunshine City Film Festival, on Jan. 21 at 7 p.m. at the Sundial AMC, visit EventBrite. To learn more, visit www.agentxthemovie.com, on Facebook or Instagram.
To reach J.A. Jones, email jjones@theweeklychallenger.com