BY J.A. JONES, Staff Writer
ST. PETERSBURG – The ambitious espionage thriller "AGENT X" by filmmaking team Jabaar Edmond and Cranstan Cumberbatch is back, and audiences can see an updated cut of the film at AMC Sundial Sunday, Feb. 24 at 7 p.m.
The hometown, high-action story was based on an original story by Edmond and co-written, co-directed, and co-produced by Edmond (909 Films) and Cumberbatch (AmaznCran's Creative Works).
Cumberbatch, who plays the lead, described it as a story of a secret agent who gets brought in to find out who's carrying out drone attacks on victims in St. Pete.
After an initial screening during the Sunshine Film Festival in Jan., Cumberbatch said the team received "congratulations and accolades with interest to see more of the film."
"As we worked with the feedback from our first screening, this version has newer scenes and more added to the storyline than the first screening," Cumberbatch.
He explained that the festival screening process is vital because it allows the team to hear from the audience and make changes and allows the viewer to become part of the process through a post-screening talk-back process.
While they received some critiques, Cumberbatch acknowledged that was a large part of why the screening process is so crucial for smaller-budget films.
"It's a low-budget production, but it showcases the potential of what could happen if we were given a larger budget," he asserted.
"That is a big part of the reason why we do screenings, especially when you don't have the big Hollywood budgets; you have to arrange your own premiers and test screenings. But the gift of that is you also give an opportunity for the community to grow with us and the project, which helps a lot as we move forward."
Cumberbatch was grateful that the film is getting support and related that ABC's Channel 10 "Morning Blend" show gave them a spotlight interview on TV to share more about the film and the upcoming screening on Feb 24.
After the Sundial screening, Cumberbatch said the team will hit the film festival circuits and meet with investors for a nationwide screening tour.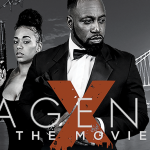 The team is also planning to debut an "AGENT X" Comic Book at Afrocom Comic Book festival this coming March in Tampa. Cumberbatch said the comic book is designed to not only be entertaining like the movie but will also be educational and informative with an emphasis on digital entrepreneurship and S.T.E.A.M. education.
"AGENT X" is the second film coming out of the C.D.A.T. (Community Development And Training Center, a 501c3 organization) New IMAGE Project, with last year's "Art in the City" movie being the first to launch from the CDAT team last year.
"AGENT X" cast includes Cranstan Cumberbatch, Mika "Minnie" Lawton, Richard Michael Stefanik, Louis Joseph, Tim Cameron, Marco Solo, John Mohammed, Amy Rose, Rich Gil, Debbie Garrett, Maxx Grist, James Patterson, Patrick Miller, Lorenzo Carswell, Kyle Nardo and Ann P. Assistant director of photography was George "Napps" Carty; camera was provided by Tim "Cam Da Cameraman" Cameron, Patrick Miller and Jalisa; production assistant was Amy Rose.
To purchase tickets for the Feb. 24 screening, go to Eventbrite. To learn more, visit www.agentxthemovie.com, Facebook or Instagram.
To reach J.A. Jones, email jjones@theweeklychallenger.com