"Black Pioneers of the Sunshine City" spotlights the history of African American struggles and successes in St. Pete in the 1950s and '60s.
By J.A. Jones, Staff Writer
ST. PETERSBURG –The brothers David and Archie Boston's documentary "Black Pioneers of the Sunshine City" spotlights the history of African American struggles and successes in St. Petersburg in the 1950s and '60s. Originally airing last Feb., the film is currently receiving an encore presentation on WEDU.
Their documentary covers historically significant events and explores the lives of the people whose activism and experiences contributed to St. Petersburg's evolution.
David Boston is the senior producer and director of the hour-long documentary and has been a producer and director with NBC, CBS, ABC and PBS television networks.
His brother Archie Boston acted as the documentary's producer and creative director. A groundbreaking advertising and design professional and retired professor of graphic design from California State University, Long Beach, he is currently focusing on his art and gathering his academic papers and design archives for Duke University's Black History at Duke Reference Collection.
David and Archie Boston grew up in the Gas Plant neighborhood and were regulars on 22nd Street South, affectionately known as the Deuces, in the 1940s. In Jim Crown St. Pete, the Deuces was where African-Americans residents created their own main street with thriving black-owned businesses.
Archie Boston talked about how the documentary came to be. "We worked on the film about two and a half years, starting in 2016. I had written a book called "Little Rascals of the Sunshine City," so my brother decided to come up with the idea of doing a documentary about when we grew up in St. Petersburg."
Inspired by stories in the book, the brothers decided to interview people "who were there." Both brothers attended Gibbs High School with many of the people interviewed in the film.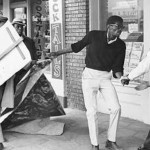 The documentary tells the stories of educators, pastors, activists and more. Among those featured in the film are the Uhuru Movement's Omali Yeshitela, educator Mozelle Davis, restauranteurs Carolyn and Elihu Brayboy, historian and business consultant Gwendolyn Reese, Parks and Recreation manager Thomas "Jet" Jackson, Frederick Winters, a leader of the 1968 Sanitation Strike and Barbara Shorter, the first African-American high school principal in Pinellas County.
"Black Pioneers" is a quick study at only an hour long, and is filled with historical photos, films, video footage along with music from the '50s and '60s.
"Black Pioneers of the Sunshine City" is scheduled to air on WEDU next Wednesday, Feb. 27 at 1 p.m.
To reach J.A. Jones, email jjones@theweeklychallenger.com