Deonte Thompson, founder and executive director of the Dreamfaith Foundation and award-winning scholar India White
By J.A. Jones, Staff Writer
ST. PETERSBURG – Smart money management was one of the topics on the table – not in a roomful of bank execs, but before a group of middle schoolers – at the 2018 St. Pete Strong Youth Conference at SPC on June 22.
"So…Steph Curry started out with 34 million – but what did he actually take home?" called out Charles Keeley, a financial advisor heading the Money Management workshop.
"Fifteen million!" replied 13-year old Aysha, carefully observing the PowerPoint.
"So, this is why athletes end up growing broke because they're thinking, 'oh, I got all these millions, now I can ball out,'" nods Keeley.
"And then they spend the rest money on cars and stuff!" asserted 10-year-old Jaden – just one of 200 students that attended workshops in computers, career mapping, money management and other presentations.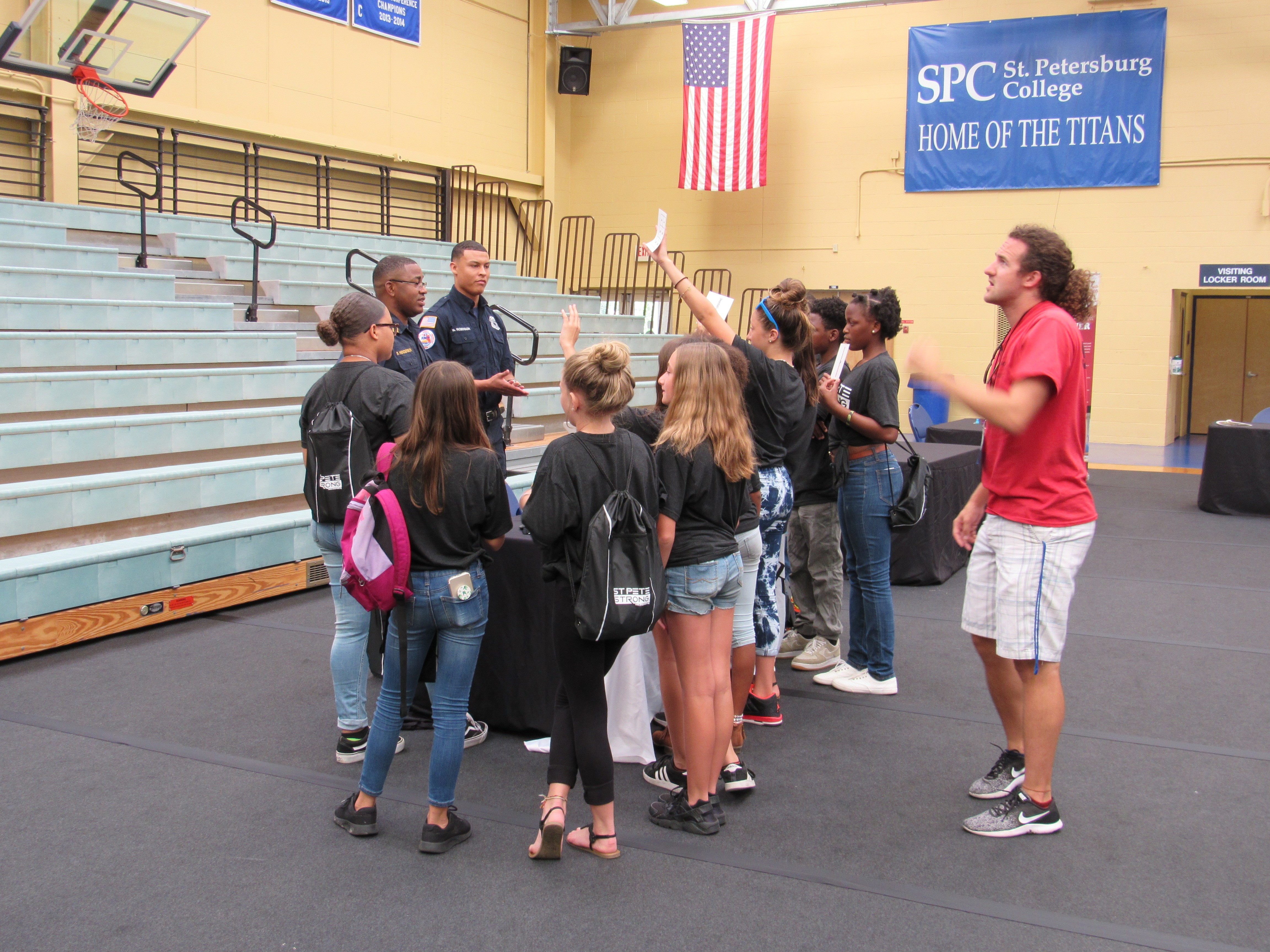 Deonte Thompson, founder and executive director of the

Dreamfaith Foundation

, is behind the vision to help St. Pete youth empower their dreams. Started in 2008, the foundation's board is largely comprised of St. Pete natives who might have moved up and out, but whose heart is still in the community.
"I used to travel around to different prisons talking to kids 16, 17 years old with 30-year sentences, 25-year sentences, life sentences," explained Thompson, who went to The Boca Ciega High School and FAMU, and now lives in Texas. "I figured out pretty early we need to reach them way before they get to that point. So, we focus more on middle school than high school students."
The foundation started out with a mentoring program, and then quickly grew to become the "Dream Big" initiative that created a computer lab in Childs Park. Passionate about technology, Thompson said S.T.E.A.M. is "all over the DNA" of the foundation.
This year's conference was held in partnership with St. Petersburg College. JerJuan Green, director of the Virginia M. Leonard Community Education Center, is a big believer in the event. Like Thompson, he's also an engineer who graduated from Bogie and FAMU.
"The St. Pete Strong Youth Empowerment Conference is a great way for youth in our community to be exposed to S.T.E.A.M.-based opportunities and careers from individuals that look like and have lived where they do," noted Green.
"When I was young we didn't have S.T.E.M. or S.T.E.A.M. workshops," offered Thompson. "My S.T.E.A.M. workshop was going into an alley, getting a T.V., breaking it apart, taking the speakers out, and then daisy-chaining it to my wall so I could listen to my music."
In 2016, the St. Pete Strong conference at SPC Allstate Center focused on law and S.T.E.M. Thompson, an engineer at Dell computers, brought his own skillset to the workshops during that first conference.
"I showed the students how to take something that they're passionate about — gaming, video games — and say, 'hey did you know that you can make a career out of gaming? Do you know the kind of engineers that are associated with the gaming industry?' It's exposing those kinds of desires and passions to something they can monetize in the future."
The second conference was held at Pinellas Technical College and focused on trades and high-paying career possibilities for those interested in certificate programs. This year's conference was a mix of offerings.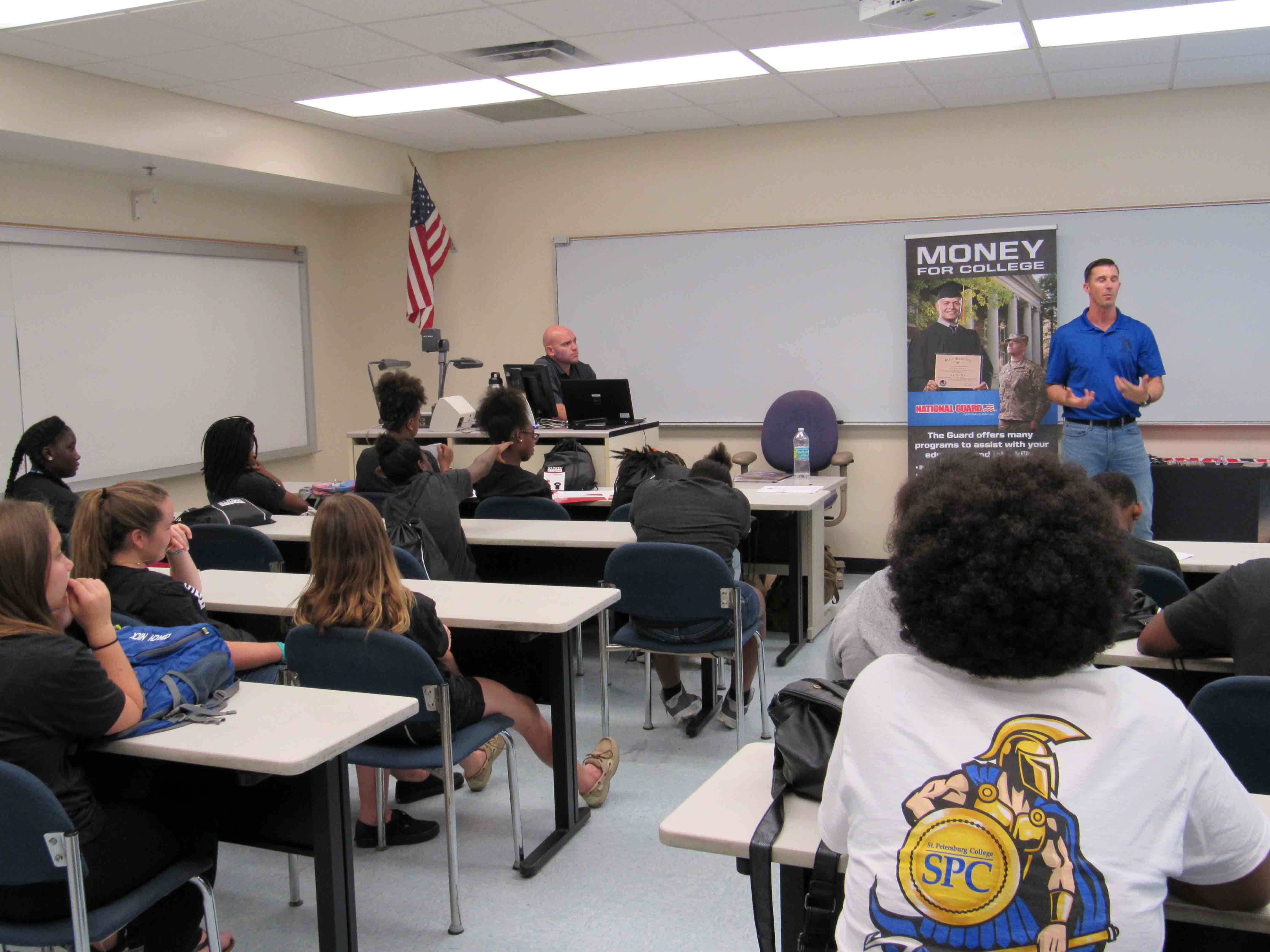 Dreamfaith has continued to bring African-American achievers into the community to inspire a new generation.
The 2015 Dream Big initiative brought a summer speaker's series with Edouardo Jordan, who became the first African-American chef to grace the cover of Food & Wine Magazine. Jourdan even cooked a meal for youth at Childs Park. Judge Patrice Moore, the first African-American female to serve as Circuit Court Judge in Pinellas County was another speaker, among others.
This year's conference speaker was Sarasota native, Hillsborough County assistant principal and award-winning scholar India White, who was grateful she could come back to the Dreamfaith Foundation and share her story.
Growing up in a low-income house with 10 children, she experienced the impacts of alcoholism, physical and emotional abuse and homelessness at an early age. But hard work and having the support of a mentor enabled her to excel in school, and attain a Gates Millennium scholarship and other awards along the way.
"I was able to go from a homeless shelter to a college dorm overnight," shared White, whose hardships and struggles make her passionate about Dreamfaith.
"Programs like this are great because they help kids with their needs. It was having support that made all the difference in the world."
White wanted to remind the youth that while people may look at her and only see her successes, everyone has something they struggle with.
"We all have a story; we've all been through something. You can still make it."
Dreamfaith still needs support to continue its mission. Thompson said current funding comes from t-shirt sales, donations from the community and his pocket. The cost to do the conference was more than $10,000. None of that came from grants or from the city – but he hopes to change that.
In the meantime, Dreamfaith will continue building the St. Pete Strong brand.
"The whole theme is, you're St. Pete Strong because you're creative, you're intelligent, you have drive, you're passionate—all these gifts that students have, that are not really tugged out of them. We're trying to extract that from their passions and say, 'how do we connect that to something that's going to propel them to their future? How do we give them that guiding North Star?'"
And while Thompson wants Dreamfaith to propel youth to carry out their biggest dreams, he's looking for their efforts to offer concrete results for their young charges.
"We have this motto: if it doesn't work, we're not doing it. If it's not making an impact, we won't do it. Because the whole focus is changing lives of this next generation."
For more information on the Dreamfaith Foundation and St. Pete Strong, visit

www.dreamfaith.net

.