Kymbriell Finch, owner of Swim with Kym, teaches water safety and drowning prevention classes in the Black community.
BY KARIN DAVIS-THOMPSON, Staff Writer
ST. PETERSBURG — To say Kymbriell Finch loves the water would be an understatement. She got her first lifeguard position with the City of St. Petersburg in 2010 and stayed for seven years until leaving to work on a cruise ship. When she returned home, she rejoined the city's team, serving as the seasonal supervisor for the Jennie Hall Pool at the Thomas "Jet" Jackson Recreation Center.
Over the years, Finch said she'd noticed a trend that has always concerned her — a lack of support and understanding of the water in the African-American community. So, she decided to do something about it.
"Pool decks started to look the same to me," she said. "Not only is there a lack of opportunities revolving around water safety, but the representation of the Black community in these aquatic spaces is almost nonexistent."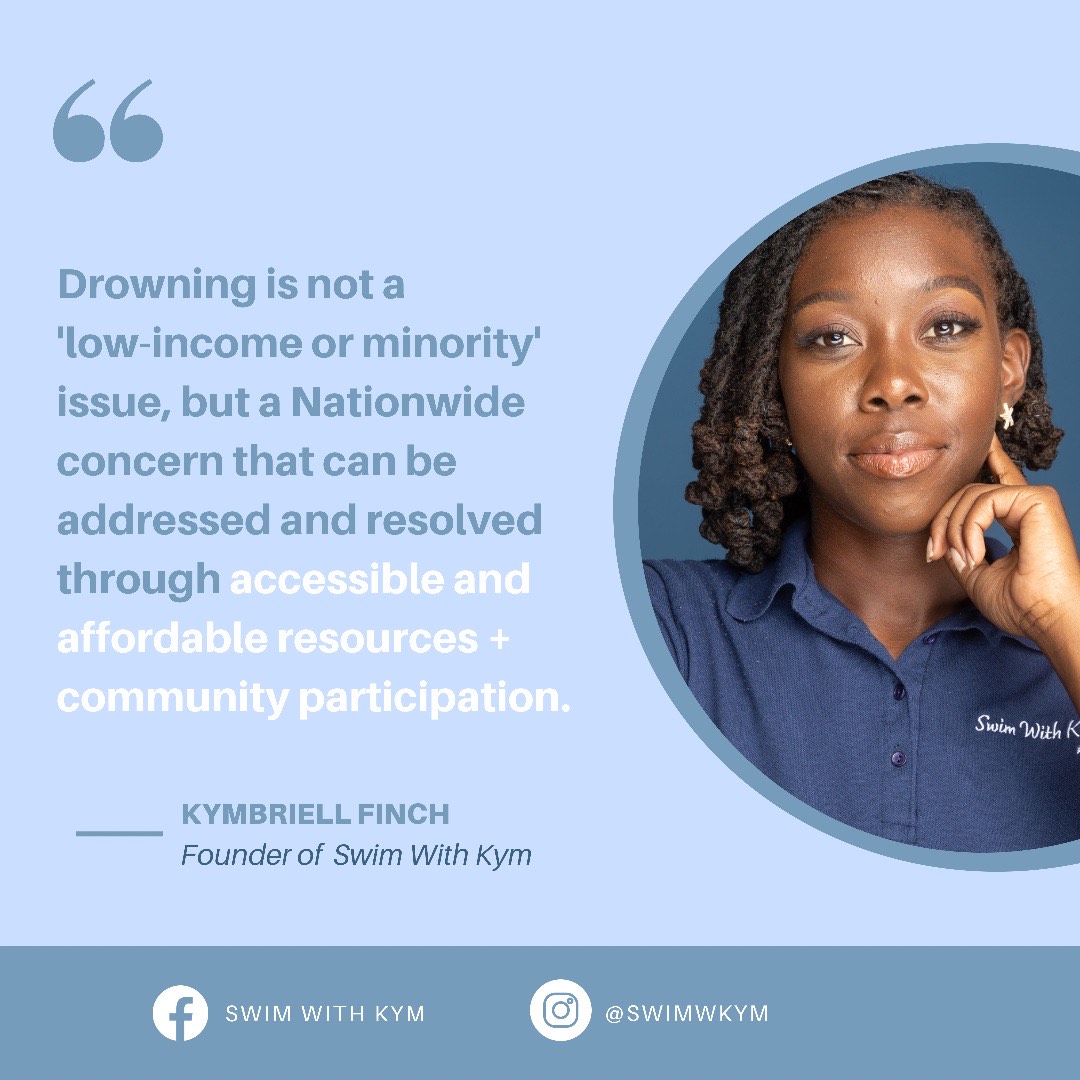 After taking a drive one afternoon through the city's south side, she noted all the things she thought were missing that would benefit the community, especially around water and water safety. She realized she couldn't sit by, hoping someone else would get involved.
"I literally started questioning myself out loud: 'If you're not going to do it, who's going to do it?' I started this business because it's a good cause, allowing me to cause good trouble, to get things done for my people."
Thus, Swim with Kym, LLC was born. Her business provides various water and water-safety-related services, including private and group swim lessons, lifeguard rentals, first aid and CPR training, lifeguard training, adaptive aquatics and educational water safety teachings.
To date, her company has worked on projects with several local organizations to promote water safety. Some of her latest partnerships include the Greater Tampa Chapter of Jack and Jill of America, Inc., ReDefiners World Language, Inc. and the Boys & Girls Clubs of the Suncoast.
Working for the city's Parks and Recreation Department, Finch and her team have not only revitalized interest in the Jennie Hall Pool, but they are also working to solve other issues in the area, from food insecurity to donations for water-related supplies such as swimsuits and trunks, goggles, towels and sunscreen lotion.
"The staff and I have made it our mission to revitalize that community by creating a new relationship between the Black community and aquatic spaces," she said. "This year's team at the Jennie Hall Pool has worked hard to increase our daily number of patrons, as well as bring much-needed participation in classes like parent and child and adult swim lessons."
Finch is excited about where her company is going and the difference it can make in the African-American community. She believes a history of racism is a big part of why many Black people don't know how to swim.
"It's the cause of why generations of Black people have a deep-rooted fear of swimming," she asserted. "Think about it; drowning was used as a punishment for enslaved captives that did not obey their masters. While they struggled to survive, their loved ones watched."
Also, decades of Jim Crows laws prevented or restricted Black people from visiting municipal pools. Once segregation was outlawed, some pools were drained and covered, paving the way for private pools.
"Those traumatic events are soaked into our Black history timeline," Finch explained. "We're carrying years of cycles of oppression and don't even realize how it prevents us from being a part of everyday activities."
The 26-year-old community advocate said she wants her business to not only help her community erase the fear around swimming and water but she also wants it to be an inspiration to the next generation to look around and find ways to help.
"I envision my brand to not only serve as a platform that will bring about important conversations and actions targeting water and community safety, but I also saw myself being an example to the youth that I serve of what it looks like to create your own definition of success," she said.
For more information about Swim with Kym, email Finch at swimwkymfl@gmail.com or visit her Facebook or Instagram.