ST. PETERSBURG – The AKA AKAdemy is proud to announce its inaugural Great Debate program for middle and high school students in Pinellas County.  The event will be held Tuesday, March 20 at the Palladium Theater, located at 253 5th Ave. N, from 7-9 p.m.
The Zeta Upsilon Omega Chapter of Alpha Kappa Alpha Sorority, Inc. is excited for this opportunity and believes that debating can help teach students how to learn and how to think critically. The purpose of the debate is to provide an avenue for students to develop their civic knowledge, skills and dispositions as they research, discuss and engage in public debate.
There are three basic subjects necessary for debate and therefore necessary for all other learning: grammar, logic and rhetoric.
Participants will benefit from improved critical thinking skills, increased problem-solving abilities and overall academic performance. Scholarships will also be awarded to the winning debate team.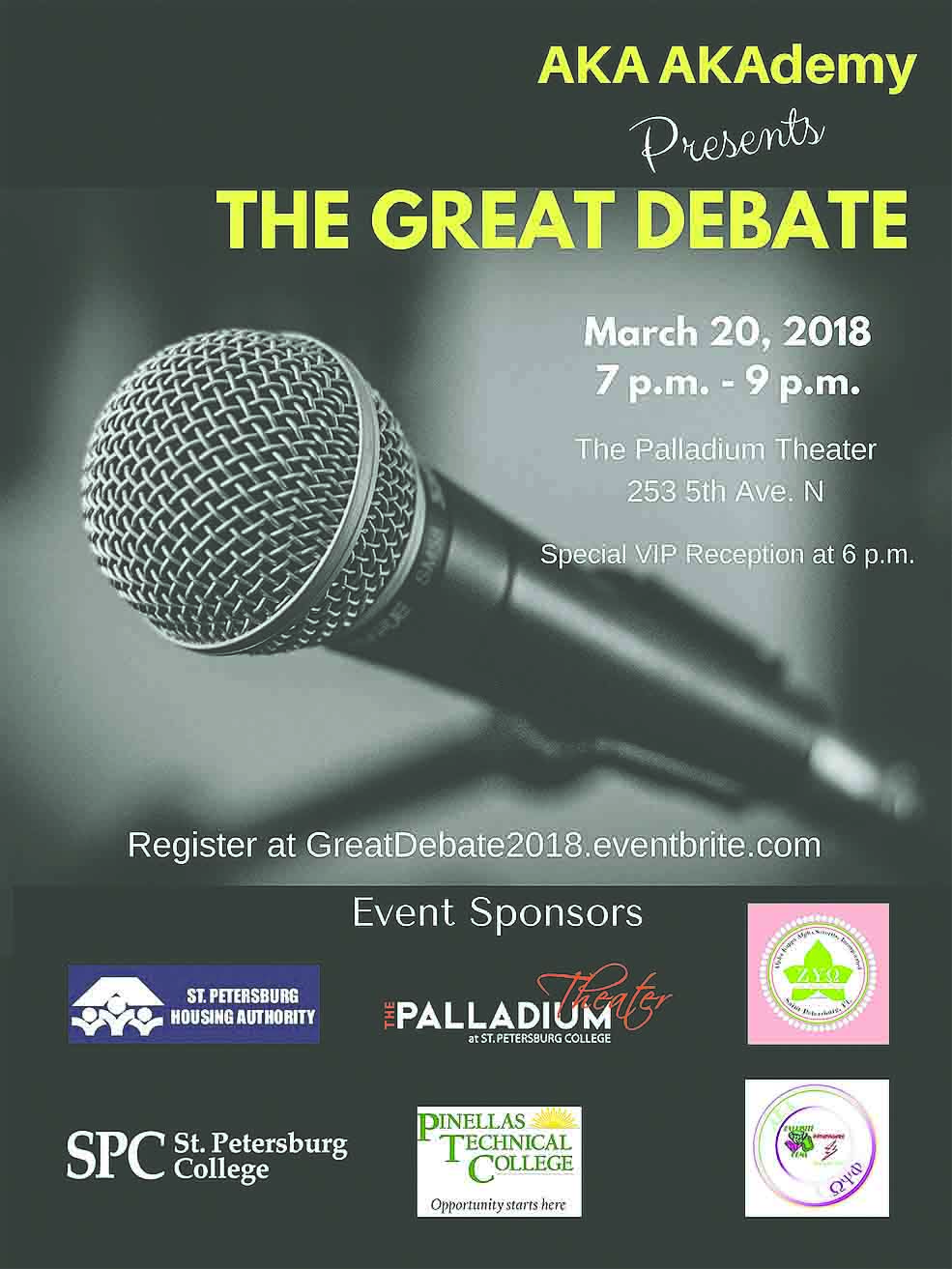 A special VIP reception will be held from 6 p.m. to 6:45 p.m. at the Palladium Theater. Sponsor organizations include: St. Petersburg College, Pinellas Technical College, and St. Petersburg Housing Authority.
The AKA AKAdemy is a signature program of the Youth Development Foundation of Pinellas County, Inc. established by Zeta Upsilon Omega Chapter of Alpha Kappa Alpha Sorority, Inc. Youth participants from the Exquisite Gems and Pathfinder program benefit from life learning skills as well as educational and leadership development training during the school year. Volunteerism is also encouraged through a host of community service projects.
For more information, visit ZUOChapter.org or contact Dr. Delphinia Davis at 727-320-6431.
This event is free and open to the public. Register online at GreatDebate2018.eventbrite.com.