BY CINDY CARTER, Staff Writer
ST. PETERSBURG – Black Nurses Rock St. Petersburg Chapter (BRN) held their inaugural Nurse Trailblazers Award and Scholarship Luncheon Saturday, June 15 at Empath Health. The luncheon was created to recognize nurses who have made extraordinary impacts on the healthcare profession and in the community.
In the works for more than two years, the inaugural luncheon acknowledged five African-American nursing pioneers in St. Pete's history: Alma Kicklighter, Ernestine Rembert, Catherin Crumbs, Janie Johnson and the late Evelyn Gardner.
BRN is an inclusive volunteer nursing organization that supports the advancement of each member, mentor nurses and nursing students. They collaborate with existing organizations to provide health and wellness education and screenings to vulnerable communities.
Chapter President Lottie Cuthbertson called for a moment of silence for Mrs. Gardner, who passed away late last month, and thanked the honorees for blazing new trails and "decades of commitment to mentoring, teaching, nursing, community service, certainly to our country and much more."
Senator Darryl Rouson stopped by to bring greetings from the Florida Senate before rushing off to two funerals.
"From Mary Seacole to Sojourner Truth to Harriet Tubman, the legacy has been laid down, and you have picked it up and run with it," said Rouson, who serves on two healthcare committees in Tallahassee: health policy and healthcare appropriations. "I learned that there are so many health disparities that still exist in our communities; there's much work to be done."
Rep. Wengay Newton cut short another commitment to be there and honor these special women. He spoke about the time when he was on city council and recruited 75 nurses, all wearing scrubs, to go to Tallahassee and challenge the law that prevented healthcare workers from obtaining or renewing their license if they had a felony charge within the last 15 years, which was a change from five years.
"Had this stood, people that were eight years removed, which is outside of the five-year window, when they went to renew, they would not have had a license," said Newton, noting that black nurses were instrumental in getting the law changed.
School Board Chairwoman Rene Flowers was the perfect person to give the keynote speech. She has known each of the honorees since she was in her early 20s, and all were responsible for her going into the healthcare field.
"These young ladies took me under their wing when they kept me from stepping into trouble that I didn't need to get into; when they showed me what I needed to do and how I needed to do it," she said.
Flowers added that they looked out for her, kept her in check and told anyone who'd listen what a great worker she was. She soon moved up the ladder at her first job.
The Evelyn Gardner Nursing Scholarship and Janie Johnson Nursing Scholarships were presented to Pinellas Technical College to be given to students this fall, and the Catherine Crumbs Nursing Scholarship was given to St. Petersburg College for a qualifying student.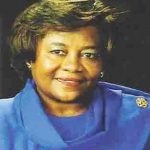 Evelyn Gardner MSN, RN, ARNP
A graduate of St. Petersburg Junior College's RN program, Evelyn Gardner attend the University of South Florida where she obtained a BSN and a MSN.
She was a member of Delta Sigma Theta Sorority and was the co-founder and the first president of the Black Nurses Association, St. Petersburg Chapter. In 2000, Gardner received the Nurse of the Year Award from the national chapter.
Gardner worked for Bayfront Medical Center for many years where she once received the Nurse of the Year Award.
She was a member of many community boards including the Johnnie Ruth Clarke Health advisory board, Churches United for Healthy Congregations steering committee and chair of the Agenda 2010 Health Initiative board. She also participated in many city initiatives.
Gardner retired from Pinellas Technical College after 18 years as a nurse educator and nursing program coordinator.
She was married to Julius Gardner for 54 years before his death and was a faithful member of Bethel Metropolitan Baptist Church. Gardner passed away May 26.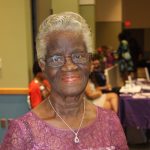 Alma Kicklighter, BSN, RN
Born in Suwanee County, Fla., Alma Kicklighter always wanted to be a nurse, but it was unusual for black women in rural areas to seek careers in anything but teaching. She applied and was admitted to the school of nursing at Florida A&M University in 1953, and married in 1954.
During the years of racial segregation, nursing students could only train and work where black patients were treated, which led to a network of approved facilities being established for black nurses across the South. Kicklighter traveled to Tuskegee, Ala., to work at the Veteran's Administration Hospital on the campus of the Tuskegee Institute for her clinical training.
She completed the clinical hours required to earn her degree and the Kicklighter family soon moved to St. Petersburg where she began her career at the segregated Mercy Hospital. In 1959, she began working in public health, forging a career that spanned 45 years, retiring in 1994.
In her retirement, Kicklighter founded Ghettreal Community Services, an HIV testing and education program that served the community for nine years.  While teaching nursing throughout her career as a second job, she was able to mentor countless nurses, even several of the trailblazers honored at Saturday's event.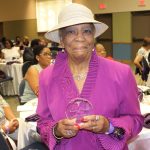 Ernestine Rembert, RN, BSW, MPH
Moving from Valdosta, Ga., with her parents at the age of nine, Ernestine Rembert has been a resident of St. Pete ever since. She attended Gibbs High School and Gibbs Vocational School where she received her practical nursing education in 1961.
She graduated from St. Petersburg Junior College's registered nurse program and went on to pursue a bachelor's degree in social work from St. Leo College. Rembert later obtained a master's degree in public health from the University of South Florida.
Enlisting in the U.S. Army, she retired after 20 years of service. While in the military, she served and worked at the 349th Combat Support Hospital where she was a practical nursing and HIV instructor.
She also spent 32 years at the Pinellas County Health Department, where she worked in the pediatric and infectious disease clinics until retiring. Not able to sit still, Rembert then spent four years working with Suncoast Hospice as a home care registered nurse.
Rembert and her husband, Frank, had 48 years and four children together before his death.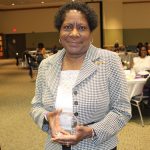 Janie L. Johnson, MS, RN
Born and raised in St. Pete, Janie Johnson graduated from Gibbs High School in 1969 and obtained an Associate of Science degree in nursing in 1975. She later received a bachelor's and a master's degree in nursing.
Johnson worked for Bayfront Medical Center for 16 years as a charge nurse on several units and as a utilization review coordinator for four years. She joined the United States Air Force Reserves in 1983, attended flight nurse school in 1984 and completed nursing service management courses at Brooks and Sheppard Air Force Base, Texas.
Completing tours of duty and field exercises, she was assigned as an adjunct flight examiner with the Inspector General team. At the rank of captain, Johnson was the Officer-In-Charge of a Mobile Aeromedical Staging Facility in Desert Shield. In 2004, she, in support of Operation Enduring Freedom as the flight clinical coordinator, worked closely with the Combat Support Hospital at Bagram Air Base in Afghanistan.
Johnson is one of the co-founders of the Black Nurse Association, St. Petersburg Chapter, which was chartered in Aug. 1991. She is currently the president and has been for more than 15 years.
Now, she is a semi-retired nursing instructor at Pinellas Technical College.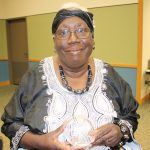 Catherine Crumbs, APRN, RN, MSN
A St. Pete native, Catherine Crumbs volunteered at the American Red Cross and Mound Park Hospital, now Bayfront Health, as a teen.
She started her nursing career as an LPN, obtaining an RN license from St. Petersburg Junior College and a BSN and MSN from the University of South Florida. She became certified in gerontology and medical-surgical nursing. Throughout her career, she worked at Bayfront Medical Center, the Pinellas County Health Department and Bay Pines Hospital.
Crumbs eventually changed her nursing career path to teaching. She worked at St. Petersburg College as a nursing instructor in their Health Education Center, retiring in 2013. Her volunteer service and recognitions are vast, including work with the Pinellas County Urban League and different health fairs.
She is a past president of the Black Nurse Association, St. Petersburg Chapter and a member of the St. Petersburg Alumnae Chapter of Delta Sigma Theta.
For 36 years, she was married to Onnie Crumbs, and three children were born from that union.