BY FRANK DROUZAS, Staff Writer
ST. PETERSBURG – One of the many candidate forms held for the District 6 seat for St. Petersburg City Council was held last Thursday at Greater Mt. Zion AME Church.
Bay News 9 reporter Trevor Pettiford moderated the forum and called District 6 one of the most diverse districts in the entire city.
"It covers so much," he said, "it covers so many people, it covers so many cultures and that's what makes our district so rich."
Candidates fielded questions about various topics such as summer employment for youths, the city's 20/20 Plan, the growth and development of the Deuces area and even what they do on their days off.
Concerning the relationships the candidates had with other parts of the district, Jim Jackson noted that he ran for the school board in 2010 and worked on the Barack Obama presidential campaign in the city.
Gina Driscoll, who serves on the board of the Downtown Business Association, said she wanted "to be part of a group that was truly involved in making the community better." She also established connections with business leaders in the community and in turn got to help small businesses "learn and grow their business" in downtown and looks to bring that experience to the rest of the district.
Justin Bean said he has been working in Midtown with the Economic Development program and built a relationship with a number of people in the Urban League Young Professionals.
"We brought the two groups together to try to bring more unity in different young professional organizations around the city," Bean remarked.
Maria L. Scruggs called herself a "child of this community," who currently serves as the president of the St. Pete Branch of the NAACP, and has overseen a 67 percent increase in the organization's membership.
Eritha "Akile" Cainion, born and raised in south St. Pete, said her community is being "gentrified out of existence" and there is a lack of affordable housing, and her destiny is to bring the people's fight to the electoral arena.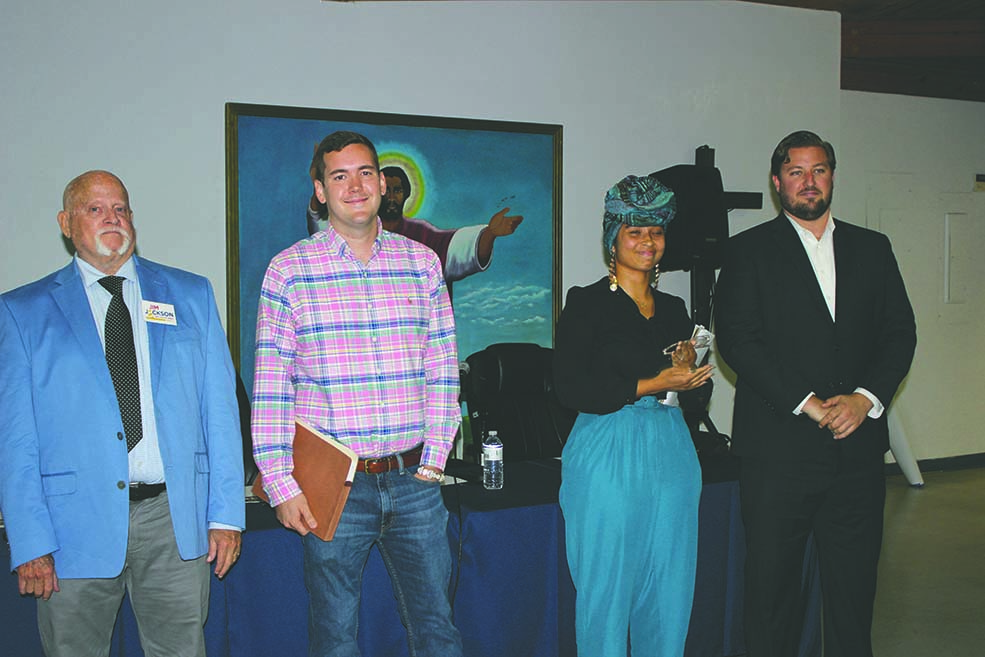 James Scott said since moving the city in 2008, he has spent the majority of his time serving the University of South Florida and the college's community by expanding access to healthcare and transportation services. He also worked with the Suncoast Group Sierra Club to expand access to affordable clean energy.
Robert Blackmon grew up in St. Pete and renovates dilapidated houses and turns them into affordable housing.
"I've done my best to invest in the community on a private basis," he said.
Corey Givens, Jr. was born, raised and educated in District 6 and said he is proud to have worked in the community as president of his neighborhood association, elected at the age of only 22. Within the association, he worked to restore and revive the crime watch division.
When asked what distinguishes them from other candidates, Cainion said it was her platform that separated her, which includes affordable housing, no more "big money" in politics and her vision for the black community to be able to "feed, clothe and house themselves."
Scott said he fought for years with a team of USF students, faculty and community leaders to build a healthcare facility, expand access to public transit and access to fresh food on campus.
"I have been part of my community, set priorities and moved the money to invest in those priorities and those services and those programs," he said.
Bean said what distinguishes him is his experience in business and the public sector. He has spent more than 10 years building a small family business, he explained, and understands the needs that make up the small businesses of St. Pete.
Scruggs said experience separates her from the other candidates, as she can "hit the ground running on day one."
"After 30-plus years of public service in law enforcement, I've been certified in three law enforcement academies," she said, pointing out that she'd also worked in healthcare and public housing.
Jackson said he's worked in "every kind of sphere" in his 50 years of public service. He shared with those in attendance that he has a son in Arizona who robbed a bank, but when he gets out of prison he'll get his voting rights back and a certificate to work.
Jackson has been working for the restoration rights of ex-felons right here in Florida to make sure that the 800,000 ex-felons in the state get their rights back soon.
Driscoll itemized what set her apart: thoughtful leadership, an inclusive approach "that listens to everyone and welcomes everyone" and good business sense "that watches how the money is spent and creates opportunity for everyone who wants it."
Blackmon said he is a business owner and a job creator who has invested in our neighborhoods and wants to do "the right thing for all neighborhoods in our city and in our district, not just one pocket."
Givens, Jr. said he is relevant, humble and an active listener.
"Those are three traits that you need from any representative whether local government, federal government or state government," he said.
On the question of supporting the economic initiative of the 20/20 Plan for south St. Petersburg, which aims to reduce poverty by 30 percent, Scruggs said she does not support it in its current format but supports the premise that the goal is to reduce poverty.
She contends that the strategy to this end must be about creating jobs with livable wages within the community.
Scott said it is not a perfect plan as it is, but he does want it to succeed.
Cainion said, echoing the sentiments of Bean, that the plan to reduce poverty by 30 percent is aiming too low and the goal should be to eliminate poverty altogether. She believes in reparations to the black community as a way to help bring people put of poverty.
Givens, Jr. supports the plan and also supports "making sure that every person and every child knows what it means to be a homeowner. Part of fixing poverty, he said, means putting the resources and tools at the residents' disposal.
Blackmon said we need to do things now to fix our communities and advocated job training and education as a way to reduce poverty sooner.
Driscoll feels the plan was "very good" but doesn't think it goes far enough. She said it should be reviewed and changes should be made to make it a more "robust" plan that lifts everyone.
"Thirty percent is not success," she said. "One hundred percent is success."
Jackson said he did support the plan but now is impatient for the plan to "show us what it can do" as he has not seen enough change. Education and apprenticeships are key, he said, as 20/20 "is happening too slow."
As to how the candidates would grow commercial development in the traditionally and historically African-American community and business district in Midtown, Blackmon said an anchor grocery store in Tangerine Plaza is needed along with local businesses such as food trucks.
Scott believes providing grants and support to the businesses in the community are important, while Bean said there needs to be a discussion with the community first about its needs and wants and advocated food hubs, nonprofit organizations that increase community access to local food.
Scruggs said the people in Midtown need to have viable incomes to shop at the stores and markets in the area, and Driscoll feels it's not too much to ask for any residents to be able to do "basic grocery shopping." Echoing Scruggs, she feels a living wage is key in areas such as Midtown so residents can patronize stores that open there.
As to whether the candidates would support the Concerned Organization for Quality Education for Black Students (COQEBS) in the Pinellas County School District, Driscoll said she supports the equal opportunity for every child in the district and the city to get a quality education from early childhood on.
Jackson on the other hand, has a "hot and cold" relationship with COQEBS because he said the organization has been in the habit of suing the school system for "upwards of 40 years or so." The result is generations of young African Americans not getting the education they deserve.
Scruggs supports COQEBS, and noted that the city could use a comprehensive plan that uses economics and education strategies to support the 105 early childhood education centers in south St. Pete.
Scott supports it as well, and Cainion said she believes in black community control of schools and the community's ability to provide a relevant curriculum that applies to black students.
Givens, Jr. noted, "We need to work with COQEBS to continue addressing issues as it relates to minority schools."
The candidates also addressed funding for resources for summer employment and activities throughout District 6, and Bean said keeping students engaged throughout the summer keeps them out of trouble and on the right path and advocated a trust fund with the CRA for mentoring and after-school programs.
Scruggs said the NAACP would recommend to the city council that the $300,000 proposed for a skate park in Campbell Park be used instead to support summer youth employment.
Cainion, on the other hand, is in favor of reallocating resources.
"I support a cease and desist of the police station across the street from the current one being built for $85 million to go to summer youth programs so that children during the summer can have a place to work and have these different job opportunities," Cainion said.
Scott said as councilman he would "fight the fight" to see money invested in summer programs, as they are not only good for the community but affect the economic development positively.
Givens, Jr. said it's important for St. Pete to be a city of second chances and it not exclude young people from participating in summer employment programs simply because they have a record, while Driscoll would like the city to do more in working with area employers to offer "meaningful summer employment" opportunities for youths.