Charlie Crist held his second quarterly Pinellas County African-American Leaders Conference with a panel of six community leaders including Dr. Tonjua Williams and Police Chief Anthony Holloway last Thursday, July 6.
BY HOLLY KESTENIS, Staff Writer
ST. PETERSBURG – The St. Petersburg College (SPC) Midtown Center hosted the second quarterly Pinellas County African-American Leaders Conference, assembled by Congressman Charlie Crist (D-St. Petersburg). Community leaders took part in an hour-long discussion focusing on the issues impacting the African-American community such as inadequate education and lack of employment.
"It's important to know what's on your minds and the concerns you have," said Rep. Crist, "and how things are going within the community."
Rev. Kenneth Irby, senior pastor of Bethel AME, moderated the panel, stressing that engaging in dialogue, not diatribe, was imperative for productivity to occur.
"Too often we have folks who come to arms and are not willing to listen or engage in hearing other perspectives on the issues," Rev. Irby said, emphasizing an honest dialogue about education and jobs is essential to move forward and combat the issues plaguing the south St. Pete.
Senior pastor of Greater Mt. Zion AME Rev. Clarence Williams believes in backing words with dollars.
"If you're serious about something, you're going to fund it," he said. "I don't see any funding."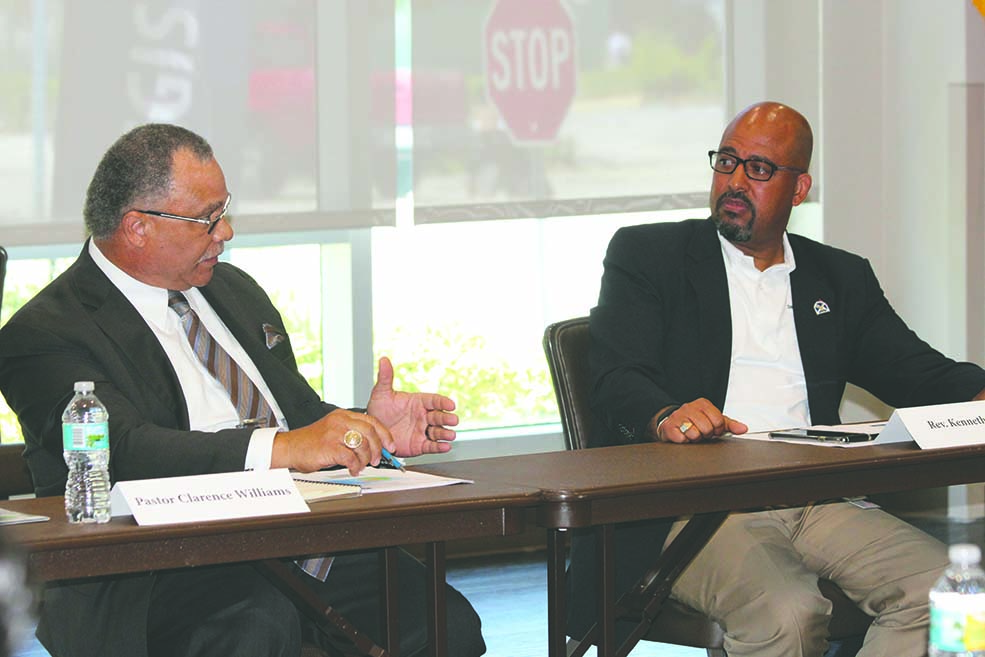 Rev. Williams suggested programs ran by African Americans do not get enough money and are struggling. He also believes the government looks toward faith-based groups to help solve many problems but doesn't trust their commitment to do the right thing with the dollars provided.
But, SPC President Dr. Tonjua Williams sees a need for spreading the funds that are given to make a greater impact on a larger number of youths.
"We have a lot of different programs that do a lot of the same work," she said.
Local programs aimed to reach black youth tend to serve a very small population of children and do not reach many of those in need. "We find the same child is in five programs."
The panel did agree that boredom leads to delinquency. Toriano Parker, owner of Parker Advantage Financial Services, blames a lack of resources in blighted areas for juvenile crime and suggests incorporating a swimming pool or computer lab in the Jordan Park area.
"In their free time, as soon as they get bored, sometimes the mischief happens," said Parker, who suggested a camp that teaches children computer coding.
Senator Darryl Rouson concurred and made an argument for increased access to jobs and community programs as well.
"I think we've got to meet kids where they are," he said, "find things that they find relevant."
But when it comes to the availability of jobs, according to Rev. Irby, teens are saying there aren't any, especially if you have a record. The faith-based community believes in second chances, even for felons, but when it comes to corporate America, a criminal conviction makes it downright impossible to compete in the job market.
Rev. Williams believes the answer is in transitional programs that lead to jobs. Instead of trying to find room for children in the judicial system, he argues funds spent engaging juvenile offenders in educational programs is money better spent. He wants programs that work with companies to commit a portion of their workforce to non-violent felons.
"For us to close these doors on a 13 year old because they made a mistake, I don't think it's the way we're going to build our community," he said.
Dr. Williams reiterated how hard it is to obtain a job with a record, even if the offense happened when the person was a juvenile.
"Some careers will not take individuals who have committed a crime," said Dr. Williams. "For instance, working in the medical field and some parts of government require a clean record, whether steps are taken to seal records or not."
Dr. Williams suggested the conversation of what types of programs to offer juvenile felons has to be made with the educational boards and professions involved with accreditation that is doing the hiring.
"Is it fair to place this person in this program when they will not be eligible to have a job? That's a tough discussion, but you don't want to have an individual go into nursing or dental hygiene knowing that they will never be able to sit for the exam."
Dr. Williams discussed approaching the problem at a younger age before children are plagued with a permanent record. She proposed career development from the elementary level, one that provides hands-on opportunities for children to learn what paths may interest them.
Implementing career counselors was another avenue panel participants discussed.
Police Chief Anthony Holloway believes intervention begins with the parents, not law enforcement, and addressed accountability.
"I got a hammer in my toolbox and everyone wants me to use it all the time," he said. He notices juveniles doing well during their stint in the detention centers, getting good grades and staying on the right track, but upon returning home they are out stealing cars again.
"If that foundation is not waiting for them at home, they are coming back to this hammer," he said, "and a hammer is not the answer."
The panel wrapped up their discussion by stressing the need of getting past party lines in Tallahassee and to get back to civility, concern and compassion both in government and communities across Pinellas County.
Although many of the issues discussed will take time to overcome, members of the conference vowed to continue the discussions and push for solutions.