BY INDHIRA SUERO ACOSTA, Staff Writer
ST. PETERSBURG – Dr. LaDonna Butler believes in the power of strong African-American women such as the ones she witnessed growing up with her grandmother in south St. Pete. As a young lady, she admired these women, and now she is the target of admiration. Young ladies can look to her as an example of strength and perseverance.
Butler had a child while still in high school and is a survivor of domestic and sexual violence as a teen. Those ingredients were a recipe for failure, but she did not become a statistic.
Graduating from Gibbs High School, she attended Springfield College on scholarship where she earned a bachelor's degree as well as a master's degree in human services with a focus on clinical mental health counseling. She eventually went back to school and finished her doctorate Counselor Education and Supervision at Argosy University.
Butler serves as an Infant-Family Mental Health Consultant at the University of South Florida St. Petersburg – Family Studies Center and is the vice-chair of Healthy Start Coalition and the Minority Mental Health Conference in St. Pete.
Now married with five children, Imari, Kira, Mason, Oren and Quinci, she looks backs at her career as a student and establishing herself as a professional and wonders how she made it through.
"It felt like a whirlwind. Either I was pregnant or was postpartum. I was in school or trying to establish a career. Made lots of mistakes during that time because it was too much," Butler said.
The presence of strong black women in her life helped her through difficult periods. She remembers her elementary school assistant principal Clarice Pennington, now senior pastor of the Christian Generation Center of H.O.P.E Church, sitting with her while she was going through problems.
"I don't remember the conversation, but I remember her sitting. She was a beautiful and powerful black woman taking the time to sit with a young girl," Butler stated.
She also spoke of when she was pregnant and relied on the strength and support of activist Gwen Reese, or the time when businesswoman Gloria Campbell helped her find an address for her first clinical practice.
These strong black women—who she stands on the shoulders of—are still a constant presence in her life. When she's the only African-American women in the room, she draws on their strength and wisdom.
As the founder and CEO of The Well For Life, a full-service healing space in south St. Pete that gives a physical space for individuals in need of mental health counseling, wellness and self-care resources, Butler strives to bring strength and healing to the community.
Dealing with the stigma
Black people generally struggle with the term "mental health" because of the confusion on what that is. Butler explains that mental health is the capacity to cope with the normal stresses of life, the ability to "bounce back."
"When we start thinking of mental health as the same as physical health, which one day we'll get to, we'll see it on a bigger spectrum," Butler said.
While someone can be doing well in their vocation, out in the community volunteering and active in their church, that same person may not want to get out of bed at times. The pressure from unspoken rules and unrealistic expectations from society can become too much to handle, and at times medication may be needed until that person can work through their issues.
Instead of seeking professional help, many people in the black community will try and mask the problem, which can lead to depression, anxiety and self-medication. Butler stresses seeking professional help.
"I can have the diagnosis of schizophrenia, and I can pray and be active in the community as long as I'm also taking the medications that help stabilize and minimize the things that I'm hearing and seeing that other people don't see," she said.
In her practice, she sees plenty of African Americans living with traumatic stress and anxiety. Economic, social and racial injustice has a tremendous impact on psychological or physiological health.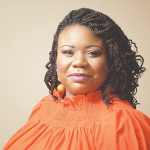 Butler also has millennials showing up asking for more relevancy and transparency, questioning their religion and spirituality.
"You drop that into a small place like St. Petersburg, and that's the perfect recipe for toxic stress," she said.
As a licensed mental health counselor and certified addictions professional, Butler opened The Well For Life to be a space for individuals to experience wellness and wellbeing in a way that feels natural to them. She encourages anyone needing help coping with day-to-day life to call (727) 251-0743 or log on to thewellforlife.org.
This story is part of a 50-article series honoring black women in the Tampa Bay area.