Dr. Arnett Smith, Jr.
BY RAVEN JOY SHONEL, Staff Writer
ST. PETERSBURG — Historic McCabe United Methodist Church honored Dr. Arnett Smith, Jr. with the James B. Sanderlin Black History Award for his part in the Civil Rights Movement last Sunday, Feb. 10.
In front of a joint service that united two historic churches, 124-year-old Christ United Methodist Church and 113-year-old McCabe, Smith was presented the award by Rev. Jana Hall-Perkins, who also made history in 2017 by becoming McCabe's first woman senior pastor.
"If you go into the historical background, you're going to find many, many people whose names probably will never surface in part of this movement," said Smith, Jr. "I just want you to memorialize those people in your hearts, in your prayers, during this special emphasis on black history. Memorializing because they contributed, in some instances, much more than I ever could have contributed, for many of them contributed their lives."
Smith, Jr. joined the Civil Rights Movement as a student while attending Florida A&M University in 1952. He was among the students organized to march and sit in under the leadership of Dr. Martin Luther King, Jr. and the Rev. CK Steele in Tallahassee. He listened to Dr. King's instructions about staying calm and remaining nonviolent before marching from FAMU's campus to uptown Tallahassee.
He participated in the pickets and sit-ins at McCrory's lunch counter because of their refusal to serve black patrons. Although there were no particular arrests or incidents, there were foreign liquids and paints thrown onto them by angry white individuals who were against the movement.
While working as a teacher in Levy County in a small town called Williston, Smith, Jr. was once again moved to join marches and demonstrations in Ocala, this time under the leadership of Rev. Pinckney. In Ocala, he was arrested and put in jail along with two of his younger brothers. The arrest resulted in him being fired from his teaching position.
Smith found work in Pinellas County Schools as a teacher at 16th Street Middle School under Principal John Hopkins. He was one of the first teachers selected to integrate the teaching ranks in the county.
As the assistant director for human relations, he was instrumental in training administrators and teachers in preparation for the full implementation of integration, and this was no easy feat. Smith was the first African-American administrator hired at Boca Ciega High Schools, at a time when the school was riddled with riots between black and white students, families and the community. Smith was successful in bringing peace and order to this particular situation.
From Boca Ciega High School, Smith took a job with the U.S. Department of Education in Washington, D.C. His assignment was to monitor school districts throughout the nation for compliance with equal opportunity regulations.
After his retirement in 1996 from the Department of Education, Smith was recruited by Bishop Cornelius Henderson, the first African-American bishop of the Florida Annual Conference of the United Methodist Church, to take the chair of the Florida Conference Commission on Religion and Race.
In this particular role, he provided diversity awareness training to ministers, committee chairs, and lay members in all of the districts of the Florida Annual Conference. His experiences and training in this area were sought after by the district to also work on diversity issues with conference level boards, committees and agencies.
Last Sunday's program was McCabe's second year presenting the James B. Sanderlin Black History Award, named after the first African-American judge in Pinellas County. As an attorney during the Civil Rights Movement, Sanderlin used litigation to fight for equality and against discrimination.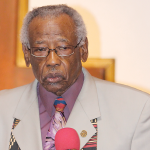 He devoted his career to unifying blacks and whites in his community to move toward social and legal equality. Among his many achievements, Sanderlin successfully sued the St. Petersburg Police Department, forcing them to integrate, and represented the sanitation workers in the city's 1968 garbage strike.
This Sunday at 11 a.m., McCabe will welcome guest preacher Dr. Ernest "Rip" Patton, esteemed Freedom Rider and civil rights activist, whose mugshot hangs in civil rights museums across the nation. McCabe considers it a blessing to give back to civil rights pioneers who sacrificed their safety, well-being, personal goals, academic studies, livelihood and so much more so that we could have what we have today.