Trunk or Treat was back this year at Lake Vista Recreation Center on Halloween night. 
BY DEXTER MCCREE, Feature Writer
ST. PETERSBURG — Lake Vista Recreation Center parking lot was packed Halloween night with youngsters scurrying for candy at the 2022 Trunk or Treat event.
Marci Neal, director of Lake Vista Recreation Center, expressed excitement about providing a safe and fun environment for the community and the return of trunk or treat to the park.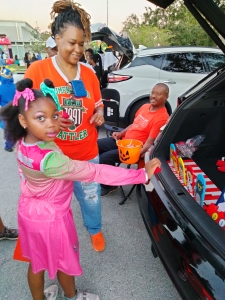 The event originated in 2017 but was interrupted by COVID. Before the pandemic, it averaged approximately 1200 people. Now two years removed, more than 1,000 people showed up to participate in the 2022 Trunk or Treat. That is quite an accomplishment for a restart.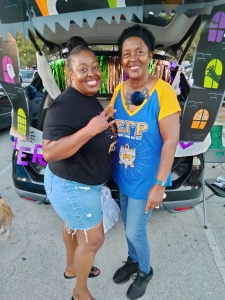 "Our goal is to provide a safe and fun environment for our families and to partner with community organizations that also serve the family stakeholders. New Philadelphia Ministries was one partner who provided food and drink to the exciting families," said Neal.
Approximately 25 people decorated their cars, trucks, and vans with games, candy and motivational messages to entertain the dressed-up youngsters. There were angels with halos, folk heroes, television stars and Marvel Comics and Bible characters walking the parking lot, hitting up trunk after trunk.
"My kids attend after-school care here at Lake Vista Recreation Center, which is why we came to this event tonight. The kids love Lake Vista, and the environment is always family-friendly and community-catering. This was a great event," said Jameela Sanchez, whose second-grade daughter, Kamila King, could be seen tossing sandbags.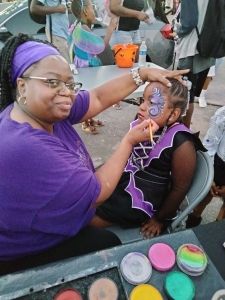 Several community organizations joined the festivities to make the evening fun and safe. The Omega Psi Phi Fraternity brothers laughed and smiled as they greeted children with candy. Javan Turner, president of the Eta Rho Chapter, stated that his brothers were there to serve their community.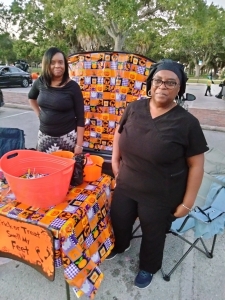 "We're excited at the opportunity to give back in a safe environment and watch our children participate in a fun and safe activity. It is our community, and we are just happy to serve."
Charmaine Rushing and Deborah Green of the Epsilon Beta Sigma Chapter of Sigma Gamma Rho Sorority were on hand, greeting the kids and handing out candy.
"The ladies of the chapter support our beautiful community of St Petersburg," said chapter President Rushing. Seven educators founded us, and we are deeply committed to education and service. Trunk or Treat is a safe way to connect with our youngest citizens and make their days brighter. "
The City of St. Petersburg Parks and Recreation Department sponsored the event, along with co-sponsor New Philadelphia Ministries.