BY JERI YONDER, Contributor
TALLAHASSEE — The Family Empowerment Scholarship law of 2019 is anything but empowering according to civil rights and public education advocates. Particularly harmful to African Americans, the rhetoric used to sell the private school voucher makes it appear that African-American children benefit most from the scheme when they have the most to lose.
This fifth voucher program is part of the larger plan that ushers white students out of public schools at taxpayers' expense, returning public schools to a segregated system.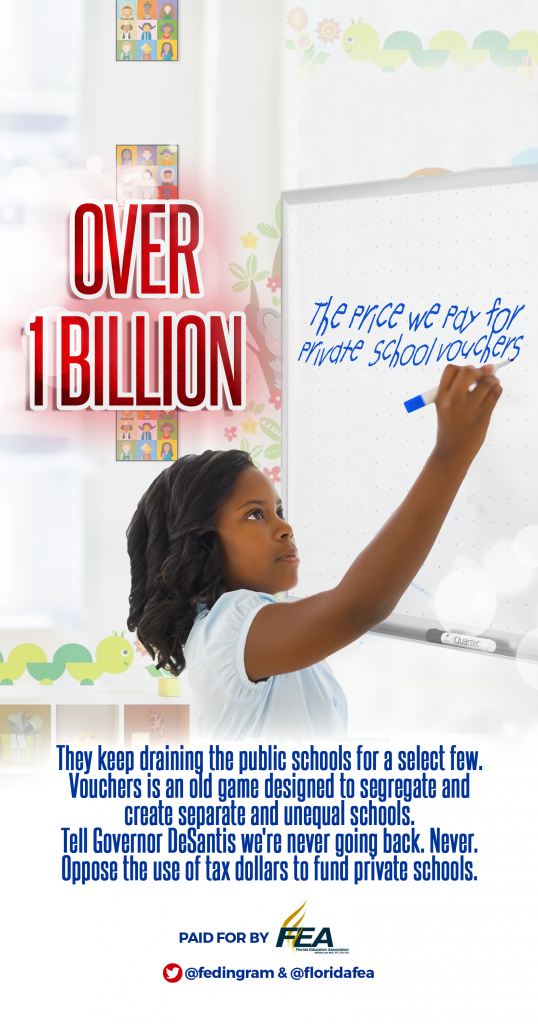 According to Adora Obi Nweze, president of the Florida NAACP, "Vouchers today are not expanding opportunities for all students; they are a tool of segregation. Research shows that the private school voucher programs exacerbate the racial and opportunity divide. Schools today are in fact more segregated than in the 1970s."
The program caps the enrollment at 18,000 students in the first year. However, that number is expected to rise. The Family Empowerment Scholarship uses funds from the state pot of per-student funding for public schools, which will lead to a crippling revenue loss of more than $130 million in the 2019-20 school year and $1 billion over the next five years.
"This misguided and misappropriated legislation means that school buildings will continue to decay, threatening the health and safety of our students and staff," said Fedrick Ingram, president of the Florida Education Association. "Classes will become even more overcrowded, making it harder for students to learn. As a result of this drain on school funds, Florida districts will be forced to cut critical programs, such as the Advanced Placement courses and other essential programs."
Much like the tax credit scholarship that has grown to a staggering number of more than 100,000 students enrolled and a wait list of 14,000 students, those students are projected to apply to the newly enacted voucher program. However, the Tax Credit Scholarship Program is structured differently with state tax dollars not going directly to the program.
Instead, companies can receive tax credits for contributing money to non-profit organizations that, in turn, fund the scholarships. White students make up the vast majority of voucher students. Proponents of the measure, including Gov. Ron DeSantis and former Gov. Jeb Bush, say the new law is a step in the right direction.
"Families seek out this program because it works: students have performed better academically than their peers across the country, including higher rates of going to college and earning a degree," Bush said. "Unsurprisingly, the program is oversubscribed. At least 13,000 students are on the waiting list, and thousands more want to apply. The new Family Empowerment Scholarship will give these lower- and middle-income students an opportunity that wealthier Florida families take for granted."
Bush left out some important facts, however. Here in Florida, vouchers are offered up as a chance to choose a quality school, but test scores show the opposite. Unlike public schools, voucher schools student transfers do not do well academically and produce lower test scores.
Under his leadership, Gov. Bush approved a similar voucher program that used tax dollars, but in 2006 the Florida Supreme Court ruled the measure was unconstitutional because it used taxpayer dollars to fund private schools. Legal challenges could result in a similar defeat.
Meanwhile, a provision in the law expands eligibility to higher levels of wealth. A family of four earning about $77,000 would now qualify, ultimately opening the door to additional middle-class entitlement. And again, the vast majority of beneficiaries are white students.
Another concern is the lack of oversight these private and religious schools have. Public schools are held to specific accountability standards such as standardizing testing and school letter grades by the state.
Test data from the Florida Department of Education indicates that the performance of students who attended private schools through vouchers lags behind their peers who stayed in public schools. If private schools can take state dollars, they must uphold state requirements.
Florida currently diverts more public funds to private and religious schools than any other state in the country.
"You can't keep telling Florida public schools they have to do more with less," said Ingram. "Eventually, they do less with less. That's not empowerment – it's abandonment."