Artistic rendering of the 60-unit mid-rise apartment complex proposed for Jordan Park.
BY MICHELLE LIGON, Contributor
ST. PETERSBURG — The St. Petersburg Housing Authority (SPHA) recently met with members of city council to address their plans for the new construction of a 60-unit mid-rise apartment complex in the Jordan Park neighborhood.
The robust discussion covered a variety of topics from demolition and site prep to the full complement of interior and exterior amenities currently proposed for the new facility.
Participants also discussed the immediate and long-term financial impact of the Jordan Park Development Plan on the city as a whole and on SPHA operations at Jordan Park. Particular focus was directed at the Housing and Urban Development's movement away from public housing initiatives and toward Rent Assistance Demonstration (RAD) programming.
SPHA CEO Tony Love especially noted key features of the RAD changes as well as evolving financial terms that will help preserve "affordability" of the complex for many decades to come.
Represented by Susan Bradley, Development Team Architects and Planners at Robert Reid Wedding, Inc., drove home the forensic basis for demolition versus rehabilitation with a graphic description of such compelling physical property concerns as termite infestation, mold, moisture, energy loss and statewide calls for structural enhancements against storm damage.
Bradley specifically referenced a Physical Needs Assessment performed by EMG Corporation in 2016 when talks for the SPHA recovery of Jordan Park commenced, as well as the later invasive and cost comparative investigation conducted by RRW in 2018.
She demonstrated that the $188 per square foot cost estimated for rehab of the nine Historic Village buildings, circa 1939, is clearly prohibitive on comparison with the $25 per square foot cost estimated for the rehab of the 206 units erected in 2001.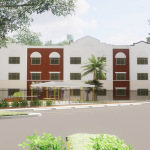 Bradley's assessment was further supported by the additional financial analysis presented by Candace Tollison, representing SPHA Development Team member Cindi Herrera, CH&A, LLC.
Suggesting a previously considered alternative to demolition, Councilmember Lisa Wheeler-Bowman reopened dialogue proposing the relocation of one or more of the circa 1939 buildings. Love responded that the agency remains open to timely city-sponsored relocation alternatives as pre-development efforts near completion.