ST. PETERSBURG — The St. Petersburg Metropolitan Section of the National Council of Negro Women, Inc. (NCNW) is taking charge and advancing founder Dr. Mary McLeod Bethune's legacy into the 21st century. In her last will and testament, she wrote: "I leave you finally a responsibility to our young people," and the Metropolitan section takes their obligation to the youth seriously.
On Friday, Feb. 1, their Black Pearls Youth Council opened the Black History Month program at the Westminster Suncoast Quak Center for Lifelong Learning to an enthralled room.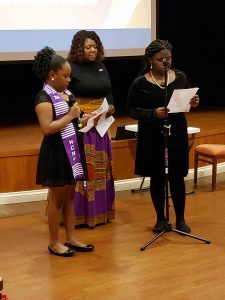 The young ladies were invited to perform for the residents at the beautifully landscaped Westminster Suncoast retirement community, and they did not disappoint. In a thought-provoking performance of the matriarchs of NCNW, the Pearls depicted the lives of renowned national and local women such as Dr. McLeod Bethune, Dr. Dorothy Irene Height, Ingrid Saunders Jones, Fannye Ayer Ponder and Coretta Scott King.
Under the direction of Black Pearls Youth Director Sandra Gibson, the young ladies performed readings, poetry and dance for an audience of more than 50 people. Along with the performances, a civil rights documentary was viewed and Thelma Bruce, local NCNW president, provided the closing remarks.
About the Black Pearls
The Black Pearls is a membership of young ladies (age 10 until completion of high school). Their purpose is to allow young women an opportunity to continually develop finer qualities of womanhood; share and exchange personal ideas and goals, support academic achievement, encourage high ethical standards and provide various community services.