BY DEXTER MCCREE, Feature Writer
ST. PETERSBURG — Long after Hurricane Irma has left the area, the affects will be felt. Her aftermath brought both devastation and thanksgiving to the residence of Pinellas County.
On Sunday evening, wind gusts were projected to be upwards of 100 to 150 miles an hour, the Tampa Bay area braced for what would have been one of the most traumatic experiences the area has ever seen. Many people called on each other to pray.
Fortunately, the intensity of the storm weakened but the memory of its threat leaves a lasting impression. Nearly 400, 000 people were left with no electricity, and water and gas were at a premium.
One Speedway gas station had tanks full of gas, but the lack of electricity made it impossible for the gasoline to be extracted.
Without gas, customers were limited in their travel. Several people were planning to escape the storm by getting on the highway and finding gas elsewhere.
Hurricane Irma lifted hundred-year-old trees from the ground leaving 12-foot tall root systems exposed. As the trees fell, many landed on power lines causing the power to go out and dangerous live wires dangling loose and on top of houses.
The effects continued into late Monday morning when it appeared that residents had were out of harm's way. Nicole Hunt found this to be far from the truth.
"I'm at a loss for words. I stayed with a friend last night to evacuate from home. It was the safest thing to do based on the news reports," said the customer service representative. "When I came home this morning everything looked fine. I pulled my car in the yard and went in the house. I remembered that I left my phone in the car so I was headed out to get it. When I go to the door, I saw the tree falling on my car. It could have been worst. A car is a minor thing by comparison that can be fixed. I'm thankful for life."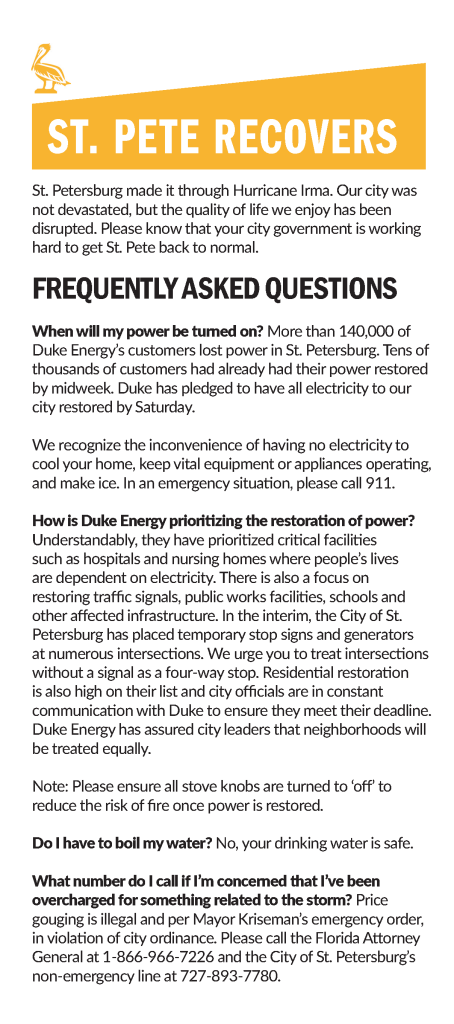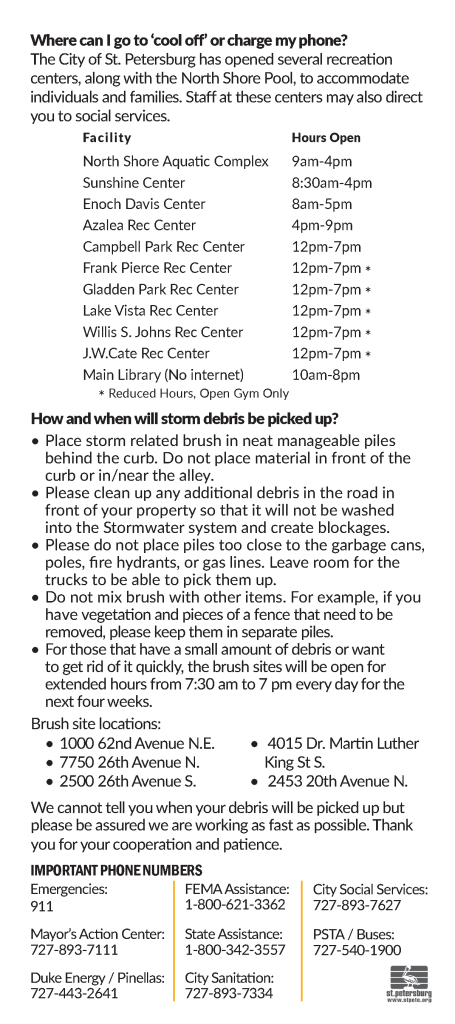 On 62nd Avenue South, drivers had to dodge power lines lying on the sidewalk as they observed three fallen trees whose trunks took a chunk of earth up with it.
Price gouging is also a problem. Reports have come from all over Tampa Bay. Johnny Newsome posted his receipt on Facebook from Salem's Gyros & More on 18th Avenue South that was $20 more than he usually pays. He bought 100 piece wings and 20 piece wings for $102. 70.
"I was more disappointed than I was mad because I always spend with them…not small amounts of money either," he wrote. "Therefore you raise the prices when the city is in need."
He went on to say that he will never spend another penny at Salem's.
Heavy's, Taste of Gourmet and Michelle's Cajun Crab food trucks, however, are on the opposite ends of the spectrum when it comes to the community. Monday night, the three food trucks teamed up with Buccaneer Clinton Myers' organization called McDonald Association Collective Collaboration Light Into Darkness, Dolman Law Group and Senator Darryl Rouson and served 589 meals to those without power.
On Wednesday and Thursday evenings, St. Petersburg businessman Bill Edwards, in partnership with the NAACP St. Petersburg Branch, Rep. Wengay Newton and former Mayor Rick Baker opened a FEMA Disaster Recovery Registration Site and there Heavy's was serving more than 300 meals on Wednesday night alone.
Tuesday afternoon, Mayor Rick Kriseman along with Deputy Mayor Dr. Kanika Tomalin walked through neighborhoods assessing damage and checked on residents and their homes. Thursday morning, Team Kriseman organized a community clean up and gave out information to residents on how to bounce back from Hurricane Irma.
As some residents are still waiting for power and others are cleaning up debris and taking down plywood or hurricane shutters in an attempt to regain normalcy, one thing is for sure, those who really care about the city and its residents stepped up to the plate.
To reach Dexter McCree, email dmccree@theweeklychallenger.com