The City of St. Petersburg remains in recovery mode from Hurricane Irma. Here's some important information and answers to frequently asked questions to assist you in recovery efforts. Please forward to your contact circles, association residents, neighborhood newsletters and websites.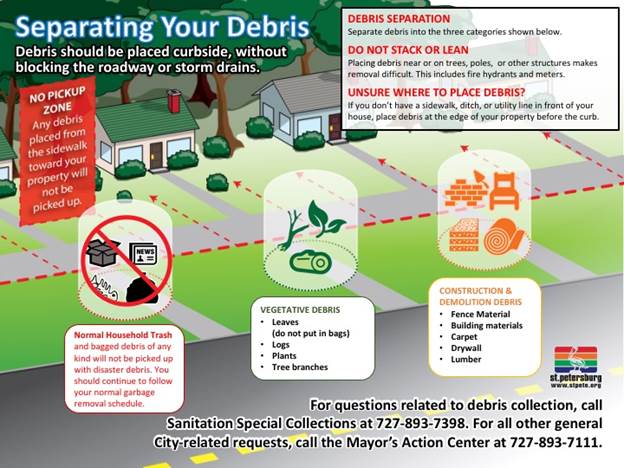 Power Issues: 
Any power outages should be reported to Duke Energy: 1-800-228-8485. Duke anticipates full power restoration in Pinellas County by midnight, Sept. 15, according to their website. Duke officials shared Thursday that 114,711 outages were reported in St. Pete and 50,022 have been restored as of Thursday, Sept. 14.
Traffic: St. Petersburg is still dealing with power outages affecting our traffic signals. Thurs., Sept.14, we have 40 intersections with non-working traffic signals, 70 have been restored this week. We placed an estimated 100 portable stop signs and 24 generators at intersections all over the city. We also requested assistance from the County EOC for additional generators and officers to help with traffic control. Note, where traffic lights are out – please treat traffic signals as 4-way stops.
Debris: Residential storm debris curbside pickup will commence early next week and will be handled through a city contractor. We ask residents to place tree limbs behind the curb, off the street, in front of the house. Don't mix-in other storm debris with the vegetation. For example: wooden fences are considered storm debris. No need to call – City crews are working and will eventually get around to all neighborhoods. Note, it may take several days, even weeks, to get to everyone. Residents who wish to drop off their brush or recyclables can do so at one of the city's brush sites where extra city staff has been assisting residents with their drop-offs. More info: www.stpete.org/brushsites.
Recycling: Recycling has been suspended until further notice, as we've lost power at the processing center. You can bring your recyclables to a brush site if you do not wish to wait for service to be reinstated. Items must be separated, unlike with residential recycling.
Street Teams: Several city street teams have been deployed to the neighborhoods, in an effort to inform residents about resources and storm restoration efforts. Citizens can expect to see teams passing out information as they walk through the neighborhoods.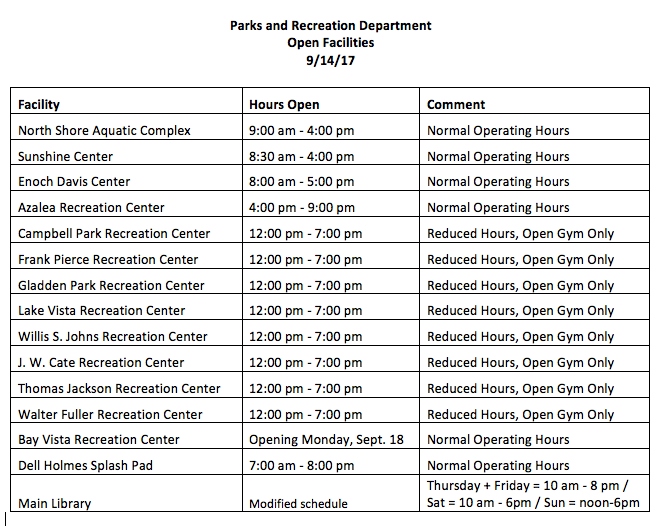 Storm Aid: Citizens and businesses can apply for aid through FEMA. The City has opened three Disaster Relief Centers where staff are available to assist in the application of FEMA grants. They will be open today, Sept. 15, and next M-F, Sept. 18-22, from noon to 7 p.m., at the Enoch Davis Center and the Sunshine Senior Center. The West Library will open a Center starting Monday. Citizens can apply directly for add through FEMA's website – 

www.disasterassistance.gov

 – or through their app – 

www.fema.gov/mobile-app

.