ST. PETERSBURG – This Saturday, The Burning Spear newspaper will be celebrating its 50th year of publication with a free community event in Akwaaba Hall.
In 1968, Omali Yeshitela (then known as Joe Waller) founded The Spear in St. Petersburg as the official news organ of the Junta of Militant Organizations, one of the three groups to later merge to establish the African People's Socialist Party.
The first issue's cover featured a photo of the racist mural depicting a caricature of Africans serenading white beach-goers that Yeshitela tore from St. Pete's City Hall, leaving a wall that remains blank to this day.
Since then, The Burning Spear has provided a historical record of the African Liberation Movement and critical analysis of news by and for black people around the world.
In 1972, The Burning Spear newspaper was adopted as the official publication of the African People's Socialist Party.
"The Burning Spear is the voice of the international black poor and working class in our struggle to be a free and self-determinate people, in the United States, Africa and everywhere we are located," said Omowale Kefing, a longtime political editor and contributor.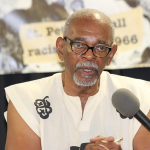 The Spear continues to publish on a monthly basis and is distributed throughout the U.S. It is shipped to prisons in nearly every state, provided free of charge to every prisoner who requests it.
From the paper's production and distribution office in St. Petersburg, the mostly volunteer staff provides free training in all aspects of newspaper production to those of all ages seeking to get involved in the world of media and journalism.
The public is invited to attend the 50th-anniversary celebration. Chairman Yeshitela will be on hand to discuss the history and significance of The Burning Spear newspaper. He will be joined by Editor-In-Chief Akile Anai, who was appointed to the position following her recent bid for District 6 city council seat.
The event takes place on Saturday, Dec. 22 at 6 p.m. in Akwaaba Hall, located at 1245 18th Ave. S (TyRon Lewis Avenue). The program is free to the public and will include pie tastings by Uhuru Foods and Pies.
For more information or to R.S.V.P., call (727) 914-3615.