Stasia Meliana Green
BY RAVEN JOY SHONEL, Staff Writer
ST. PETERSBURG – Each year, the Martin Luther King, Jr. Holiday weekend is kicked off with the MLK Essay and Oratorical Contest. In its 36th year, once again it attracted some outstanding participants that promise to make a huge impact on the world in the years to come.
Thursday, Jan. 17, was a night of exceptional performances by six Gibbs High School students. Each participant took to the stage and brought their speeches to life for a panel of judges and an awe-struck crowd.
Years ago, 36 to be exact, then-Governor Bob Graham appointed then-AARP Executive Director Charlie Carol to form a group of people who exemplified the leadership of Dr. King and who would create events to honor his legacy. The group became known as the St. Petersburg Dr. Martin Luther King Commemorative Organization, Inc., and they organized events such as the Dr. Martin Luther King, Jr. Leadership Breakfast, the MLK Candlelight Vigil and the Interfaith Memorial Service that are still going strong today.
One such event that shows no signs of slowing is the essay contest. This year's theme of "Kneeling during the National Anthem: Is this disrespectful to the country or an expression of civil rights and why?" brought out the passion in the young contestants.
Students from schools all across St. Pete are encouraged to send entries in each year. More than 100 submissions were received, but only six finalists were chosen. All of whom happened to be Gibbs High School students.
According to Virginia Scott, one of the founding members of the St. Petersburg Dr. Martin Luther King Commemorative Organization, there are two reasons why Gibbs consistently remain actively involved and always have students as finalist: English honors teachers Marlene Johnson and Ozzie Mitchell.
Johnson and Mitchell encourage their students to participate and work with them on how to write an essay that stands out from all the rest.
Once the essays are reviewed, and finalists are chosen, they are invited to attend a training session where retired educator Joyce Thornton groomed them on style, presentation, tone of voice and even what to wear. The students also had a chance to be critiqued, which helped polished presentations.
Judges Arcilous Mincey, Hillsborough County School educator, Shelia Lamb, retired educator and Charley Williams, also a retired educator, had a very difficult task choosing a winner. Usually, members in the audience can surmise the winner, but not this year. All six finalists were on top of their games, had done their research and were passionate about the subject.
However, in the end, there can be only one, and this year 10th grader Stasia Meliana Green rose to the top. The 15-year-old Pinellas County Center for the Arts student brought her A game.
"I heard what we had to write about and I was like 'OK, I really care about this topic,'" she said. "I put my heart and soul into this."
As a theater major, Stasia was able to bring her essay to life with facial expressions, perfect intonation and hand gestures.
"I'm an actress, so I've been doing this since kindergarten," she said. "What I usually do is practice in the mirror and practice in front of my mom and dad."
Stasia plans to attend SCAD University in Savannah, Ga., and become a writer and actor. Judging by the applause last Thursday night, she is well on her way of realizing her dreams.
For her efforts, she was awarded the $200 grand prize, two tickets to attend Monday's MLK Leadership Awards Breakfast and sit with members of Dr. King's family and the chance to showcase her oratorical skills once more at the Interfaith Memorial Service held Sunday at Congregation B'Nai Israel.
The first runner up, ninth-grade student Savannah Nasworthy, received $100; ninth grader Noial Randelli, second runner up, took home $75 and honorable mentions ninth graders Leo Smith, Anderson Bray and 10th grader Delilah Bowdon were each awarded $25.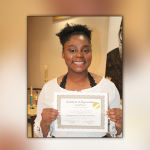 Entertainment for the evening was provided by creative dancer Ra'Nyah Brinson, a student at Thurgood Marshall Middle School, and poetess Terrika Burton-Hobbs.
Sponsors include Alpha Phi Alpha Fraternity, Inc. Theta Eta Lambda Education Foundation, City of St. Petersburg Parks and Recreation Department, the St. Petersburg Police Department Forfeiture Grant Program and the Packer Family Foundation.