Mendee, Shannon, Michelle Ligion
BY ALLEN BUCHANAN, Staff Writer
PETERSBURG — The Bring out the Dolls benefit to give back to youth living in south St. Petersburg is Shannon Ligon's way of saying thank you to the community where she grew up, attended Lakewood High School and prepared her for future success at Florida State University, Florida A&M University's College of Law and now as an attorney.
Aside from being a successful attorney, Ligon founded Legacy Entertainment & Arts Foundation, a 501c3 charity that raises awareness for causes and other deserving organizations and charities who help advance entertainment, the arts and sports.
She envisioned creating an organization that would provide funds to deserving people and organizations to help advance entertainment and the arts throughout the world. Legacy's goal is to become the premier and most effective charitable foundation of the entertainment, music, fashion and sports industries.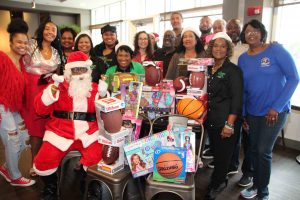 "I wanted so much to give back to my community like it had poured into me," said Ligon.
As a result, the Bring out the Dolls toy drive was founded in Orlando in 2013 when 12-year old Vanessa Van Dyke's natural hairstyle was labeled unacceptable because it was "too big" and she was suspended from school.
"That's when a collective group of Orlando lawyers and businesswomen got the idea to have a doll drive to collect a diverse range of dolls in Vanessa's honor to donate to different central Florida charities," said Ligon.
More importantly, Ligon stated that the doll giveaway "is to encourage little girls that beauty comes in all shades, shapes and sizes."
Starting the same fundraiser in St. Pete was a natural part of the growth of her organization, according to Ligon.
"Honestly, I've always been compelled to bring it to St. Pete," said Ligon.
She hosted the event at the Carter G. Woodson Museum for three years. Moving forward, she stated that she wanted to begin incorporating other parts of the city into the organization's annual children's fundraiser, which led to the event being held at the Callaloo Restaurant Dec. 9.
"We practiced a similar strategy in Orlando to spread the contributions around to different locations in the city."
According to Ligon, corporation sponsorships have doubled, and toy collections have tripled since the fundraiser first started.
Raffle items for the fundraiser were donated by Louis Murphy, Jr., founder of 1st Downs 4 Life, Aica Ayana of WomenUp Network, Taylor McDonald from Paparazzi Accessories, BMW of Sarasota and more.
To reach Allen Buchanan, email abuchanan@theweeklychallenger.com