BY RAVEN JOY SHONEL, Staff Writer
ST. PETERSBURG — Children hopped up on too much sugar and parents enjoying a delicious catered meal was the scene of this year's annual St. Petersburg Alumnae Chapter of Delta Sigma Theta Sorority, Inc. Breakfast with Santa holiday extravaganza held at Pinellas Technical College Saturday, Dec. 15.
As some tots worked on arts and crafts, wrote letters to Santa, got their faces painted and nails polished, others decorated cookies and cupcakes before devouring them. Parents were happy to sit back and watch their young ones burn off some of the excess energy from all the sweets that were gobbled up.
This year's chairperson, Tonya Mitchell, said the sisters started preparing for the event back in Oct. With it being her fifth time chairing the breakfast, she knew exactly who to call when it came down to the food—Sofia Forte Catering. On the menu this year was eggs, French toast, grits and sausage. Oh, and let's not forget the waffle bar where the breakfast treats were made to order.
Originating as a fundraising prelude for the sorority's then-signature event, Mr. Wonderful, Breakfast with Santa's initial success marked the beginning of an annual sought-after community event. The first breakfast was held in 1981 at Campbell Park Recreation Center where Deltas prepared breakfast for about 40 to 50 kids. Today, Breakfast with Santa serves more than 400 persons annually.
Delta GEMS and the Delta Academy, the youth groups associated with Delta Sigma Theta, earned some community service hours by manning the activity stations, while Mr. and Mrs. Claus took photos with those hoping to have escaped the naughty list this year.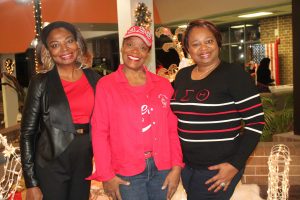 The sorority sisters purchased the gifts, which were given out through a raffle system. Mitchell said the annual breakfast is a way of giving back to the community.
"It's for the community; it's us giving back. It's not like we're making any money. It's more so just poured into the community," she said.
For 25 years, sorority sister Yvonne Alsup has played the role of Mrs. Claus, and this year's Santa, Leander Lester, donned the fat suit for the second time. They both enjoy interacting with the wide-eyed tykes who are hoping to score that perfect gift on Christmas morning.
So along with hundreds of others, Mr. and Mrs. Claus will be back next year when some will be sitting down to their first breakfast and others for their 37th, all in the name of giving back to the community.