Super music producer Tre Gilliam helped out Santa Claus this year by giving away bikes to those in need on Dec. 23. Pictured here (left) with his uncle and mayoral candidate Ken Welch.
BY GABRIELLE SETTLES, Staff Writer
ST. PETERSBURG — A number of kids in St. Petersburg are celebrating this Christmas with new bicycles, high school diploma scholarships and more, thanks to one young man's thoughtful generosity.
Frank Gilliam, 19, better known as Tre, partnered with local organizations and businesses to put on the Tre Gilliam Inaugural Christmas Giveaway on Dec. 23.
"I've always had a heart to give back to the community," Gilliam said. "God gave me a vision to do something for the community, and I thought what better way to do than give out some bikes?"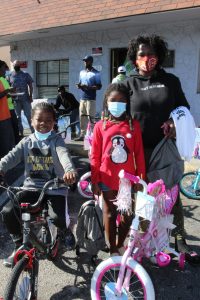 Families who signed up on tregilliam.com were selected as recipients of the giveaway at the David T. Welch Center for Progress and Community Development, where social distancing and masks were required. The Pinellas County Sheriff Department provided safety equipment to go along with the new bikes.
Women's advocacy and anti-trafficking group Zonta Club of Pinellas provided food and drinks, and Gentleman's Quarters Barber Shop gave away haircut vouchers. In addition, kids received high school diploma scholarships from the Tre Gilliam Academy.
Yes, you read that last sentence correctly.
Gilliam isn't just providing bicycles — he wants to give back through education as well. Right now, he and his team are selecting a location for the private school and working with the state. Come Aug. 2021, Tre Gilliam Academy will open as a K-3 grade school and then grow to become a K-12.
As a former student of Gibbs High School, where he graduated earlier this year, Gilliam said he understands the importance of schools in the community.
"I just had a vision in mind, and it was something that was put on my heart," Gilliam said about the school. "It's important because there's a lot of kids out there that went through the regular school system with amazing gifts and just weren't able to hone in on those gifts. I feel it's important that it starts early and we're able to help some kids reach their full potential."
Gilliam's potential made him excel at Gibbs. As a Business, Education and Technology Academy student, he took dual enrollment college classes and graduated with a 4.2 GPA, college credits, and industry certifications.
He also tutored ninth graders in the AVID program, was a star point guard on the varsity basketball team all four years, and at age 17, he rose in the music industry as a producer called Tre Made This Beat (TMTB), creating songs with famous rap artists like Moneybagg Yo and RodWave.
"I see me being able to use my music to do a whole lot of different things as far as entrepreneurship, and I'm working on a lot of stuff, especially more community-based work," Gilliam explained.
Assistant Principal and Athletic Director at Gibbs High School, Michael Machado, has known Gilliam since he first came to Gibbs and said he couldn't believe Gilliam's work ethic.
"I can't tell you how many hours he spent in the gym shooting hoops. Sometimes he'd spend two hours after school just shooting and shooting," Machado said. "He had this humbleness about him, even though he was the best basketball player and he was making beats for famous people while he was in high school."
Machado remembers that Gilliam scored 46 points in one game — comparable to the likes of NBA giants Anthony Davis and Pau Gasol. But Machado said you'd never have known it by Gilliam's demeanor.
"He never celebrated," Machado chuckled. "He just felt like if you work hard, success should come."
In his senior year, Gilliam – who had Ivy League schools courting him — had shin fractures, causing him to have surgery and sit out most of the year. Normally, Machado said, any athlete would be devastated. But not Gilliam.
"He said you can't control injuries, and you just gotta make the best of it," Machado remembers. "He said, 'I'm going to concentrate on my academics.'"
Machado shares that Gilliam's academic focus and selfless attitude made him an asset to the school and a friend to his fellow students. According to the Tampa Bay Times, nearly 40 percent of children in south St. Petersburg live in poverty. As a St. Pete native, Gilliam understood his friends' and fellow students' needs and wanted to help.
"Tre cares about all the kids, not just the kids that are doing well but the kids that weren't, the kids that got into trouble," Machado stated. "He didn't want them to make mistakes, and he wanted to help them, and they really listened to Tre."
Machado said one of the ways that Gilliam helped was by bringing in peanut butter and jelly to Machado's office, where students could come at any time to make a sandwich.
Gilliam was a member of the school's leadership team, run by the late principal Reuben Hepburn as a way for students to communicate their needs and concerns with staff. Machado said he, Hepburn and Gilliam spent a lot of time together talking about ways to improve the school.
Sadly, Hepburn passed away earlier this month from Systemic Lupus Erythematosus.
"Tre was doing work in Orlando the day of Mr. Hepburn's funeral. He drove from Orlando all the way to Clearwater to attend the funeral and then back to Orlando. I can't think of too many people who would do that to pay their respects. That's just the kind of kid he is," Machado averred. "He didn't do it for any other reason but to pay his respects and to say goodbye to the principal that he really liked and admired."
Gilliam said once COVID-19 abates, he will select a university to continue his college career, which may include basketball as well as music. He said he'd do whatever God leads him to do, which is his advice to other young people — keep God first in everything.
"If you have a dream, chase that dream and don't let anything discourage you, whether it's a situation or circumstances," Gilliam asserted. "Always have hope and try to be the best version of yourself every day, and try to grow and get better every day in all aspects of life."
If you'd like to partner with Gilliam for future giveaways and community work, contact him at info@tregilliam.com.