BY ALLEN A. BUCHANAN, Staff Writer
ST. PETERSBURG – More than 90 Sickle Cell Disease Association of America (SCDAA), St. Petersburg Chapter clients came out to celebrate the organization's success in 2018. Those diagnosed with sickle cell disease and their families were treated to an afternoon of music, inspirational messages, and of course, delicious food.
Held Dec. 1 at the Enoch Davis Center, approximately 28 gifts totaling $1,000 were given out to members, and bonuses were given to clients that participated in organizational events.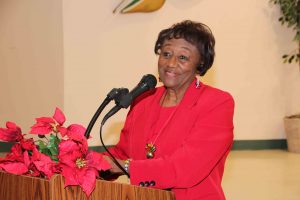 Founded by Mary Murph, the SCDAA has been fulfilling its mission for the last 46 years by bringing hope to thousands suffering from the disease.
More than two million Americans are estimated to have the sickle cell trait, with the Centers for Disease Control estimating some 100,000 Americans living with the actual disease. The condition, although present in Hispanic Americans and those from Mediterranean countries, occurs in about 1 in 12 African Americans.
Antoneshia Jackson, the radiant young 2017-18 ambassador, welcomed and thanked everyone for coming out. Entertainment was provided by Expressions of Praise from Southside Tabernacle Baptist Church, Kee Kee Dance Academy and keyboardist Mia Poole. Heavy's Catering provided a full three-course meal to round out the celebration.
Murph closed out the event humbly thanking everyone who participated. The organization looks forward to expanding its services in the growing Tampa Bay metropolitan area.
For more information on SCDAA, call (727) 896-2355.