BY ALLEN A. BUCHANAN & DEXTER MCCREE, Staff Writers
ST. PETERSBURG – The Tampa Bay community converged on Central Avenue last Sunday to celebrate

WUJM "The Burg" 99.1FM's

second anniversary on the airwaves. Listeners and supporters were treated to an array of exciting programs, activities and local music.
The mission of 99 Jams, as it is popularly called, is to infuse the diverse culture represented in this area into an urban-style 24/7 broadcast. The station provides a wide variety of programs, which includes gospel, reggae, old skool, Rhythm & Blues, Hip Hop, Latin music, soca and local, national and international news.
99 Jams provide a platform within the community to share information related to education, health and cultural development through its many talk forums and music repertoire presented by several show hosts and DJs daily.
"The Caribbean Festival Association worked for over 12 years trying to get the FCC to award a license for a community radio station. The application was finally awarded in 2015, which signaled the birth of the new station," said Donald Jackson, 99.1 Jams operator and general manager.
Jackson, a teacher by profession, immigrated from Jamaican to the United States in the late 80s and had been involved with print and broadcasting media ever since. In the 90s, he formed the Caribbean Festival Association, CARIFESTA, Inc. and participated in a number of community activities such as the St. Petersburg Black History Pageant under the late St. Petersburg Times journalist Peggy Peterman and the St. Petersburg International Folk Fair Society.
CARIFESTA, Inc. applied for and was granted a radio-broadcasting license in June 2015. The group over the several months that followed constructed WUJM 99.1 FM radio station, with its headquarters at 3625 Central Ave. The station officially launched Saturday, April 2, 2016.
An experienced journalist, Jackson worked in broadcast and print news in Jamaica since the late 70s. And although he serves as the station's general manager, he is also a science teacher at Bay Point Middle School.
He's hoping the station will fill the void left by the closure of WRXB 1590 AM, which was a household name in the Tampa Bay black community for 40 years.
Community celebration
Not only did the event feature performance artists, but it also showcased an array of entrepreneurs such as Gwyn Evans and Denise Smith of Direct Cellars, a natural wine company that specializes in keeping the healthy ingredients in its product.
Also on display was the prolific artwork of 16-year-old

Gibbs High School

student and visual artist Zaire Tafary. Her canvas displays reach far beyond her years.
"I started drawing about 12 years ago and never stopped," said Zaire.
That means she started creating art at four years old!
"When I paint, I think of the color-scheme mostly…I think of cool colors and warm colors, happy moods or sad moods. It all depends on what I'm thinking of at the moment and whatever the person wants me to paint."
From an Afrocentric point-of-view, Zaire would be considered an old soul. She will add to the legacy of African-American artists–in all aspects–that have been nurtured, groomed, and cultivated on the south side of St. Pete.
For Zaire, painting is a spiritual experience.
"It's very calming and relaxing for me," she said. It's calming for my mind, my soul and it's very peaceful."
Blessed to have supportive parents who believe in her gifts, Zaire has already had the opportunity to experience the Afro-Punk Festival in New York City via social media, which is where she got the inspiration for the pictures on display at the celebration.
"She's African American and she has red hair and she has piercings," Zaire described one of her paintings. "Most of the time that is not excepted in our communities, so I wanted to show that ambition in the girl to show that other girls can be as ambitious and confident in themselves."
In five years, Zaire wants to be a professional artist as well as an art and recreational therapist. She has already had her paintings in museum exhibitions, nature parks and online. Her efforts have resulted in receiving the Pinellas County's National Scholastics Award. She even took top honors, winning the Gold Key Award resulting in a trip to New York City.
***
Local entertainment reigned supreme at the celebration. A young trio of boys dubbed "The Nephews" put on a dazzling performance with positive lyrics about doing well in school and in everyday life.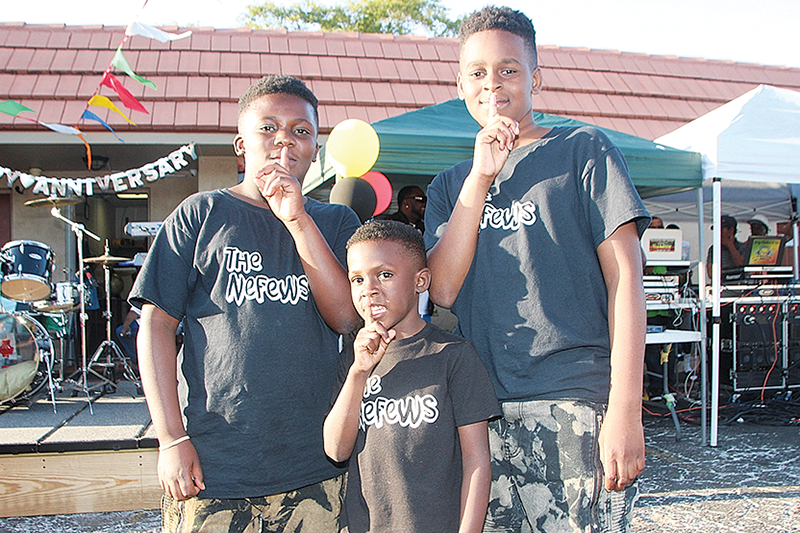 The beautiful duo "Pretty Image" captivated the crowd with their rapid, staccato raps reminiscent of Salt & Peppa and TLC back in the day. Local recording and performance artist Lomack closed out the show with smooth raps layered over well-produced and smooth soundtracks.
Overall, 99.1 Jams anniversary celebration put everyone in a jovial mood for the week ahead, and by the looks of things, their third-year celebration will be even grander.
Small businesses, corporations and enterprises are encouraged to underwrite programs to help the station grow. For more information, call (727) 637-2416.
To reach Allen Buchanan, email abuchanan@theweeklychallenger.com or to reach Dexter McCree, email dmccree@theweeklychallenger.com