Tony Macon, ACT Right founder
BY J.A. JONES, Staff Writer
ST. PETERSBURG – In Oct., ACT Right and members of the St. Pete community reached out helping hands to aid families in the tiny towns of Malone, Fla., and Donalsonville, Ga., after Hurricane Michael wreaked havoc on a reported 300,000 homes and businesses in the Panhandle.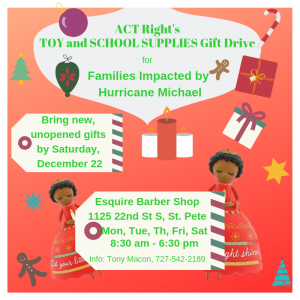 While the water and electric are back on, the website Crisis Cleanup still shows more than 18,000 incidents of Panhandle homes still needing aid with damage ranging from downed trees to debris removal. In the Malone, Fla., and Donalsonville, Ga., area, the crisis map shows more than 2,000 families with yet-resolved issues and incidents – families that still need aid.
Tony Macon, owner of Esquire Barber Shop and founder of ACT Right, traveled to the Panhandle and saw the devastation first hand. Thanks to the south St. Pete community, ACT Right and Macon were able to take a trailer load of food, toiletries, paper towels and clothes to impacted residents after the hurricane.
Now, ACT Right is responding to the needs of families as the Christmas holiday approaches – families whose lives and homes have been up-ended with the expense of property repairs, families who need help to bring the Christmas spirit to their children.
"I'm going back to the area to take toys and school supplies…I don't really believe in holidays, but kids do," Macon asserted, adding that he also feels that it's vital for kids to have educational tools when school starts up in Jan. – supplies that strapped budgets may not be able to provide.
"With a disaster like that, it's going to be a slow process, and as bad as it was, it's going to be a long time before people can get their lives straightened back out," he explained.
ACT Right is now accepting toys and school supplies at Esquire Barbershop, 1125 22nd St. S, St. Petersburg, from 8:30-6:30 p.m. on Mondays, Tuesdays, Thursdays, Fridays and Saturdays (shop is closed on Wednesdays and Sundays).
Saturday, Dec. 22 is the last day to donate.
Macon wanted people to consider the need of the families they'd be helping through donating.
"It's a blessing to give rather than receive, and we have families that need to receive from our hearts at this time."
You can also reach Macon at (727) 542-2189.
To reach J.A. Jones, email jjones@theweeklychallenger.com