BY MICHAEL MOORE JR., Neighborhood News Bureau
PETERSBURG — Coffee shops aren't always just about tasty espressos and café mochas.
Sometimes they're about the people tucked away behind the counter diligently whipping up the Frappuccinos, and more importantly, serving the community who drinks them.
At south St. Petersburg's Moondust Coffee, that's owner Dan Edwards. A real estate agent when he's not moonlighting as a barista, Edwards opened the shop that sits at 2321 Dr. Martin Luther King, Jr. St. almost three and a half years ago with a simple enough goal in mind: give community members a place where they can grab a cup of coffee.
"There aren't a lot of coffee shops in the area, and I just thought the people in the neighborhood could use a good cup of coffee," said Edwards, who used to make the trip downtown to Starbucks.
But Moondust Coffee goes back farther than the little shop that sits on the edge of the MLK Business District.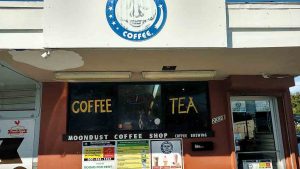 "It started with a website in 2001 as an online concept where, depending on your birth date or your zodiac sign, a specific type of bean was selected for you," Edwards explained. "And it was supposed to boost your zodiac powers and stuff like that. So I created the bags and put them up on the internet, and it's been there ever since."
When the space next to the Meat House of St. Pete on MLK Street became available, he seized the opportunity by transforming the "online concept" with the addition of a brick and mortar coffee shop.
In that same space, which was once a laundromat or an office depending on who you ask, there are now computers, fax and copy machines available for community members to use after paying a small fee. Paintings by Edwards adorn the walls and are for sale. Other than coffee, they offer ice cream, smoothies and sandwiches.
But some of their best services aren't on the menu.
The coffee shop also hosts community events and more recently began offering weekly meetups and classes on various topics. "Live the life you've always imagined," one flyer reads. "We feed your mind and your belly."
Each day is a different topic.
On Monday is the "Real Estate Investing Club/Network." Tuesday is all about the stock market, and Wednesday's club focuses on social media marketing. The week is rounded out by a "Credit Repair Class" on Thursday and a club about multiple streams of income on Friday. Saturday is reserved for an Open Mic Poetry Contest that offers a $150 prize to the winner, provided that at least 20 people attend.
Each class and club meetup runs from 8-10 p.m. and has a $25 fee. There are 20 seats available, with spots needing to be reserved in advance. A warm meal and beverage are provided to all participants.
The classes aren't taught by professors, but rather are subjects Edwards has some level of expertise in or wants to learn about further. He aims to collect a group of like-minded individuals together on a weekly basis that is looking to improve themselves and learn new skills.
He wants to see Moondust Coffee continue to grow as a gathering spot and resource for the community.
"I want to get people in here and start a small network where we share our services with each other, go and make friends, shoot videos and promote ourselves so that whenever someone is offering a service or has an event, people in the community can use those services to solve their problems," Edwards said.
So far, Edwards has seen mixed results. The first few weeks of running the classes were a success – though he credits much of that to his sister and her network of friends being in town from Washington, D.C. Since then, attendance hasn't been as high.
He isn't always at the coffee shop. He funds the business through his endeavors in real estate, which take up a lot of his time. While Moondust Coffee is generally open Monday through Sunday 7 a.m. to 10 p.m., Edwards says that if you really have your heart set on a cup of coffee, it might be best to call in advance because sometimes he does have to close the shop to attend to other business.
The future of the coffee shop is uncertain. According to Edwards, his lease will likely not be renewed when it is up in a year and a half due to concerns with parking.  If forced to move, he hopes to continue the enterprise elsewhere.
The coffee shop is used to facing its fair share of obstacles and setbacks.
When he first moved into the space, the garbage can was stationed on the wrong side of the building near the door, and when deliveries were made to the plaza boxes, they were unloaded right in front of the coffee shop, often blocking the entrance.
The city hasn't always been the most helpful either, according to Edwards. He said that large potholes, which sit at one of the main exits from the plaza, have been there for months with minimal attention from the city.
"I tried to get them to come and pave the alleyway so that if someone is sitting out there and having a cup of coffee, the stone dust wouldn't blow up in their coffee."
Edwards said he waited close to nine months for the city just to fill the hole with crushed gravel, and "after a couple of rain storms later, it just went right back to being potholes."
In the past when someone decided not to sell him a property because they "didn't think he was serious," he went ahead and purchased it from the eventual buyer.
When he started Moondust Coffee and was told by a community member that "black people don't drink coffee," he didn't let that stop him either.
"I thought that was ridiculous. It energized me and kind of stuck with me, and so I finished the project," Edwards said.
That project is still serving the community, one espresso, mind and belly at a time.
Michael Moore Jr. is a student reporter in the Neighborhood News Bureau of the University of South Florida St. Petersburg. Visit www.nnbnews.com  for more info.