ST. PETERSBURG — Members of the community in need of school supplies for their children will have another opportunity to receive assistance during the second annual school supplies giveaway at Esquire Barbershop, located on the Deuces.
Owner Tony Macon said he, along with other business owners in the area, wanted to give back and thought that giving away school supplies was a meaningful way to help.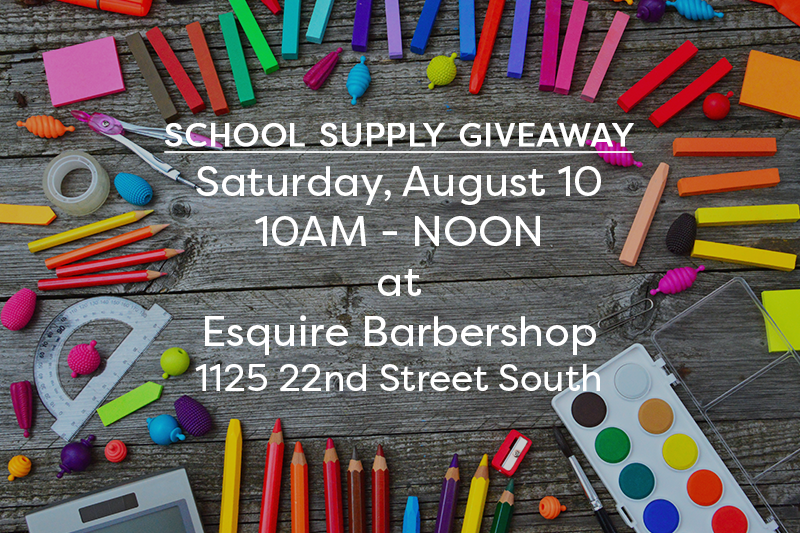 "This was a great way for us to be able to give back," Macon noted. "Our customers are always giving to us, this time we want to give back to them."
The event will take place on Saturday, Aug. 10 from 10 a.m. to noon at the barbershop located at 1125 22nd St. S.  Last year the businesses and community donated enough supplies to assist about 100 children.
This year, organizers hope to do the same and said the only requirement is that the students must be present to receive the supplies.
They need book bags, notebook paper, pens, pencils, crayons, glue sticks, spiral notebooks and any other essential supplies students need to begin a successful school year.
"Whatever the community and businesses donate, that is what we are going to give out," he said.
Esquire and the surrounding businesses are no strangers to helping the community. Last year, Macon organized a supply drive for communities in the Panhandle following Hurricane Michael. And the shop is always willing to accept clothing and other items to help those in need.
"God wants us to give," Macon stated." "When you give, it's a blessing, everybody benefits."
Macon is also the founder of ACT Right, a grassroots organization aimed at uniting the St. Pete community to support each other and those in need.
Through ACT Right, the community donated food, toiletries, paper towels, clothes and other items people lost as a result of Hurricane Michael, the first Category 5 storm to strike the contiguous United States since Hurricane Andrew in 1992.
The organization also sponsored a toy and school supply drive for the region, knowing that many would not be able to afford gifts for their children as they worked to rebuild their lives. Macon said projects like these and the back-to-school supply drive are all part of what God wants us to do to help each other.
"It's all about God," he asserted. "That's really what it's all about."
Anyone interested in donating to the supply drive can drop off their donations to Esquire Barbershop during business hours from now until Aug. 9. Supplies will be distributed on a first-come, first-served basis until everything has been given away.
To reach Karin Davis-Thompson, email kdavis-thompson@theweeklychallenger.com