By Allen A. Buchanan, Contributor
ST. PETERSBURG — The African American Heritage Association (AAHA) received the Award of Honor in Heritage Education last Fri., Oct. 24 during 2014 Preservation Awards Shindig held at Studio@620.
Awarded for the newly opened African American Heritage Trail that runs along 22nd Street South and 9th Avenue South, AAHA was one of several groups and individuals honored for their efforts to preserve historic landmarks in the city of St. Petersburg.
"Much history of St. Petersburg was beginning to get lost, especially in the African-American community," said Betty Harden who accepted the award for President Gwen Reese and Vice-President John Wilson.
She added that former Mayor Bill Foster along with the original co-chairs Reese and Wilson helped get the ball rolling on planning the African American Heritage Trail back in 2011.
"Reese, Wilson and another gentleman started getting the community involved in donating memorabilia and artifacts for what would become historical photographic displays along the African American Heritage Trail," said Harden.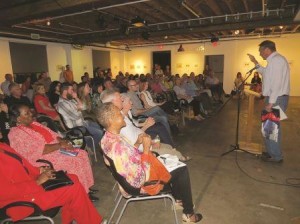 Harden also participated early on in the project by contributing her own family artifacts to the trail.
"One of the contributions that I was able to make was about Sydney Harden's Grocery Store, which was on the corner of 9th Avenue and 22nd Street South," said Harden who is the grand-daughter of Sydney Harden Sr.
According to Harden, her grandfather's niece, who is now 95 years old, had a picture of the original store from the 1940s. The time-period was identified by one of St. Petersburg's Preservation board members who recognized the hairstyle of the Coke-a-Cola girls in the picture taken during that decade.
"That was the kind of contributions people were able to make when they went into their closets and went into their family homes and found [historical] photographs and information to give to the Heritage Committee," said Harden.
The African American Heritage Trail runs from north to south along 22nd Street from 5th Avenue South to just pass 15th Avenue South, and east to west from 16th Street to the Jordan Park community along 9th Avenue South.
AAHA was one of nearly a dozen groups and individuals honored at the shindig. Paintings and photographic displays of historical buildings and neighborhoods adorned the walls of the studio as over 100 people showed up to wine, dine, and celebrate St. Petersburg's rich and diverse architectural and cultural heritage from the African American Heritage Trail to the Kenwood community.