Twelve-year-old Anaiah Berry is a track superstar, competing against high schoolers.
BY KARIN DAVIS-THOMPSON, Staff Writer
ST. PETERSBURG — Twelve-year-old Anaiah Berry said she knew by age 7 that she had something special, and her parents knew it too. The sixth-grader at Admiral Farragut Academy fell in love with track and field when she was just 4 years old. Her mom, Kristina Berry, said that was about the time she realized that running seemed to come naturally to Anaiah.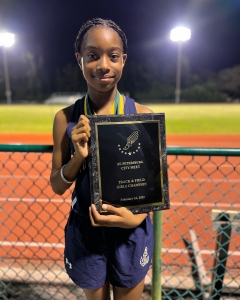 "We noticed that she had no trouble keeping up with the older kids," Kristina Berry said. "And she had pretty nice form, running without any previous training."
Her father, Nicholas Berry, said that once she started in the sport, they realized that while she may have been young, she was determined.
"Even though she was one of the youngest kids out there, her focus was all in, which was totally amazing to us," he said.
Today, Anaiah's commitment and dedication to the sport she loves has made her a record-holder and given her the chance to compete against high school students.
Her parents started her in the Amateur Athletic Union (AAU), where she broke her first record at 7 years old for the 1500m.
"I then came back next year and broke my own record with a six-minute 1500m," Anaiah said. "I remember it most because it was my first time running the 1500m."
Currently, she holds several AAU meet records, including the 400m and 800m. She participates in the 400, 800, 1500, 1600, 4X400, and 4X800.
Anaiah said the 800m is her favorite race.
"I like it because it is a very competitive race which uses both speed and strategy," she said.
Now, Anaiah has started competing against high school students. So far, she has competed in two meets, and her parents say they are so proud of what she's achieved.
"Since she attends a private school and they have a varsity level team, her coach thought her times were fast enough to compete at the varsity level," her dad said. "She has accomplished so much already, and she is just getting started."
In her latest varsity meet, she ran in three events, placing third in the 400 out of 57 racers, ninth out of 42 in the 800, and in the 4X400, her team placed second.
Anaiah said while she has competed against older runners in AAU meets, and while this is her first time competing on the varsity level, she just takes every race at it comes and concentrates on what she needs to do no matter the age of her competitors.
"I don't really think about their ages," she said. "I just compete."
Her parents say they try to always encourage Anaiah to keep her focus on her own performance and remember that aside from that, there is only one other thing to concentrate on — her time.
"As parents, we always want what is best for our kids, so our focus is always to compete against yourself and the clock," said the parents of four. "It doesn't matter who is on the track."
Working hard on her sport and concentrating on herself has been a winning formula for Anaiah. She plans to continue her commitment to track and her future in the sport.
Looking forward to what the future holds, Anaiah said, "I plan to run in high school, college, and prayerfully one day the Olympics," she said.
To reach Karin Davis-Thompson, email kdavis-thompson@theweeklychallenger.com