BY JOYCE NANETTE JOHNSON, Staff Writer
ST. PETERSBURG — The dream of becoming a successful entrepreneur is pursued by many; however, the path to establishing and maintaining a business is full of pitfalls and unforeseen obstacles. New business owners are faced with a myriad of problems that they may not have planned on and need practical business advice to navigate through the start-up of their company and beyond.
According to the Small Business Administration, 30 percent of new businesses fail during the first two years of being open; 50 percent during the first five years and 66 percent during the first 10.
Two local authors, Stephanie A. Wynn and Charles Leon Price, Jr., have each written books providing a blueprint to assist budding entrepreneurs, and have partnered on a cross-country book tour called "Author's Ambition."  The St. Pete date is March 4 at the University of South Florida St. Petersburg (USFSP) bookstore.
Wynn's book "Readi-Set Go! A Simple Guide to Establishing a Successful Business" examines the reasons why businesses fail and offer realistic solutions and advice. The book has 14 chapters that include "Team Building" and "Saving for Retirement."
"A lot of business owners neglect a strategic plan for building a retirement portfolio," she explained. "There has to be a means to an end. You have to question if you are leaving a legacy."
Wynn said failing to plan, lack of time and poor management skills are some of the points covered in the chapter "Why Do Businesses Fail." In the section on team building, her advice seems simple, but many new business owners fail in this area.
"You have to create a team to support your vision," she stated. "You have to be able to delegate tasks. You can't do it all; you must have accountable strategic partners."
Wynn stated that several first steps must be taken to secure the successful launch of a business. She started her first business at the age of 23 when she opened Chunky Sundae Ice Cream on Dr. MLK Street South in 2000. This experience introduced her to the pros and cons of business ownership.
"You have to have a business plan," she stressed. "Prioritizing your time with planning, and finding your purpose or brand for your business.  The owner must also review and decide the legal entity of how their business will be set up: non-profit, LLC or incorporation."
Charles Price, associate pastor at Champions Life International Church in Ruskin and founder of the motivational company Your Spark 42 LLC, is the author of "If You Want More Get More" and "Leader Shift," a workbook to develop organizational leadership for faith-based organizations.
In "If You Want More Get More," Price said his book will teach the reader how to self-assess, switch gears, plan, strategize, defend territories and remove intruders to progress and succeed.
"Life is challenging; success is difficult but more is attainable if you're not afraid to chase it. It is your moment; take the next step and capture it!"
In the chapter, "The Art of Getting it," he explains that the more you use your gift, it releases the authority to get something better. Other chapters include "From Nothing to Success" and "Change Your Gears and Get More."
"In God's blueprint, there is no selfishness, no ulterior motive and there is not positioning," Price said, referencing lessons in his workbook.
The workbook is for the development of leadership within religious organizations to inspire growth and productivity.  It also explores the growth of the church and development of youth.
Wynn and Price, who have known each other since middle school, both agree there are many stumbling blocks while climbing the precarious ladder of business ownership.
"My goal as an author is to impact, inspire and empower aspiring entrepreneurs to be their very best. No matter where you are in life, do not allow your current circumstances or situations keep you from your destiny," said Wynn, adding that as a people, "we do not have time to keep wasting time."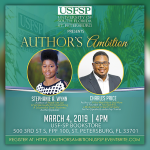 "Never in a million years would I have thought that a high school dropout and former state prisoner would be traveling the nation impacting, inspiring and empowering individuals to chase and capture their dreams," said Price.
He said his life is a testament that your past doesn't have to poison your future. Price encourages everyone to chase their desires and never allow negative, close-minded people to discourage them from pursuing their dreams.
"Remember if you want more you can get more. It's yours for the taking," he finished.
Tour dates: 
March 4 — USFSP bookstore, 500 Third St. S, from- 4-6 p.m.
March 18 & 19 — Baltimore
March 30 — Sarasota
April 6 — Naples
April 20 — Brandon
For more information, contact Candra Hamilton, USFSP bookstore manager at (727) 873-2665 or chamilton5@usf.edu.
To register, log on to https://authorsambitionusfsp.eventbrite.com