In honor of Black History Month, the City of St. Petersburg is the only city in the nation that raises a Woodson flag over its City Hall for the entire month of February.
BY RAVEN JOY SHONEL, Staff Writer
ST. PETERSBURG — With the state and national governments in such divisive turmoil, it warmed the crowd's hearts in front of City Hall on Feb. 1 as the City of St. Petersburg raised the Black History Month flag over its government building.
"I have the honor of working with the dedicated city council who believes firmly in inclusive progress for the Black community and for all of the communities in St. Petersburg," stated Mayor Ken Welch.
Welch said Black History Month is an important time to honor and remember the contributions and achievements of Black Americans throughout U.S. history, along with their sacrifices and struggles.
"As a society, we've come a long way," he averred. "But there are always sobering and painful reminders in our country of the work that still needs to be done to achieve intentional equity and inclusive progress."
He noted that the flag-raising ceremony not only commemorates the rich culture, achievements, and history of Black people but also honors the legacy of a man celebrated as the father of Black history — Dr. Carter G. Woodson.
Dr. Woodson wrote extensively about the powerful connections between knowledge and education to achieve real freedom and racial equality. And here in St. Pete, we have the Woodson African American Museum of Florida to help carry on his legacy.
Executive Director of the Woodson Museum, Terri Lipsey Scott, thanked St. Pete's first Black mayor for his courage, conviction, and commitment to elevating not only Black history but "cultivating a future inclusive of a dedicated, purpose-built edifice to properly preserve, present, celebrate and commemorate Black history."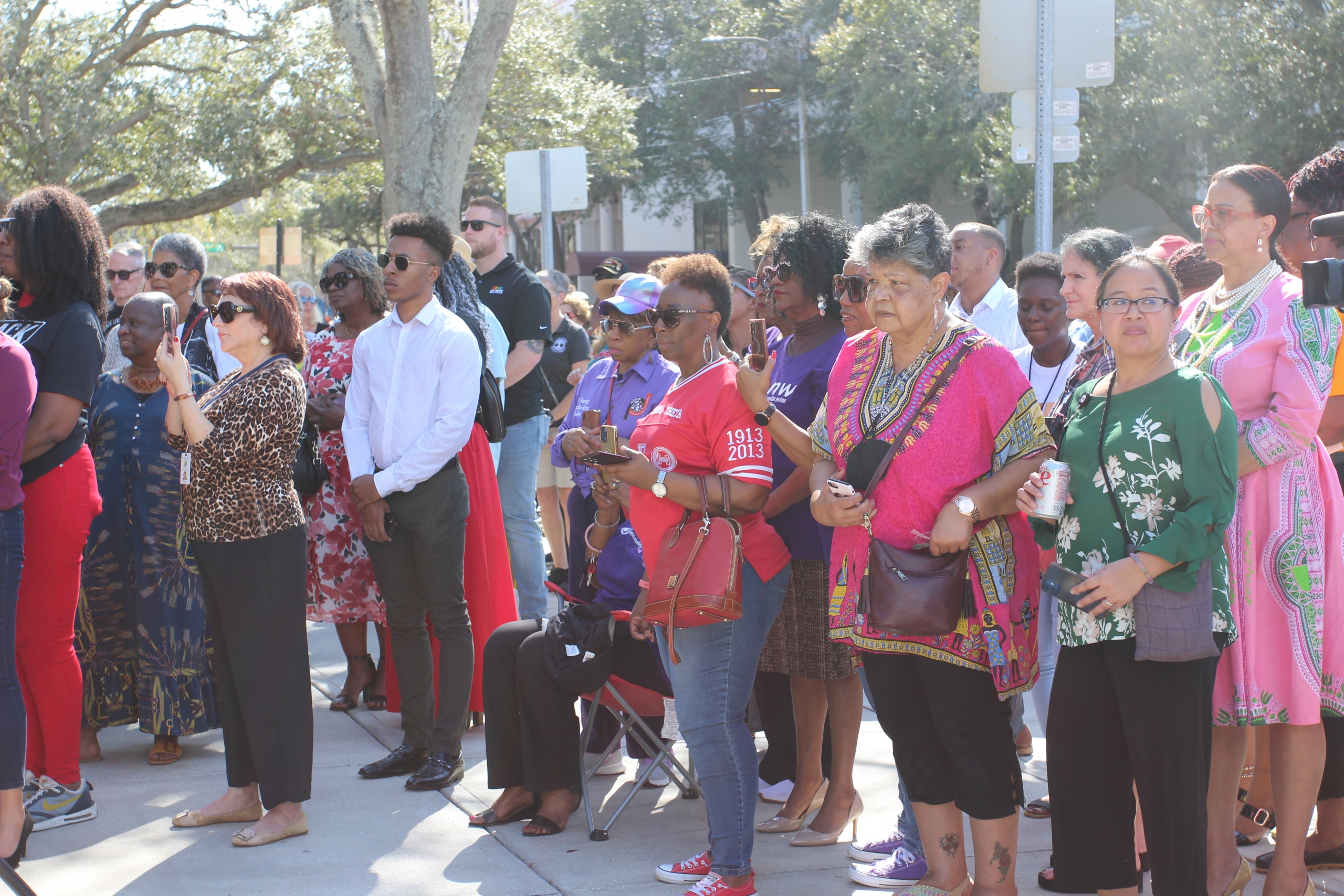 Under the Hines/Rays plan to redevelop the 86 acres where Tropicana Field sits now, a new state-of-the-art Woodson African American Museum of Florida will be erected. It will be one of a kind in the state of Florida.
Growing up in the Deep South, Scott said she learned all about white figures in history, but her education in Black history was lacking.
"I learned that George Washington was known as this nation's father, yet it was many years later that I learned that Dr. Carter G. Woodson was the father of African-American history. Lessons taught included Benjamin Franklin, but not the brilliance of Benjamin Banneker."
She went on about her schooling and how it celebrated the pioneering efforts of Amelia Earhart but buried the genius of Bessie Coleman. Growing up in America, we all learned about Christopher Columbus sailing the ocean blue in 1492, but nothing about Pedro Alonso Niño.
"I was taught stories about Florence Nightingale, but not one mention of Mary Ezra Mahoney. In 1969, I witnessed the Apollo 11 space mission with Neil Armstrong and Buzz Aldrin, but what I didn't know was that the mathematical genius of that space launch and return was that of Katherine Johnson."
The lessons Scott was taught mirror those of hundreds of millions of children throughout the history of this country. She affirmed that since 1619, the genius and ingenuity of Black people intimidated those who were then and now insecure regarding the aptitude of the Black race.
"The only reason one would degrade, dismiss, diminish, or discount another is simply as a result of their own insecurity," Scott said as if Gov. Ron DeSantis was standing in front of her.
She noted that the desire individuals have to suppress Black stories and contributions to this nation's history will only inspire more people to pick up a book and learn Black history, even if they had no desire in the past.
Speaking again to Gov. DeSantis's comment about how African American Advanced Placement Studies "significantly lacks educational value," she exclaimed:
"What significantly lacks educational value is one who sows division among people in classes. What significantly lacks educational value is inflaming hate through political hierarchy. What significantly lacks educational value is speaking from a space of authority and privilege by distorting the facts and whitewashing history. What significantly lacks educational value is not knowing that if you bury the truth, it will make its way through even stony grounds, resurfacing with a splendor and spreading unstoppable like wildflowers."