In response to Gov. Ron DeSantis's attacks on African-American history, the Woodson African American Museum of Florida and the St. Pete chapter of the Association for the Study of African American Life and History will start the first 'Freedom Schools' this spring.
BY FRANK DROUZAS, Staff Writer
ST. PETERSBURG — The College Board released the official curriculum for a new Advanced Placement course in African American studies on the first day of Black History Month.
In a press release, David Coleman, CEO of the College Board, said, "This course is an unflinching encounter with the facts and evidence of African American history and culture."
However, the curriculum is now missing several themes and voices from Black scholars that were in the pilot program launched at 60 high schools across the country last year.
Critics say the changes made were to placate Gov. Ron DeSantis after his administration rejected the curriculum last month.
Members of the Woodson African American Museum of Florida, community leaders and elected officials took a stand outside St. Petersburg City Hall on Feb. 1 to protest recent state legislation that aims to regulate how educators can teach Black history.
DeSantis's latest swipe at Black people limits what schools can teach about racism and other aspects of history, including banning books to keep whites from feeling uncomfortable about the treatment of African Americans since the inception of this country.
Terri Lipsey Scott, executive director of the Woodson, pointed out that the men, women, and children who were brought to this country in slave ships were not comfortable. When these same individuals were "enslaved, tortured, beaten and considered three-fifths human, as they worked tirelessly to create the legacy of this nation," they were not comfortable.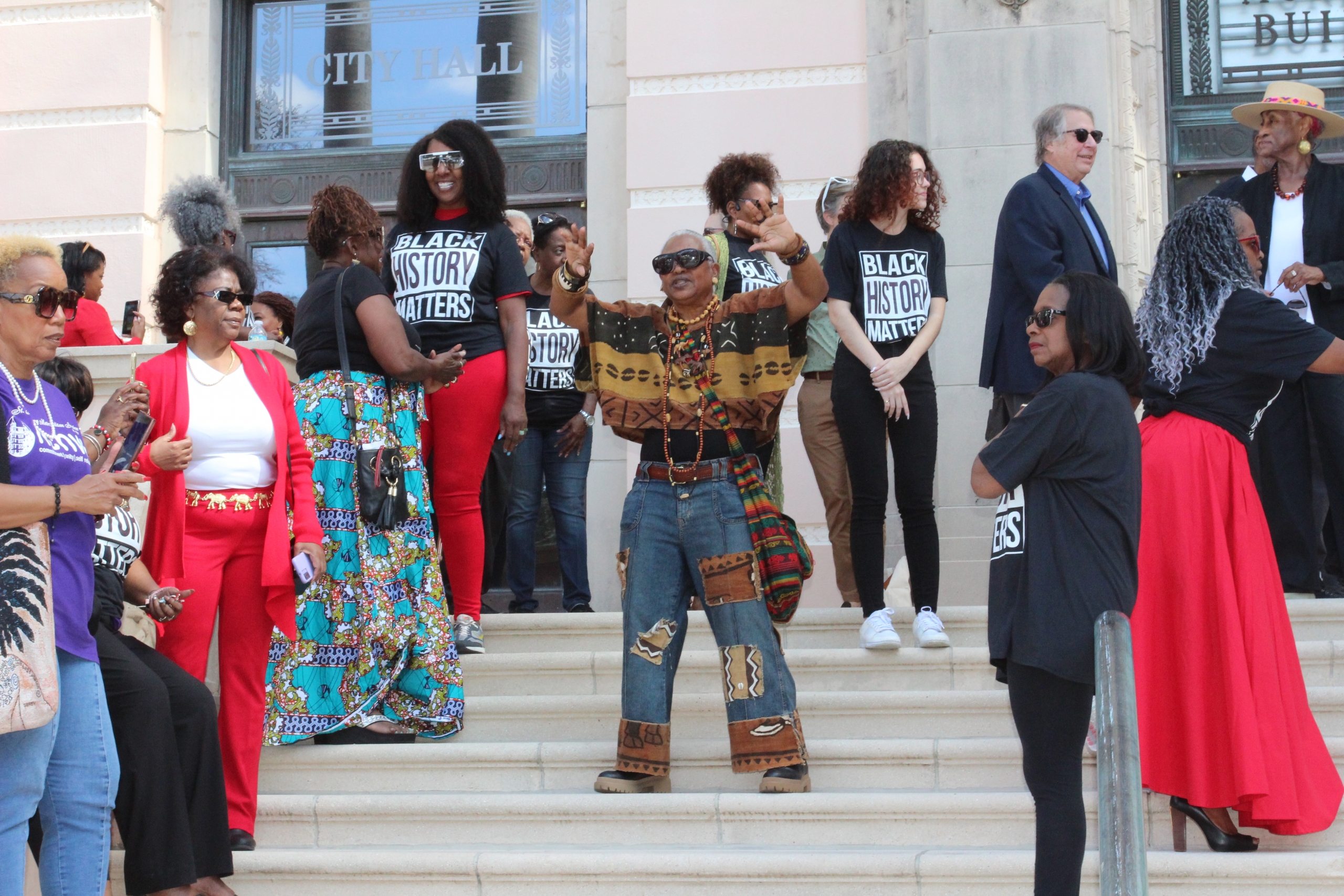 She added that throughout history, with Jim Crow laws, segregation and lynchings, Blacks were never made comfortable.
"Today, we are faced with recently passed laws of banned books, sanitized Black history and a demand to denounce diversity, equity, and inclusion," Scott said. "Let it be known that on this first day of Feb. 2023 in the great city of St. Petersburg, Fla., we will work to ensure that we will educate others regarding Black history and that it is preserved, presented, celebrated, and commemorated!"
County Commissioner Rene Flowers said there is a desire to "wipe away Black history" from the books in the school system.
"That doesn't mean that history will not be taught in our communities," she said, listing accomplishments of notable activists like Dr. Martin Luther King, Jr., Medgar Evers and local activists C. Bette Wimbish and Rev. Enoch Davis.
"[Children] need to know that Rev. Enoch was a person, not just a building on 18th Avenue; he was a person!" she said.
Dr. LaDonna Butler said that clear identity development is crucial to African Americans, as "it is central to our mental health and well-being."
"These negative messages about who we are and how we are, and whether we belong in the pages of our own history books have a negative effect," she said, adding that there are increased rates of anxiety, depression, and suicides among Black and Brown youth.
These negative effects can be mitigated through healthy conversations about the place of African Americans in history. Such discussions are central not only in the education but the legacy "of who we are as a people."
"We must tell our stories," Butler said. "Our children are watching us."
Dr. Rick Davis, president of the Concerned Organizations for Quality Education for Black Students, said his organization shares the concerns of many over the Stop WOKE Act and "how our school district is interpreting and reacting to these new directions," namely the banning of certain books such as Toni Morrison's "The Bluest Eye" and an AP African American Studies course — which DeSantis has called "indoctrination."
"Public education, by definition, must serve the interests of all children and parents from all communities," he said. "We will continue to engage our district leadership in clarifying their interpretation of the mandate as they understand it and its implications for teaching accurate history to our students in the classrooms."
Attorney Jacqueline Hubbard, president of the St. Pete chapter of the Association for the Study of African American Life and History, said the theme for Black History Month this year is "Black resistance."
"We are being attacked from every corner," she said. "Our culture, our history, our children. We cannot forget our children."
African Americans have survived this country's hatred through education, she noted, so in conjunction with the Woodson Museum, ASALH will start the first "Freedom Schools" in St. Pete this spring.
"Our Freedom Schools will teach African-American history, African history, and we will not forget the children!" Hubbard said.
Rev. Andy Oliver, senior pastor of Allendale United Methodist Church, said that along with the Freedom Schools, his church would be offering AP African American Studies from qualified educators willing to take risks with their jobs.
Oliver referred to DeSantis as a bully and said, "we know how the story ends," mentioning the futility of those who railed against desegregation, such as politician Bull Connor and the 45th governor of Alabama, George Wallace.
"We know that at the end of the day, the students who are standing up to challenge our governor, they are going to be the ones that build the history pages, and our governor will be left to be a footnote," he said, even inviting the DeSantis to enroll in the class himself, as he has "some things to learn, as we all do."
Esther Matthews, president of the St. Pete Branch of the NAACP, said the attempt to whitewash America's history and ignore the very experiences that are impactful contributions of Black people in America is deplorable.
"African-American history is American history!" she asserted. "And if the historical content makes you uncomfortable, then I say, 'Very good!' Knowing the historical experiences of Black people in America should elicit a fire in you to ensure that history never repeats itself. It should encourage you to stand with and for your Black brothers and sisters to make sure their voice and their safety is protected!"
Matthews said it is imperative to financially support programs that are currently teaching and preserving Black history and to contact elected officials and request their support for Black history courses and curriculums.
"We must ensure that educational equity is truly implemented," she said.
DeSantis's assault on education does not stop at the K-12 level; he's aiming for higher education, where most people learn a more complete history of the country.
He plans to mandate Western civilization courses, and eliminate diversity and equity programs, calling it "ideological conformity."
"We don't want students to go through, at taxpayer expense, and graduate with a degree in Zombie studies," DeSantis said on Feb. 1.