Black-owned businesses began to evolve as African Americans established social and economic institutions designed to achieve control over their lives during post-Reconstruction (1877-1920s).  Due to the rise of black-owned businesses that catered to the needs of the African-American population, there was an upward stride in economic development that spread across the south and southwest parts of the United States.
With hard work, ambition and fortitude, black pioneers and entrepreneurs began to lay economic foundations. As concentrated populations of African Americans grew, so did a robust economic activity. These segregated communities grew while black business districts took root and flourished. The name used to describe those prosperous business districts was "Black Wall Street."
In the era of Jim Crow Laws and the Separate but Equal Doctrine from 1876 to the Civil Rights Act of 1964, there were several historically significant black business districts with thriving economic progress.  The most notable of those districts were the Hayti District in Durham, N.C, the Jackson Ward District in Richmond, Va., and most exceptional as a legacy of success was the Greenwood District in Tulsa, Okla.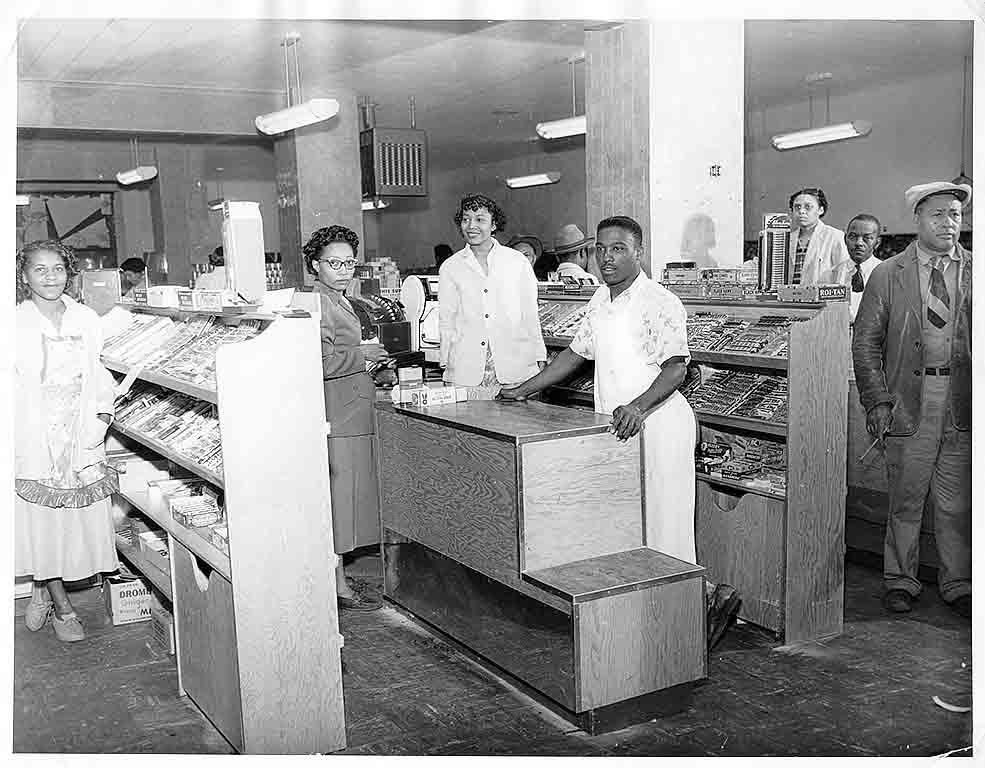 The history of black people in Oklahoma is connected to the westward expansion and the desire for land in the 19th century. During that time, white farmers demanded more land for cotton in what is now the American southeast and pressured the government to remove indigenous populations from the region.
The government began a systematic policy of removing Native Americans in the 1830s. As they moved farther west, the Native Americas brought their African slaves across the Trail of Tears to their new territorial home in the West, to what is now the state of Oklahoma.
After the Civil War in 1865, former slaves became refugees from white backlash—as exhibited by Ku Klux Klan inflictions of terror during the Reconstruction Period 1865-1877—and migrated West for a safe haven, opportunity and land.
A young black pioneer, O.W. Gurley, was known as the founder of the Greenwood District in Tulsa, Okla.  He moved to Oklahoma from Arkansas to participate in the Oklahoma Land Rush of 1889 in which pioneers staked out and made claims to homestead free land.  A few years later, he purchased 40 acres of land in Tulsa.
That acreage of land, which had been designated "only to be sold to colored," was a dusty trail near railroad tracks. Black ownership was unheard of at that time. Gurley initially built a rooming house and later other buildings.
By 1905, Gurley had purchased more property, built the first grocery store, constructed homes for sale or for rent, built a church and a prosperous hotel, which was visited by W.E.B. Dubois. As the black population in the Greenwood neighbor grew, a robust black economy followed.
Another key figure of the Greenwood neighborhood was J. B. Stratford, a lawyer and entrepreneur who arrived in Tulsa from Kentucky in 1899.  He believed that black people had a better chance for economic progress if they pooled their resources together and supported each other's businesses.
As Stratford initiated more development of Greenwood during the 1910 Oklahoma oil boom, he purchased large tracks of real estate in Tulsa, which he sold exclusively to blacks. He thereby attracted educated and professional African Americans mostly from the south but also other parts of the United States into Oklahoma. Stratford became the richest African American in Tulsa by means of real estate investments, and he built the largest black-owned hotel in the United States at that time.
By 1920, Greenwood became a dynamic center of progress with 108 business establishments, including two black newspapers, 41 grocery and meat markets, 30 cafés and restaurants. The area also touted 33 professionals, including 15 doctors and attorneys serving about 10,000 residents.
In just 20 years, Greenwood expanded to also include clothing stores, funeral homes, banks, insurance companies, nightclubs, pool halls, barbershops, hairdressers, shoemakers, tailors, mechanics, contractors and two exceptional movie theaters.
Greenwood was highlighted as a center for jazz and blues music frequented by great African-American musicians. In fact, it was in Greenwood where a young Count Basie first encountered and was inspired by big-band jazz.
Since most white establishments refused to cater to African Americans, black businesses had a captive market full of pent-up demand from both Greenwood residents and some white Tulsa residents as well.
By 1921, there were 22 black churches in the Greenwood neighborhood. Religion and faith gave strength and inspiration to many families and the overall community of Greenwood.
The schools in Greenwood were described as exceptional compared to some in the white areas of town. In addition, the wellbeing of Greenwood residents was strong and the economy was more advanced than some of the white areas of Tulsa.
What happened to the thriving community of Greenwood? What is going on in Greenwood today? To be continued next week.
Jennifer Gamble-Theard, M.Ed. is a retired Pinellas County educator in the study of history and language. She is also the historian for the St. Petersburg Branch of ASALH.