By J.A. Jones, Staff Writer
ST. PETERSBURG – A majestic iron, wood and rope sculpture titled "Malcolm X #13."
Hundreds of meticulously twisted coils of newspaper creating a field of environmental and social commentary.
A large bale of tossed-off clothing creating a sculpture and homage to memory and consumerism.
These works and others can be viewed at the

Museum of Fine Arts

' (MFA) "Magnetic Fields: Expanding American Abstraction, 1960s to Today" exhibition.  The show brings the first U.S. exhibition focused solely on African-American women painting, sculpting and creating mixed media work in the abstract vein to the Tampa Bay area.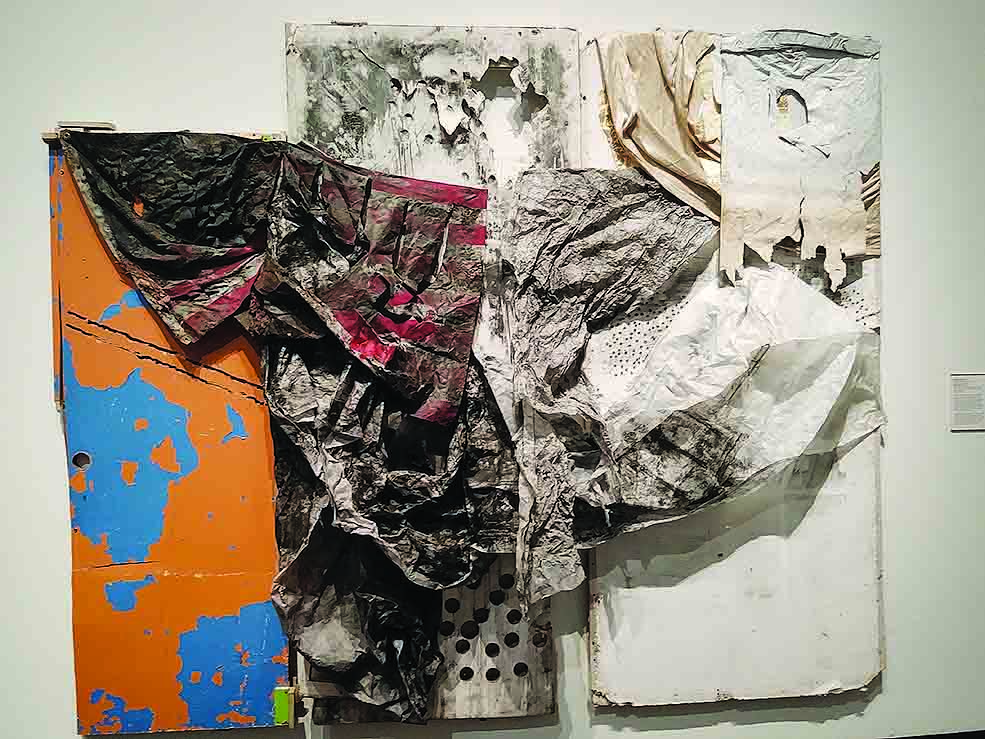 The showing is a powerful collection of 45 works created by 21 intergenerational artists from across the country, which, according to the MFA, "have historically been overlooked by the mainstream."
Born between the 1890s and 1980s, the artists exemplify the range of creativity explored in abstract artwork defined less by literal figures or scenes and more by vast visual possibilities, resulting from the artists freely expressing their inner-visions through unconventional uses of color, form, shapes, materials and textures.
"I literally jumped up and down when we decided to do this because this was such an exciting and important exhibition, and it was a chance to bring more holdings by African-American artists," said Katherine Pill, MFA curator of contemporary art. "This is an exhibition that takes a more intersectional look, and it allows us to talk about racial disparities coupled with gender issues."
The exhibition is named after

Mildred Thompson's

1991 triptych, or three-paneled painting, Magnetic Fields, a visual map of curving lines and arresting golds, reds, oranges and blues that combine with energetic intensity.  Thompson, a native of Jacksonville, arrived in Tampa in 1974 to become the city's artist in residence.
Other artists among the 21 featured include

Nanette Carter

(b. 1954, Ohio),

Brenna Youngblood

(b. 1979, California),

Betty Blayton

(b. 1937, Virginia),

Howardena Pindell

(b. 1943, Philadelphia),

Mavis Pusey

(b.1928, Kingston, Jamaica) and

Shinique Smith

(b. 1971, Maryland).
The exhibition was conceived by Erin Dziedzic, director of curatorial affairs at the Kemper Museum of Contemporary Art in Kansas City, Mo., where the exhibition began and Melissa Messina, curator of the Mildred Thompson archives.
"We began talking about who's been missing from the canon of abstract art," explained Dziedzic, who was on-hand at the opening. "We started looking at Mildred Thompson first, an artist who had a huge impact on us.
Dziedzic and Messina combined their efforts alongside an advisory group of scholars, educators and other curators from across the United States to inform, contribute to their catalog and contribute to public programming.
"It's an exhibition about abstraction, and it's a way for us to discover artists who we may not have recognized in the past, to revisit artists who've had some success and put them in context with other artists who are virtually unknown," she said.
The array of artists included reveals work created in an astonishing spectrum of mediums — from Mylar to found objects, oil-on-canvas to rubber tires, punched-paper to printmaking and more.
The works are arresting, multi-textured and imaginative. They invite viewers to ponder the internal narratives that spawned them.
"Magnetic Fields" will be on view at the MFA until Aug. 5 in the Hazel Hough Galleries. Initially organized by the Kemper Museum of Contemporary Art, it has also traveled to the National Museum of Women in the Arts in Washington, D.C., before arriving in St. Pete for its final show at the MFA.
The MFA is located at 255 Beach Drive N.E. Hours are Monday-Wednesday, Friday and Saturday from 10-5 p.m.; Thursday from 10-8 p.m. and Sunday from noon-5 p.m.
Take advantage of special $5 pricing on Thursdays after 5 p.m. Regular adult admission is $17, $15 for 65 and older. Students enter for $10 (valid college I.D.); children under seven and museum members get in free. Call for group rates and reservations, (727) 896-2667 or visit

mfastpete.org

.