Tampa Bay Chalk Festival will hit the Deuces this Saturday, May 13, from 9-4 p.m.
BY J.A. JONES, Staff Writer
On Saturday, May 13, from 9-4 p.m., the sidewalks of 22nd Street between Seventh Avenue and Ninth Avenue South will be transformed into a kaleidoscope of colorful squares as Pinellas Diaspora Arts Project (PDAP) hosts the inaugural Tampa Bay Chalk Festival on the historic Deuces.
A free community event, the festival invites community members, children accompanied by caregivers, youth, and art enthusiasts to create with chalk and other mediums alongside professional chalk artists.
PDAP board member and festival organizer, artist, and educator Debbie Yati Garrett stated that the rich artistic history of the Deuces made it the perfect location for the chalk festival.
"This is an opportunity to bring together the community of artists, recreation centers, youth providers, and businesses, in addition to showcasing professional artists' chalk work. And most importantly, to give our children a day of art expression using chalk while having fun."
Garrett had been pondering on an event the arts project could do that would bring a community of artists together, bring attention to the Deuces corner, include businesses and create a fun day for children on Mother's Day weekend.
An art instructor at Pinellas County Job Corps, Garrett said that she and her students were also thinking about a way to take part in local events with a purpose. As an artist, she noted that the chalk festival provided a medium for creation, which is "a fundamental part of the human existence," and that the chalk festival provides "a powerful force for binding a community together."
Garrett sees the Tampa Bay Chalk Festival as a way to increase the cultural activity and tourism on the Deuces. Noting that it's the kind of event where "a father can bring their children for a free event on Mother's Day weekend," she also believes it will enhance foot traffic and bring customers to the businesses surrounding the Deuces.
Placing a family-friendly art activity for all ages and cultural backgrounds offers another way for visitors to experience the historic area. Garrett hopes it will contribute to a positive atmosphere and help market the Deuces both nationally and internationally.
Several local and regional professional artists are participating in the festival. Garrett reached out to some she knew, and the arts project also announced a call for artists on its social media platforms and received a healthy amount of responses.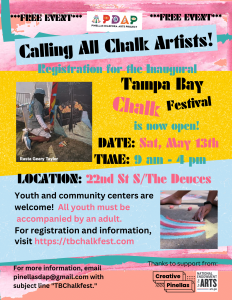 Ultimately, Garrett selected four artists to feature, including Rasta Geary Taylor, Myiah Pink, Swirly Painter (Kaitlin Kelly), and Anthony Williams.
Taylor is a well-known and loved local artist who owns the 1 of 1 Customs – "Hand Painted Everything" Studio in St. Pete, whose motto is, "Putting paint where it ain't." He said participating in the festival appealed to him because "I'm down to do just about anything to help and inspire kids to find the artistic talent our Creator put inside them."
Myiah Pink, an artist and educator who recently held the Soul Revival Artfest, is a featured artist at the chalk festival and shared her excitement at participating.
"I love trying new things. Chalk isn't my first medium; however, it is the perfect way to tap into my inner child! I love doing things within the community, and I can't wait to see all the other creative chalk squares during the fest."
Pink's multimedia and acrylic work can be viewed on her Instagram @myiahpink, @happysoulbypink and she can be reached by email at happysoulbypink@gmail.com. Visit her websites Myiahpink.com and Happysoul.pink.
Featured artist Anthony Williams, whose work was recently exhibited at the Tully-Levine Gallery at WADA, said he chose to be part of the chalk festival because "The opportunity to come out with the community and the people is irresistible; [as] a creative in all other traditional forms of art — paint, ink, clay or any medium I can actually draw with will suffice." You can follow Williams on Instagram @aleeshmustaqim.
"Public art breaks the barriers of the unknown and allows a connection between two strangers," said Kelly, who lives in Sarasota. "It allows humans to just be humans without a role or costume. There's beauty in that." Follow her on Instagram @swirlypainter.
Attendees are encouraged to enjoy delicious offerings available at the businesses located along the Deuces corridor, including Lorene's Fish & Crab House, Heavy's Restaurant, Rastaman Natural Juices, Night FLOW Restaurant and Urban Drinkery, which will all be available to accommodate hungry visitors that day.
Schedule of events for the inaugural Tampa Bay Chalk Festival on May 13:
8 a.m. — Street and Sidewalk Preparation
9 a.m. — Open Introduction
9:15 – 4:30 p.m. — EVENT
4:30 p.m. — Presentation
Click here for those interested in registering to be a chalk artist. Click here to become a vendor.
For more information, visit tbchalkfest.com.
About Tampa Bay Chalk Festival
The Tampa Bay Chalk Festival is an initiative of Pinellas Diaspora Arts Project, Inc., a registered 501c3 organization, with a mission to support, encourage, and promote Black and Brown arts and artists in Tampa Bay while providing family engagements with a focus on health and wellness.
The inaugural Tampa Bay Chalk Festival is sponsored in part by a grant from Creative Pinellas and the National Endowment of the Arts.