Kashmir Parker, CEO, KP Luxury Enterprises and Gwendolyn Reese, president, African American Heritage Association
BY FRANK DROUZAS, Staff Writer
ST. PETERSBURG — Homestead Initiative, a three-part virtual series on building wealth and legacy through homeownership, kicked off on April 15 with guest speakers Kashmir Parker, CEO, KP Luxury Enterprises, and President Gwendolyn Reese, African American Heritage Association.
The first session focused on the historical policies, legislation and practices that impacted land ownership and intergenerational wealth of African Americans. In providing a background of Black homeownership, Reese explained that the Homestead Act of 1862, enacted during the Civil War, granted 160 acres of land to almost anyone — including newly-freed slaves — who had never taken up arms against the U.S. government.
"However, rampant discriminations, systemic barriers, and bureaucratic inertia adversely impacted the ability of Black Americans to acquire this land," she said.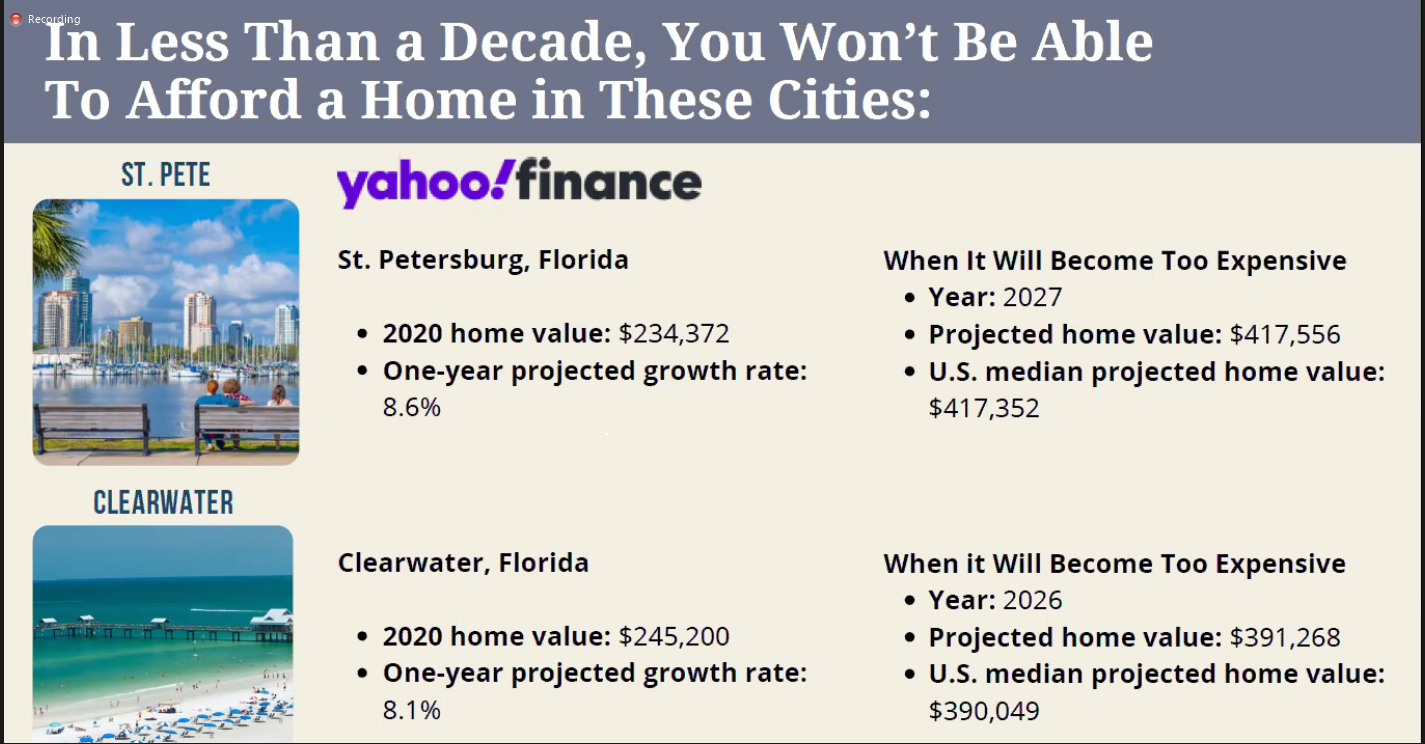 The promise of "40 acres and a mule," where Confederate lands were seized and redistributed among former slaves, was astonishingly radical at the time and was an early form of reparations. This idea, Reese noted, was generated by Black leaders.
Union General William Sherman held a discussion with 20 leaders of the Black community in Savannah, Ga., and issued Special Field Orders No. 15 in Jan. 1865, promising the 40 acres and a mule. But Andrew Johnson –Abraham Lincoln's successor and a sympathizer with the South — overturned the order in the fall of that year.
"Try to imagine how profoundly different the history of race relations in the United States would have been had this policy been implemented and enforced," Reese said. "Had the formerly enslaved people actually had access to the ownership of land, of property. If they had had a chance to be self-sufficient economically, to build, accrue and pass on wealth."
Then redlining was introduced in the early 1900s, Reese said. The term comes from the development by the New Deal of federal government maps of every metropolitan area in the country. Those maps were color-coded, by first the Homeowners Loan Association, then the Federal Housing Administration — then adopted by the Veterans Administration.
"These color codes were designed to indicate where it was safe to insure mortgages," Reese pointed out. "And anywhere African Americans lived, or even lived nearby, were colored red to indicated to appraisers that these neighborhoods were too risky to insure mortgages."
The FHA in St. Pete worked with the federal government to carve out redline areas where Black people could and could not live, she said, to protect the sanctity of the downtown and waterfront areas that white tourists frequented. The FHA's justification for redlining was that if African Americans bought homes in these suburbs, the property values of the white-owned homes they were insuring would decline.
In fact, the opposite was true, Reese said. Property values increased because African Americans were willing to pay more than whites because they had fewer choices.
The FHA also subsidized builders who were mass-producing entire subdivisions for whites, requiring none of those homes to be sold to African Americans — who were usually forced into urban housing projects throughout the country.
Highways became an unofficial way to segregate the white communities from Black people, and I-275 and I-175 are evidence of that here in St. Pete.
"The long-term effects of African Americans being prohibited from buying homes in suburbs and building equity is evident in the fact that today African American incomes on average are about 60 percent of average white incomes, but African American wealth is about five percent of white wealth," Reese said.
Most middle-class families gain their wealth from the equity they have in their homes, so the enormous difference in the income and wealth ratios is almost entirely attributable to the FHA policy implemented through the 20th century. Redlining was banned about 50 years ago, but it still affects people of color, she said.
In the 1930s, government surveyors graded neighborhoods in more than 200 cities and color-coded them: green for best neighborhoods, blue for still desirable neighborhoods, yellow for declining neighborhoods, and red for hazardous neighborhoods.
"The hazardous neighborhoods were predominately made up of African Americans, Catholics, Jews, and immigrants from Asia and southern Europe were deemed undesirable as well," quoted Reese from a study, and added that loans in these neighborhoods were very expensive, making it difficult for low-income minorities to buy a house.
The FHA institutionalized discriminatory lending and government-backed mortgages, reflecting local race-based criteria in the underwriting practices and reinforcing residential segregation in American cities, she said.
Longtime residents of formerly redlined neighborhoods are often pushed out when the area's economic fortunes are reversed, as many can no longer afford the rising rents and homeowners can't afford the increase in property taxes.
As their home values rise, Reese said, many are tempted to sell and cash out. This begs the question: Is gentrification promoting sustainable desegregation, or is it just a movement toward increased segregation in the next census period?
Reese pointed out the distinct connection between redlining and environmental racism.
"The United States is segregated, and so is pollution," she said. "Race is not the reason Black people are more vulnerable to the underlying medical conditions or COVID-19. Racism is. Racism trumps class. Even middle-income African Americans are more likely to live in polluted neighborhoods."
A zip code, she said, is the most powerful predictor of health, and all communities and all zip codes are not created equal; they were created by redlining practices.
Parker, who has been in real estate for about 15 years, noted that most people aren't aware that only six percent of real estate agents on the National Association of Realtors are minorities, and about half of those are full-time agents. It matters, she said, because there is a "trust factor" when it comes to African Americans looking to make such a large investment as purchasing a home, and they are not always prone to trusting those who come from vastly different backgrounds.
She related an experience where she tried to sell a family's five-bedroom, three-bathroom home in Childs Park, which would've been easily appraised at $500,000 had it been located two neighborhoods over but came in at the $150,000 mark by the appraiser.
"Unfortunately, what we knew was that that appraiser came into that neighborhood, and they saw people that did not look like himself, that automatically undervalued that neighborhood," Parker said, who is also a realtor with Keller Williams Realty, St. Pete. "That it wasn't worth anything."
In essence, this outsider came into that neighborhood and drastically undercut the value of that family's 60-year investment.
The St. Pete area is up and coming, Parker said, as St. Pete Beach was recently ranked the number one beach in the country by Trip Advisor, and the Pier ranked number two tourist destination by USA Today. Small rental spaces, high cost of living, extended snowstorms, and other factors drive people to relocate to Florida from northern cities. Working remotely during the pandemic has made many realize that since they can work from anywhere, they may as well live in the sunshine. Interest rates, too, are the lowest that they've been in history.
National chains such as Whole Foods Market and Topgolf are slated to come to St. Pete, and the future reimagining of the Tropicana Field site will attract even more to the area. Homeowners should be aware that their properties may increase in value.
"The St. Petersburg market is just so incredibly desired right now," she said, adding that owning a home is the entry-level investment for someone to start to build wealth.
To reach Frank Drouzas, email fdrouzas@theweeklychallenger.com