Catherine Weaver, owner of Uniquely Original Art Studio
Owner: Catherine Weaver
Years in Business: Over 30
Location: 915 24th St. S, St. Petersburg
On Green Book:  greenbooktampabay.org/listing/cultural-art-painting-parties/
Catherine Weaver is the owner of Uniquely Original Art Studio, offering cultural art painting parties and other arts and crafts parties.
"Uniquely Original Art Studio is a place where your creative expression can be put on canvas, expressed through spoken words, or felt by the rhythm of the African drum during one of our drum circles," she shared. "We are a cultural art studio in the heart of the African-American community."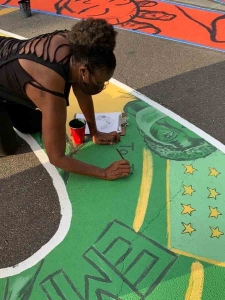 A self-taught artist in a family with three-generation of entrepreneurs, Weaver shared, "The building where Original Art Studio is located has been family owned and operated since 1947 when it was first built by my grandfather."
She added, "I believe that ownership is the key to generational wealth."
Weaver was one of a group of artists chosen to paint the Black Lives Matter mural in front of the Dr. Carter G. Woodson African American Museum. She also spoke on an artist's panel arranged by Foundation for a Healthy St. Petersburg, sharing how the pandemic has caused an evolution in her work process:
"The pandemic in 2020 changed the way I communicate with the public. I have now learned to communicate with my customers virtually through Zoom meetings, webinars, social media, and text messaging rather than in person. I made business connections, gained new customers, acquired contracts, did interviews and group lectures without having to leave my home."
She said the pandemic slowed her business down but didn't stop it. Weaver plans to continue using those platforms of communication and others even after the pandemic is over.
Offering on-site classes at her home studio, as well as traveling class and cultural events, her Facebook page states, "Enjoy a fun and entertaining evening with friends in our Safari Garden. Cultural Art Parties will have you creating art like a pro … with no artistic experience necessary! Step-by-step art Instructions will help you finish a beautiful work of art in just two hours."
Weaver describes her business with the line, "Uniquely Original: Where We Dare to Be Different."
To learn more about Uniquely Original Art Studio, visit the Instagram page, and for more of Weaver's original work and Afrocentric collectibles, follow her on Facebook at facebook.com/originalartbycatherine.