Damion Davis is bringing the Cash Comedy Jam — his first open mike show with a cash competition — to the Manhattan Casino tomorrow, Oct. 22 at 8 p.m. Pictured here with Jabaar Edmond.
BY J.A. JONES, Staff Writer
ST. PETERSBURG — Damion Davis recalls people telling him he needed to do comedy from an early age. He was just naturally funny but never thought of it as a career.
Davis' mom recognized he had something special, even as a child, and although she passed when he was still young, her words of encouragement stayed with him.
"My mom always told me, 'There are three things I want you to do, son: graduate from high school, promise me you'll go to college, and make your personality work for you.'"
He remembers the day he went to school, not yet nine, when his mother told him that she might not be there when he returned, but to always remember those three things. She was gone by the time Davis returned. He was determined not to let her down.
Davis did get his high school diploma, went to college, and started out making his music. He gained enough success to open up for Nicki Minaj. Although he was doing well in music, he never gave up on the idea of pursuing comedy.
"I said when I started my music I would venture out into comedy because it's always been my passion; I've always been a good storyteller and knew how to make it funny."
Trouble with the law took him out of the game for a time, and when Davis returned to the scene, he felt ready to give up music and pursue comedy full time. He had just started back on a roll when the pandemic hit, but he didn't let it stop him.
He did a TikTok with his daughters that went viral, and Davis asked people on social media if they would come to see him in a show "because I had a lot to say." Followers responded positively, as did some family members, and Davis began to feel convinced that God was letting him know it was his time and his destiny.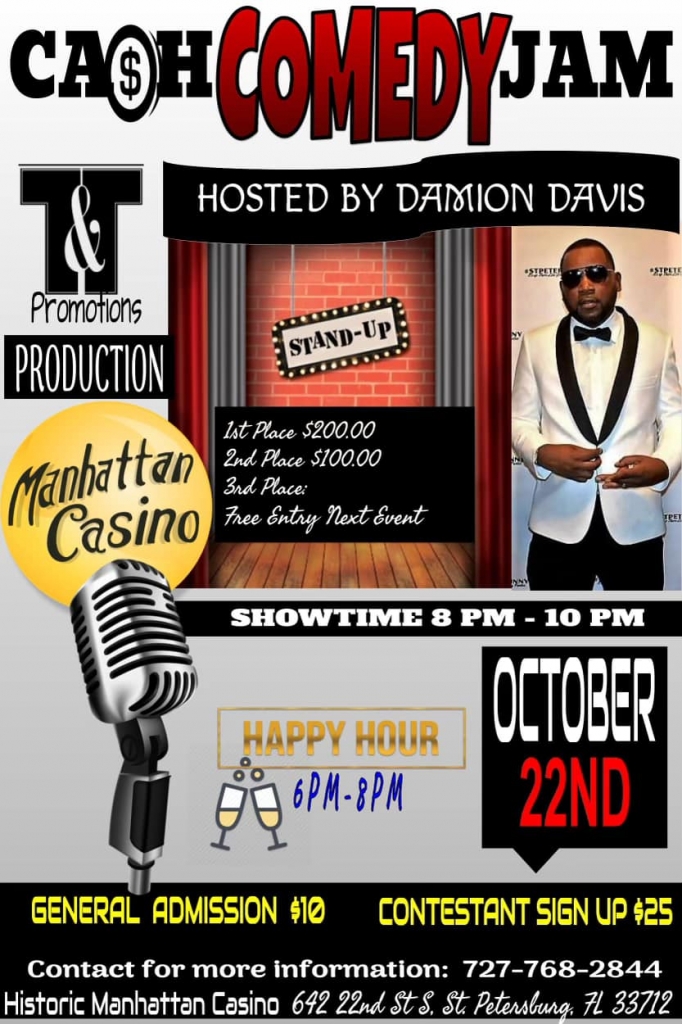 "It was like God was telling me this was my purpose I got for you."
Davis said that since he started, doors have opened, starting with his first show at Rush Hour Restaurant and Lounge. "I killed it! A lot of people in the city came out for the sold-out show!"
That convinced him to rent a building, and he sold out a show in a week.
He also performed at several comedy clubs in the Tampa Bay area to hone his skills, including working with Larry Dogg at Truth Lounge Tampa and performing at clubs like the Spitfire Comedy House and Coconut's Comedy Club.
He gives credit to his wife, Cheronda Davis, for her strength, support, and patience, and also helping to add "pizazz" to his shows through her marketing company, Tunnel Vision Marketing Elite. Davis started using the hashtags #Itsuptherelikegrannypanties and #stpetefunny – which became the name of his show.
His comedy shows also include other St. Pete comedians, including Deonta "Goopman" Williams and Nicole "Cole Chelle" Watkins. He's produced seven St. Pete Funny Shows, bringing in well-known comedians from out of the area, and hosts the St. Pete at the Apollo comedy night. Davis hopes to get out his film St. Pete Funny, The Movie by next year and is also working on a podcast.
This Friday, Oct. 22, Davis brings something new to the Historic Manhattan Casino – The Cash Comedy Jam, which will be his first open mike show with a cash competition. The show starts at 8 p.m., with a happy hour beginning at 6 p.m.
For more information on The Cash Comedy Jam, call 727-768-2844; $10 tickets are available on Eventbrite.
"Comedy is like healing…and the world needs healing," shared Davis. "It doesn't matter what kind of mood you're in — you could be sad, you could be down — you can be in pain, and somebody says something funny, and you'll laugh. If you put a smile on their face, that means they're happy. And who doesn't want to be happy?"