Left, Artists Vivia Barron, Myiah Moody, Dr. McArthur Freeman, Hillary Van Dyke, Ashley Rivers, WADA Executive Director Markus Gottschlich, WADA Education Committee Chair Susan Antoinette, Dr. Dallas Jackson and WADA President Mark Aeling
BY J.A. JONES, Staff Writer
ST. PETERSBURG – The "Intentional Tension" exhibition has been extended through September at the Tully-Levine Gallery at the ArtsXchange Plaza located on the historic Deuces Corridor, 515 22nd St. S.
Artists from the exhibit, curated by Dr. Dallas Cooper Jackson, recently shared some of their inspirations and creative themes at a panel presented by the Warehouse Arts District Association (WADA).
Participating panel artists included Dr. McArthur Freeman, Myiah Moody, Ashley Rivers, Hillary Van Dyke, and Jackson. Artist Kayla Grayson's work is also on view as part of the exhibition.
Combining a variety of styles and mediums, the show invites viewers to enter African American visual art through a myriad of lenses. The works presented include everything from sculptures by Rivers to Freeman's absurdist, often surreal commentaries on race through familiar children's book characters.
In her statement written for the show, Assistant Professor of Instruction at USFSP Geveryl Robinson, MFA, noted:
"Through caricatures, abstraction, sculpture, portraiture, and fantasy, "Intentional Tension" showcases how Black people view the world and how they are viewed. How their ancestors viewed their future and how tensions have hindered their vision. How women simultaneously view and control their bodies and how that same control is being stripped away.
"How Black people's peace is like a still river and how aversion to that peace causes others to rock the boat to the point of censorship because the art is a reflection of a past they'd soon like to forget and one they'd like others to ignore."
The artists themselves are educators, diversity experts, gallery owners and former restaurateurs, varying in age and experience. Through their diverse visions, viewers are offered both contrasting and complementary versions of the Black experience moving through time.
"My research and work are centered on investigating African-American life and reimagining it from the period of emancipation to modern times," shared Jackson, who curated the show.
Jackson explained that while some of the inspiration for the show grew out of his course work for his MFA program, he was also inspired by an artist talk from another exhibition he did, where the emergent theme became "How did we get here" considering the racial atmosphere after the George Floyd murder.
Van Dyke, co-founder of Green Book of Tampa Bay, is new to art and was inspired by very recent events. "My pieces mainly were inspired by frustrations I was having while reading the majority opinion after the Dobb's decision," noted Van Dyke, about the recent loss of a woman's autonomy and right to choose with the drastic repeal of Roe v. Wade.
Using a mixed media approach combining images of a wooded area of Tampa that she hikes in with tree sprigs and text, she contrasted the "space that I feel so free in, with this language that was making me not feel free."
Rivers remarked that her works "talk about the struggles and the hardships that we go through as individuals, but that make us who we are, who were meant to be, and they're representative of coal turning into diamonds. Coal under pressure turns into these beautiful gemstones. And that's kind of what we are as people, and what we've always been."
Moody, the youngest artist on display, commented on a trio of paintings titled "I am My Ancestors' Wildest Dreams." Her pieces are "inspired by the fact that the next generation is always finishing up the dreams of the last generation. "Our ancestors may have had dreams that they didn't get to execute in their time here, but those ideas never left; they're just passed on to us."
Combining surreal depictions of familiar childhood characters and icons reimagined as Black fantastical figures, the paintings by Freeman, associate professor of Animation and Digital Modeling at USF Tampa's School of Art and Art History, offer fascinating and disturbing landscapes and figures.
Freeman noted that using iconography allows others to access a piece and make their own connections to it.
"People recognize some things, they start to relate to it, and then begin creating their own stories as well," he offered. "For me, the works are also subversive," he said, adding that contrasting familiar characters, like his Black Pinocchio, with the bizarre figure of an anthropomorphized tree in the painting "Strange Fruit" is both alarming and encourages the viewer to consider more thoughtfully the messages within the piece.
"Without iconography, we have conceptual art – and conceptual art is left open to broad interpretation," noted Jackson. "With this collection of work, each individual piece represents deep research that had to be done in order to arrive at what you see before you."
With her vibrant interpretations of 19th-century Black tintype photos, Barron shared her admiration of the "beautiful Black people from the 1800s, when tintypes were first invented." Noting that the figures in the original sepia images she worked from showed "people who were beautiful and regal – and there's no color," she painstakingly recreated the images in boldly beautiful shades and tones, bringing a fresh perspective to historical narratives.
You still have the rest of this month to catch this exhibit, so don't delay. For more information, visit warehouseartsdistrictstpete.org.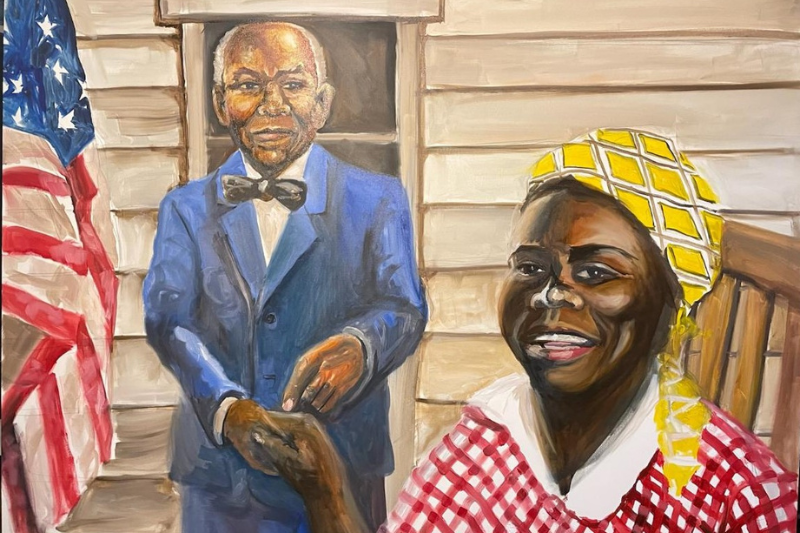 'Ben and Jemima' by artist Dallas Jackson, Ph.D.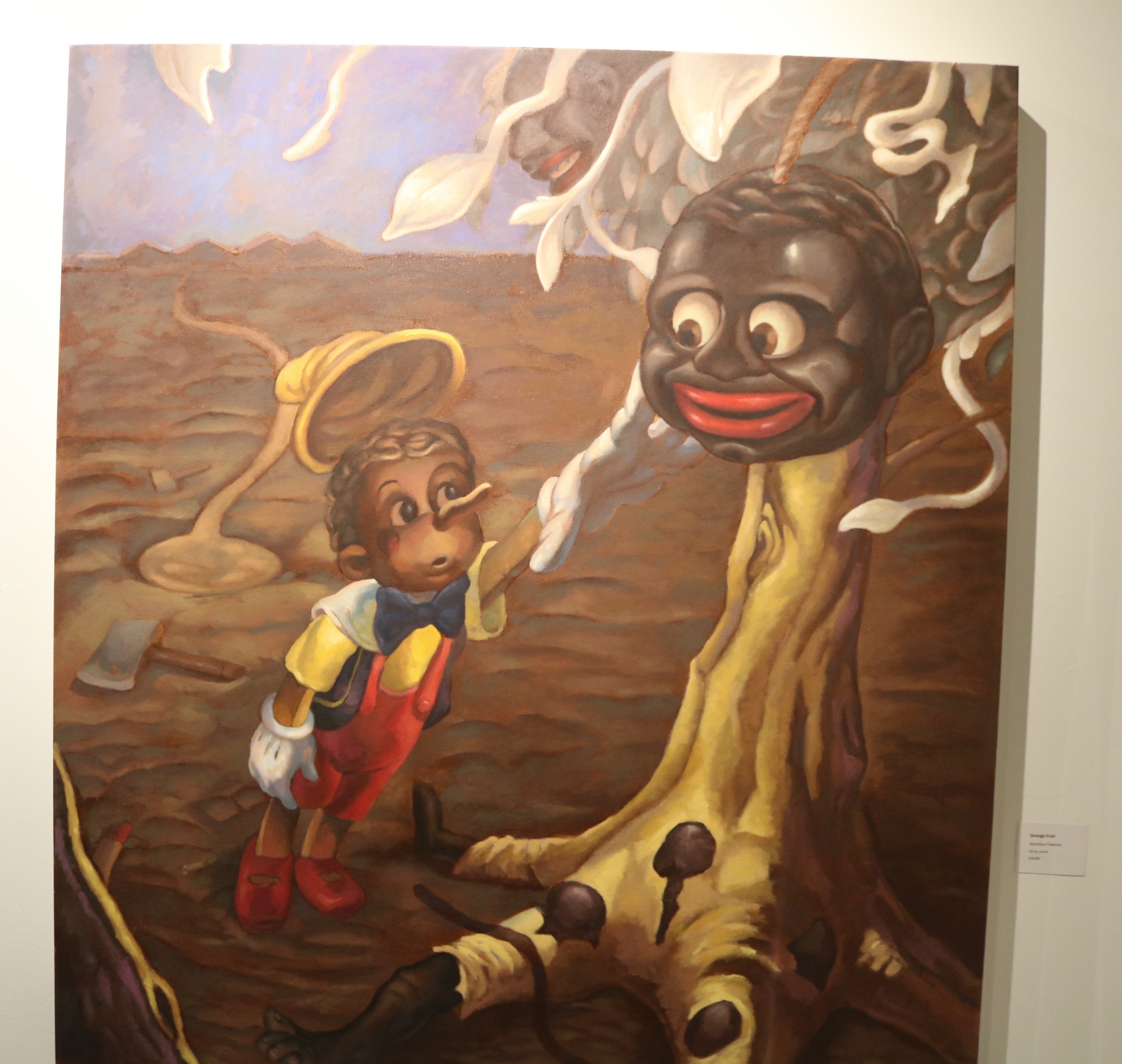 'Strange Fruit' artist Dr. McArthur Freeman, Ph.D.

'I am My Ancestors' Wildest Dreams' by Myiah Moody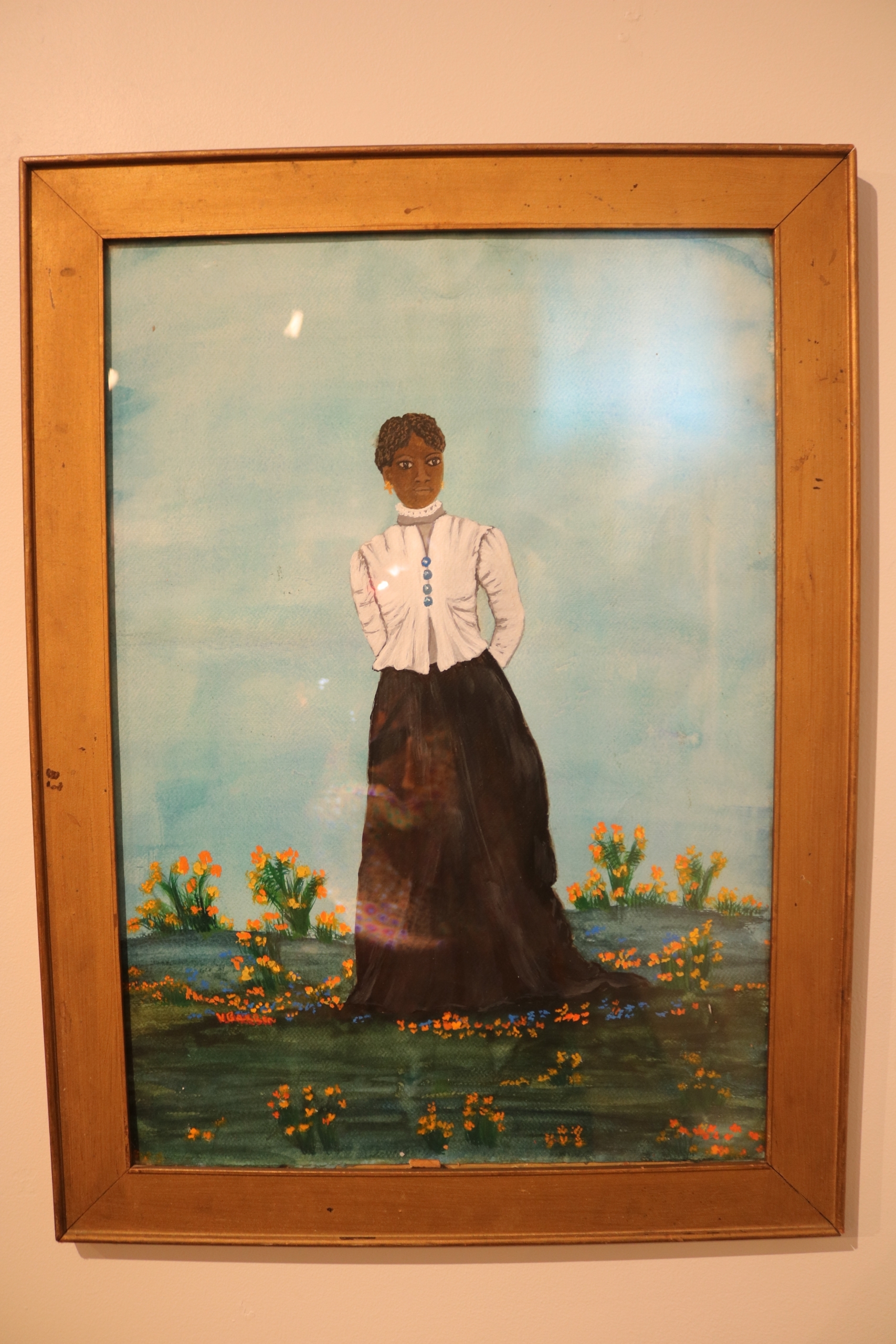 Vivia Barron's interpretations of a 19th-century Black tintype photo.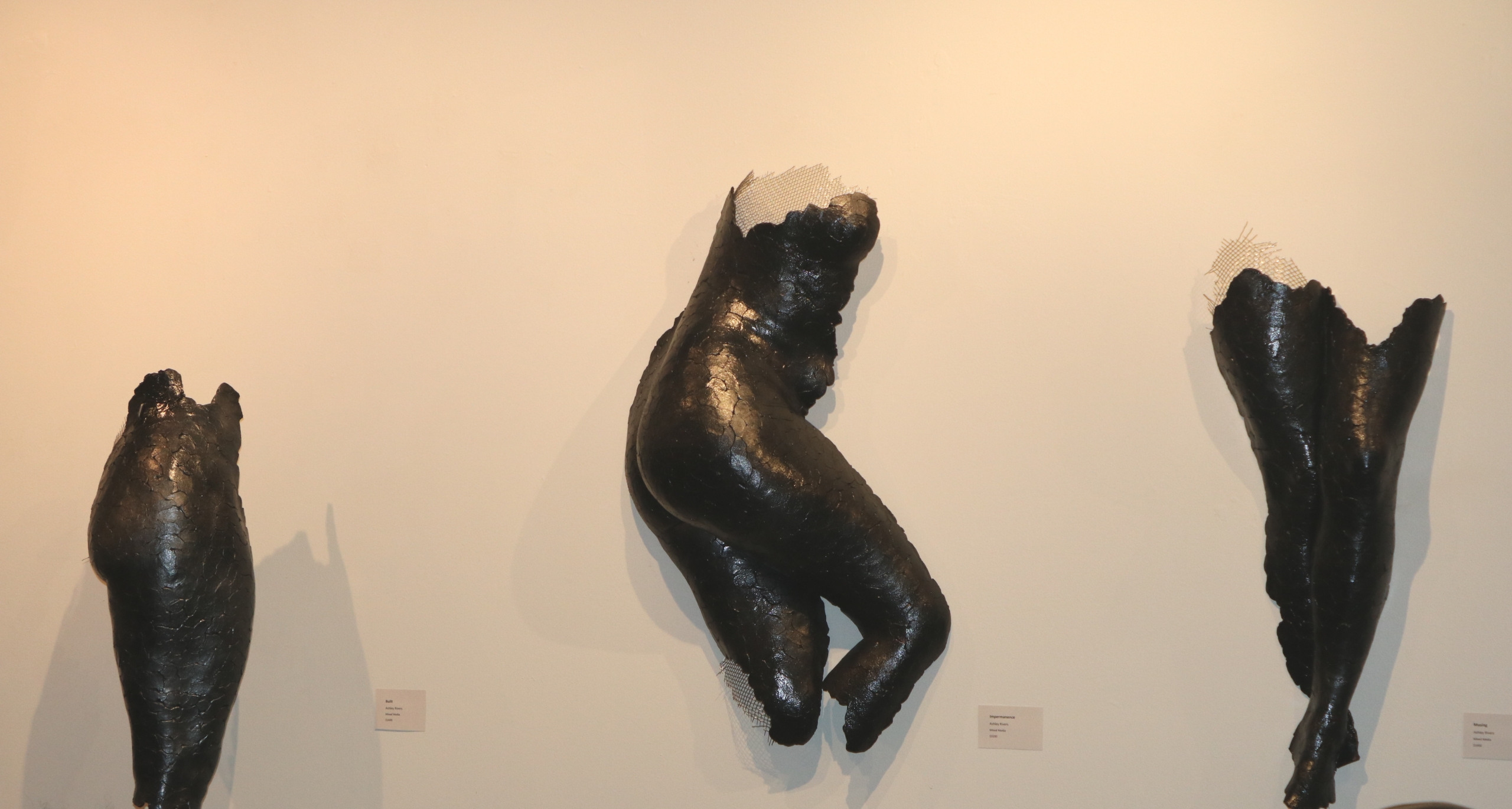 Work by Ashley Rivers

Work by Hillary Van Dyke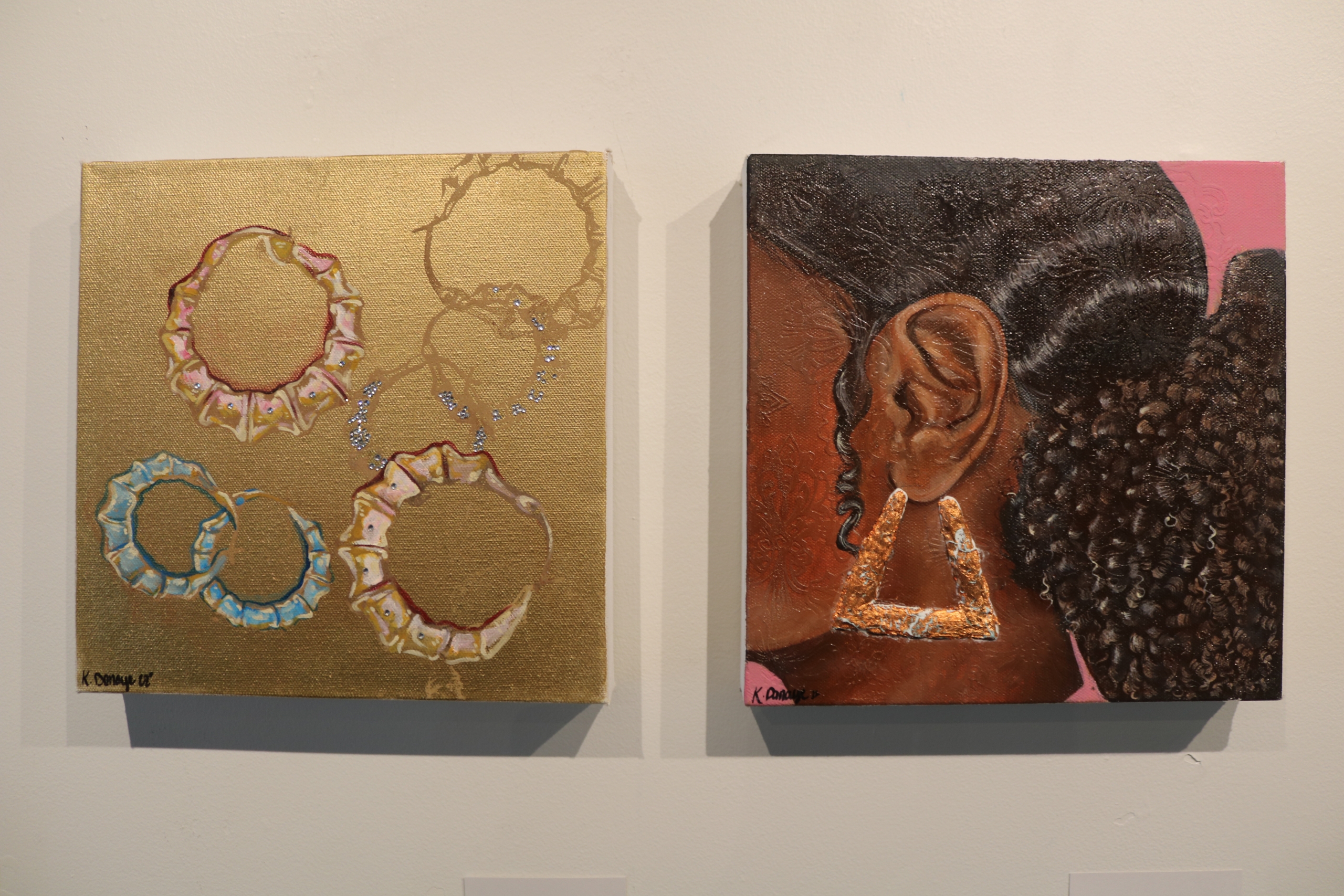 Work by Kayla Grayson