Local organizations are invited to learn how to partner with SPC this Thursday, Sept. 22, from 9:30-11:30 a.m. at the SPC Downtown Center, 244 Second Ave. N, St. Petersburg.
ST. PETERSBURG — Kinard Robinson knows firsthand how partnering with an educational institution can help grow a business. The owner of Empowering Creative became a supplier for St. Petersburg College in 2021, providing digital marketing and video production services for the college's workforce initiative.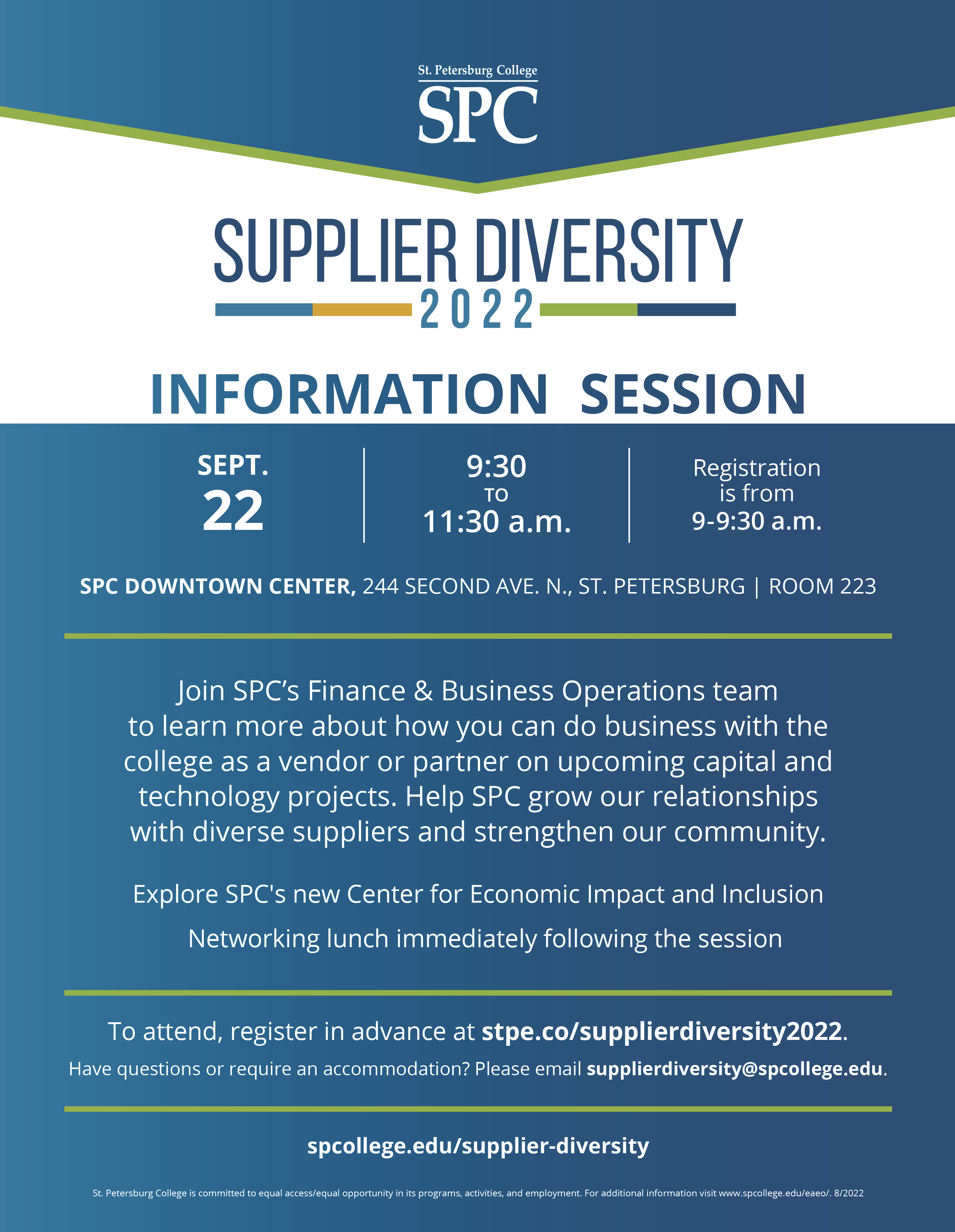 "Taking on this project really gave us a new level of exposure when it came to working with larger clients," Robinson said. "Having SPC listed as a client on our website brings us credibility and additional opportunities to serve other organizations and companies, so it's really turned into something much bigger."
There are plenty of opportunities with SPC for other local minority and women business owners, too. To find out more, business owners are encouraged to register and attend an upcoming supplier diversity information session to learn how to do business with the college as a vendor or partner on future capital or technology projects.
The session will be held on Thursday, Sept. 22, from 9:30-11:30 a.m. at the SPC Downtown Center, 244 Second Ave. N, St. Petersburg.
SPC is committed to working with diverse business enterprises through this innovative program. Organizations taking part in this initiative will have access to business opportunities and can grow their visibility.
"St. Petersburg College has made an intentional effort to focus on supplier diversity, and we're excited to enhance our focus on this initiative and build sustainable partnerships," said Janette Hunt, SPC vice president of Finance & Business Operations. "The college's leadership supports the efforts of making sure minority and women-owned businesses have opportunities to make their endeavors successful."
Business owners who attend the upcoming information session can also explore SPC's new Center for Economic Impact and Inclusion. The hub will serve as a training center and learning space for understanding diversity and inclusion and its economic implications on our local community.
If you are a local business owner and would like additional information, visit spcollege.edu/supplier-diversity or email supplierdiversity@spcollege.edu. Business owners can also register for the supplier diversity information session at stpe.co/supplierdiversity2022.