Derrick Blue, CEO of THAPgroup. The new 5508 Business Accelerator offers real-world coursework, virtual learning, and mentorship from Tampa Bay Area business pros.
TAMPA, FL – The City of Tampa and the Tampa-Hillsborough Action Plan, Inc. (THAPgroup) have partnered to provide microbusinesses with hours of training through the 5508 Business Accelerator. The goal of the project is to accelerate revenue growth for microbusinesses and entrepreneurs living in and operating businesses in East Tampa. Business owners can submit their applications to the 5508 Business Accelerator through March 31, 2021.
The development-centered program, which begins in January 2021, is complimentary and allows entrepreneurs to attend virtual and in-person sessions covering growth topics with training by expert facilitators. "We're making the investment into small businesses to help them develop a competitive advantage that will allow them to be successful in today's environment and beyond," says THAPgroup's CEO Derrick Blue.
"That's where our small business incubator comes in and our 5508 Accelerator program. We partner with the City of Tampa, which has a desire to make investments in low-income areas in East Tampa. One of the best ways you can develop a community is to strengthen its small business ecosystem."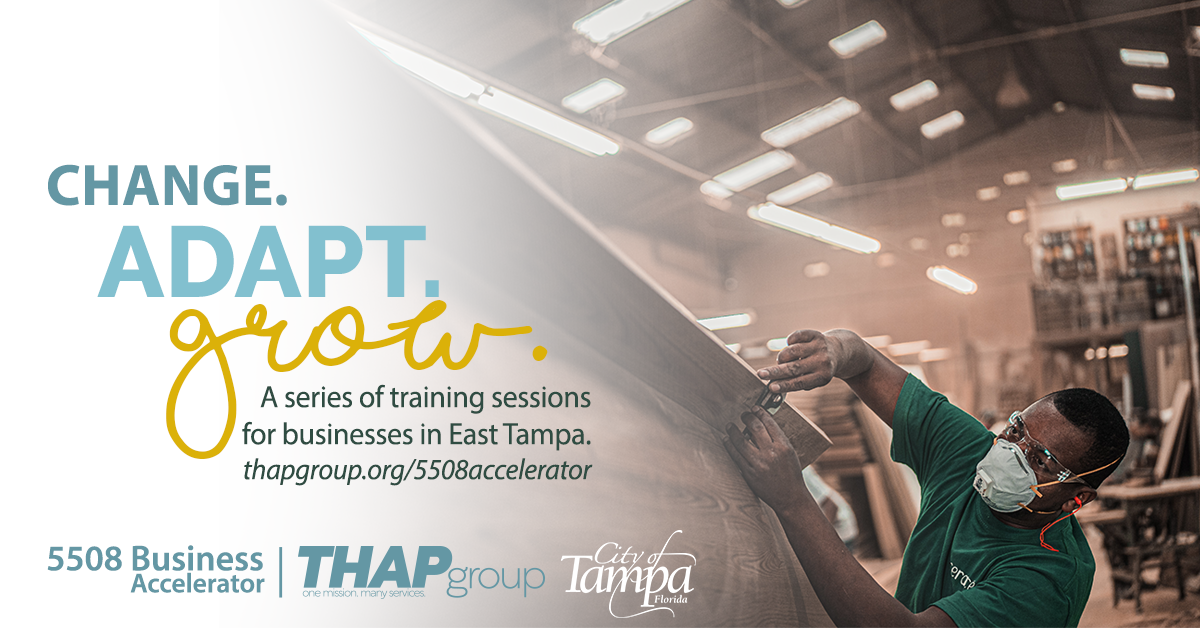 Training sessions continue through September 30, 2021 and will cover such topics as corporate and government procurement, capital access requirements, growth and operations planning, and virtual work solutions.
"The business environment is shifting and transforming," says Blue. "We want to help our small businesses be able to effectively respond to these changes."
Small business programs at 5508 are dedicated to revitalizing and sustaining business growth in East Tampa. Entrepreneurs and microbusinesses can apply online to the 5508 Business Accelerator by visiting www.thapgroup.org/5508accelerator. They may also call the business office at 813.626.4926 or visit 5508 North 50th Street, Suite #7, 33610 weekdays from 10:00 AM to 2:00 PM.
About THAPgroup
The mission of the Tampa-Hillsborough Action Plan, Inc. (THAPgroup) is to offer solutions that build social equity by awakening a sense of dignity within Southwest Florida residents who face educational, health, housing, and economic challenges. www.thapgroup.org